Brewhalla Market vendors hope downtown Fargo flavor makes venture a 'magic factory' success
Blackbird Woodfire and Nichole's Fine Pastry and Cafe plan to run satellite operations, while Unglued is moving its full operation to Drekker Brewing Company's $20 million Brewhalla complex.
We are part of The Trust Project.
FARGO — Drekker Brewing Company's Brewhalla Market is going to have some distinct downtown flavors to go with all of its beer when it finally opens.
Blackbird Woodfire and Nichole's Fine Pastry & Cafe plan to run satellite operations, while Unglued is moving lock, stock and party room to the 22,000-square-foot market, going up as part of the $20 million Brewhalla complex taking shape on the west side of 1666 1st Ave. N.
The owners of the downtown businesses have solid track records, but when you talk with them, you can't help but get the impression that they're teens strapping in for a roller coaster ride. The words crazy, weird, adventure, spring from them all, as they go through their to-do lists for the planned late-fall opening.
Unglued owner Ashley Morken said the COVID pandemic forced some soul-searching in the summer of 2020. Where to lean in? What to give up? Retail? Events?
And then the Drekker offer came. And the decision became more of an all of the above proposition.
"Maybe we go into a new space that is super collaborative, with other people who want to do weird, fun new things and work together (and) create a crazy cool experience for the Fargo-Moorhead community and beyond, and the people that are visiting," Morken said Thursday, June 30.
Morken says Unglued will have 2,000 square feet at Brewhalla. About 1,500 square feet will contain the store, while the party and craft room will take up 500 square feet on the mezzanine level.
A sweet shop, put together by Morken's sister-in-law, Kristina Lau, will also be part of the move as a shop within a shop.
Morken said the food hall plan, with a hotel, apartments and event center providing lots of potential customers, supports "a leap of faith."
"Drekker is leveling it up by having … the hotel, plus the event center," Morken said. "It seems like (it's) really thoughtful, in a really magical experience type of way, making it unique to Fargo."
FARGO - You may have to believe in Odin and die in battle to go to Valhalla, but you only have to be thirsty and believe in beer to go to Brewhalla. The opening of Drekker Brewing Company's second brewery and taphouse from noon to midnight Saturd...
Nichole Hensen, owner of Nichole's, says it took her awhile to commit to Brewhalla, but the food hall concept eventually got her hooked. Now she looks forward to the possibilities of her "little square spot" in the food hall/market.
"Mark (Bjornstad, Drekker president and co-founder) had reached out to me a couple of years ago. I knew instantly it was a good idea. … Well, then, OK, COVID hit," she said Wednesday, June 29.
One night as she worked on the Nichole's website, she found herself mulling the idea and reached out to Bjornstad.
"I thought, 'You know, it's a quarter to midnight, I should email Mark to see what's going on.' I had a reply back in five minutes," Hensen said. "And I was impressed."
Hensen debated the decision. Hard. It wasn't until the night before the Brewhalla expansion was announced that she signed a contract.
"A food hall is a good thing, and this building puts us on the map. It's huge!" Hensen said.
She's toured food halls in New York and Italy and seen what works and what doesn't.
"It has to be local businesses, and it's the camaraderie, the dynamic or the energy that creates, because we're all going to learn from each other, too, and we all are going to have to support each other," she said.
"This business has got a sweet reputation in town. And they need a pastry spot in there. And I was like, we should be the one to do it," Hensen said.
The success of the food hall will depend on how the talents and energy of the participants mesh, she said.
"I think this will be an experiment," Hensen said. "We're either all going to look good or we're all going to look bad. And hopefully, we're all going to help each other look good."
Blackbird Woodfire owner Casey Absey is well into the detailed planning for his 400-square-foot space. Every square inch of space will have to get maximum use, he said Friday, July 1.
He's got his pizza oven picked out. He's coordinating with an architect and talking with city officials about what will be needed to get up and running.
Absey was approached about the plan a year ago, and he, too, took his time deciding, but he's getting fired up about firing up a new oven in Brewhalla.
"Just the opportunity to work with those guys, the Drekker guys. They're really nice guys. I just thought: that will be fun. And it will be an adventure. I think that place is going to be crazy, especially at first. It's one of those places people are going to want to go see, so kind of a destination. An opportunity you don't pass up, I guess," Absey said.
Absey said it was the brewery part of Brewhalla that most attracted him. A menu focused on pizza and sandwiches that pair well with some beer should do the trick, he said.
"In big cities, you see things like that, and I always say that's sort of exciting. Fargo just needed something like that. It'll be fun to see a couple years down the road how it evolves. I think that will be the fun part," Absey said.
Drekker's Bjornstad said that the Brewhalla remains on track for a late fall opening - sometime in November - ahead of the holiday season.
The planning for the project was done over two and a half years, he said, and the bulk of the bidding and contracting for the materials was completed in late 2020 and early 2021. While there have been weekly hiccups, they're getting dealt with, Bjornstad said.
"It's fun to see that building taking more shape. There's a flurry of activity there every day," Bjornstad said.
Beyond Unglued, Blackbird Woodfire, Nichole's, and Drekker Brewing, other market partners include:
Luna Market, Mangata Wine and Raw Bar and Unicorn Park Fine Foodery (all owned by local restaurateurs Nikki Berglund and Chef Ryan Nitschke); Cows & Co. Creamery , Duchessa Gelato, Thunder Coffee, Red River Refillery , The Plant Supply, Living the Dream Pottery, and Bark & Biscuit .
Oddly, if it hadn't been for the pandemic, Morken said she might not have opted to make the move from Broadway to Brewhalla's not-downtown-but-you-can-sort-of-see-it-from-there location.
Morken said that those glued to Unglued found "our risk tolerance is higher than we thought it was," and that perhaps they can extend the bounds of downtown by creating a new "magic factory."
"We want to do more magical experiences," Morken said, and Drekker Brewing is less than a five-minute drive from the heart of downtown.
"We're not going that far away," Morken said. "Come by Drekker and do all this really cool stuff."
Hensen said she's still got a lot of decisions to finalize, but she's looking forward to the collaborative aspects of the venture. And to a new direction for growth.
"It's good timing for me, in this business, because after these 20 years, it's not really about me anymore. It's about those helping here who want careers. And trusting that they're going to carry on this vision that I have had," Hensen said.
"We're already talking about ideas. Once we can sit down and actually look at a floor plan, it will come together," Hensen said. "That's good for us to have a goal."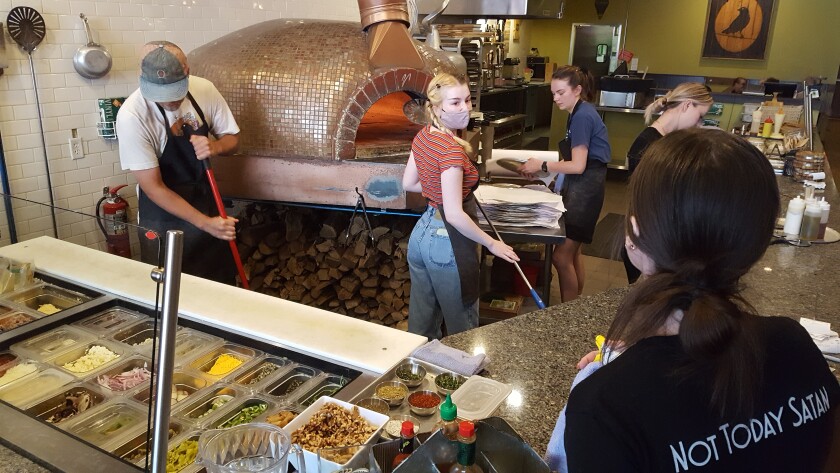 Absey said he likes the mix of businesses that have been brought together for the food hall and market.
"I think it's awesome. I think it's a nice assortment of what Fargo has, I really do," he said.
That should make Brewhalla a good bet for the businesses taking the leap, Absey said.
"I just think it's going to be a really unique experience in Fargo. I think it's going to draw people from all over the place that want to see it," Absey said. "I think they're on to something."