Burned out? Author shares why our obsession with work is hurting us
Jonathan Malesic, whose past jobs have ranged from sushi chef to college professor, has written "The End of Burnout: Why Work Drains Us and How to Build Better Lives." He will speak on the culture of burnout at 7 p.m. Tuesday during a hybrid in-person/virtual community conversation at Concordia College.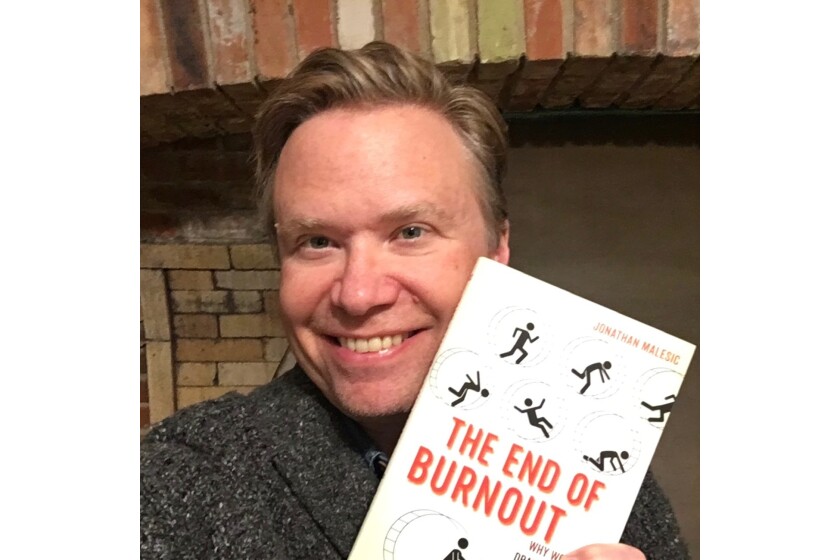 We are part of The Trust Project.
For once, we can't blame the pandemic.
It's no secret that Americans have grown increasingly more frustrated and burned out at work in the last 50 years.
Everything from popular culture (remember "Office Space"?) to Gallup surveys has reflected our disenchantment with the work world, with its mounting expectations of "doing more with less," pointless paperwork and the gaping divide between C-suite and worker-bee compensation.
Of course, COVID-19 simply became the dreaded last straw, creating a scenario where countless people lost their jobs, parents were torn between remote work and homeschooling, and many frontline workers realized their jobs might expose them to a deadly virus.
Now, in the second installment of Concordia College's Community Conversation series, author Jonathan Malesic will address burnout culture in a hybrid in-person/virtual conversation, "Getting a Life: Finding Meaning Beyond Employment" at 7 p.m. Tuesday in Barry Auditorium in the Grant Center.
Malesic is a leading American thinker on work and author of the ground-breaking book, "The End of Burnout: Why Work Drains Us and How to Build Better Lives".
A former theology professor who quit his job after experiencing burnout himself, Malesic says that even though factors like wages or work conditions contribute partly to burnout, the real culprit is "an ailment of the soul."
"We burn out in large part because we believe work is the sure path to social, moral and spiritual flourishing," he writes in the book's introduction. "Work simply can't deliver what we want from it, and the gap between our ideals and our on-the-job reality leads us to exhaustion, cynicism and despair."
He says this belief stems from a deeply ingrained Protestant ethic, which tells us that working tirelessly will not only make us financially and morally strong, but will also influence how others see us and determine whether we have inherent worth.
Of course, the mass unemployment caused by quarantine revealed the flaws of this perception, Malesic says.
"People's dignity, their worth as humans, had nothing to do with their employment status," he writes. "A waitress who lost her job due to the pandemic had no less dignity than she did before stay-at-home orders forced her restaurant to close. The pandemic has ... given us an opportunity to make a decisive break from the ethos that has governed our work and caused our burnout over the past 50 years. It's a chance to remake work and reimagine its place in our lives."
Malesic recently visited with The Forum about work and burnout. Here are portions of that conversation (edited for brevity), along with quotes from a Guardian article that Malesic wrote on the topic.
What inspired you to write this?
"One big area of research and teaching for me was the moral and spiritual questions raised by our working lives. So I taught a class called, "Why Work?" for a number of years. And starting in 2011 or so, I had wanted to write a book.
"I had worked for a long time when that question of "Why Work?" became really urgent in my life because I found that I had this dream job, yet I started to be more and more frustrated with it and just more unhappy and unmotivated. I couldn't figure out what was going on and that went on for a couple of years.
"It was only after I ultimately quit and moved from Pennsylvania to Texas following my wife's career that I started to think about it in terms of burnout.
"So I started researching and writing about burnout and that research started to make sense, not only in my own experience, but it also made sense of a lot of the experience of our whole society and its relationship to work."
It's almost like you had a crystal ball. You signed your book contract in 2019 — but then the pandemic happened and all these workplace issues came to a head.
"Yeah, I don't think I had a crystal ball. I knew that there was a problem with our relationship to work and I explored those problems in my classes for years prior to the pandemic, so I really wanted to get this message out there, and the pandemic just kind of provided the occasion for perhaps more people to realize that there were problems with the way we were working."
I found it really interesting that you said our current beliefs about work are strongly influenced by a Protestant ethos rooted in Calvinism.
"Yeah, I mean it's rooted in the Protestant ethic, which regardless of your religious commitments or lack thereof, most people have in U.S. culture.
"You don't have to believe what John Calvin taught to have the kind of anxiety about your status that he and his followers handed on to us.
"And now I think that we don't often make the clear connection between those roots and our work, but we do have this anxiety that once was a kind of religious anxiety. Now it's a different kind of status anxiety about, 'Am I a good worker or am I "talent"? Am I a good breadwinner or crushing it all the time at work?'"
Your comments on worker engagement were interesting. Workplace experts say engaged workers are vital to a company's success, yet Gallup research shows a decline in worker engagement worldwide since the 1970s. At the same time, you point out that Norwegian workers are among the happiest and richest wage-earners on Earth, despite ranking near the bottom in job engagement worldwide. Can you explain that?
"The people who really get worked up about this are not looking at the full data. They say, ' Oh my gosh, only 30% of U.S. workers are engaged. But you look at all of the other countries that Gallup surveys and U.S. workers have among the highest engagement rates. If you look at our economic peers ... Japan, Canada, Europe, the engagement rate is is quite a bit lower.
"So clearly, low engagement does not necessarily lead to societal collapse."
In his Guardian article, Malesic writes: "Here's another way to look at the issue: a worker who isn't fully engaged with work is not necessarily suffering from burnout. She might simply have found a way to keep her ideals for work in line with the reality of her job, possibly by keeping her expectations for work relatively low. If she is only 80% psychologically committed to the job but is nevertheless reasonably competent, then one has to ask: What is the problem?"
It seems as the workplace has become more corporate, people have started expressing more discontent with work. Why is this? Are they feeling more depersonalized and cut off from the mission in such a large organization?
"That's a tough one for me to answer. With a big corporate bureaucracy, you know, that comes with both good and bad things. The good is that perhaps the bureaucracy can in some ways protect you from overcommitting and there are more rules and standards in place rather than working for a much smaller business where there's fewer hands to pick up the slack.
"But so much of corporate doctrine is to get the smallest team you can and get as much productivity out of them as you can and then you contract out a lot of the rest of the work.
"And that does a couple of things. Like one, it really intensifies the work on those core employees. And then on the other side, it it causes all of these temporary and contract workers to also have anxiety about, you know, will they be working next week? So that doctrine of lean and mean staffing has, I think, done a lot to contribute to the burnout."
I initially thought burnout was more of a mid-career thing, but apparently that's not the case.
"The data is pretty clear on this. I didn't think it was true at first, but younger workers seem to be more prone to burnout than older ones. And I think there's a couple of reasons for that. When you are starting your career, your ideals are a bit higher (thus creating higher expectations and, subsequently, greater disappointment when reality doesn't live up to them).
"Also, your working conditions are at the worst they're ever going to be because you're at the bottom of the organizational chart.
"But in addition, among people my age — you know, I'm in my 40s — if they're still in the same career, then they must have somehow managed to avoid burnout. The people who remain are are the survivors right? And the people who burned out left that line of work and found a different one, right? So I think that that's that's also an important factor."
Obsession with work seems so entrenched in our culture; can we ever hope to see it change?
"I do think there's hope for change. We have seen massive cultural change regarding work in the past. You could just think about how over the course of a couple of decades, child labor went from being common to being virtually outlawed. That was a huge change.
"And we've seen an entire Civil War — the greatest upheaval in our country's history — over slave labor. And you know, (abolishing slavery) was totally revolutionary to our society.
"We have seen organized labor gain and lose power multiple times. And, from the Great Depression to the end of World War II was a huge change. We had the kind of post-war boom, which was revolutionary from a labor perspective, and, you know, we've seen the working day get shortened. So change is absolutely possible.
"And what all of those changes required was not only a shift in policy legislation but also a change in the way that we think, right?
"The same is possible now. You know, we can think I hope that my book is a contribution to new thinking about work."
This Community Conversation is free but registration is required at ConcordiaCollege.edu/businessevents . Call (218) 299-3305 for more information. A link will be sent after registration for those choosing the virtual option.