Business Buzz: Sickies Garage celebrates anniversary, new locations; North Dakota ranks high for remote jobs
From the expansion one of Fargo's most popular restaurants to how North Dakota ranks for remote workers, check out what the business team is following this week.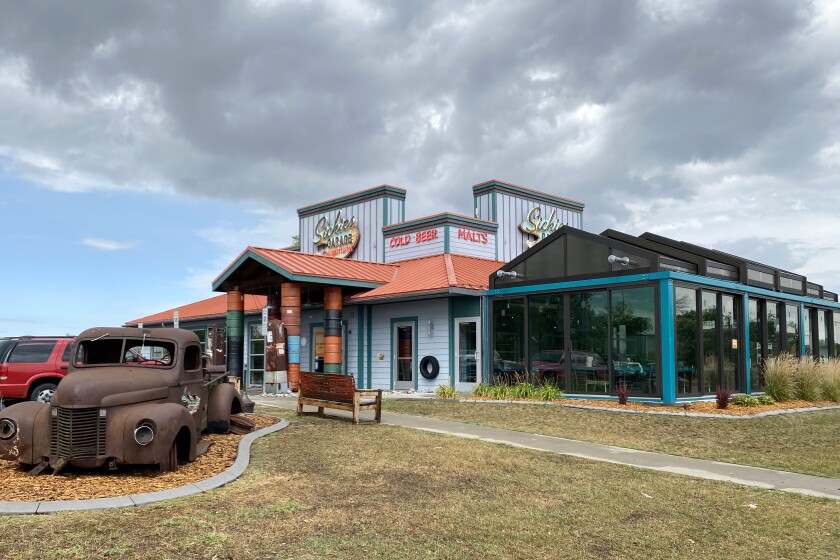 We are part of The Trust Project.
Sickies Garage Burgers and Brews is celebrating its 10th anniversary with a hefty growth spurt and some throwback burgers, side dishes and desserts.
Sickies started its restaurant opening roll in mid-Feburary, with the opening of a second restaurant in Fargo .
The restaurant at 2551 45th St. S. is co-existing well with the original Sickies at 3431 Fiechtner Drive S., said Scott Upton, a partner in Sickies and its parent company, Starmark Hospitality.
"There's no real cannibalization between the two," Upton said Tuesday, June 7.
If anything is affecting business, it's construction on 45th Street to install utilities for a major housing and retail project by EPIC Companies on the former Anderson Park complex east of the newest Sickies.
"We're excited about it to tell you the truth. If they can bring something else to Fargo-Moorhead is always a good thing," Upton said.
The next Sickies is slated to open in August in Omaha's Crossroads development, Upton said. Another store is planned for Fort Worth, Texas, by the end of the year.
Yet another store is being planned for completion in January or February in Orlando, Fla., near SeaWorld, Upton said.
"We're excited about it," Upton said. "Growth is good. I think all the spots we have are really solid spots. We anticipate things going really well."
There are eight Sickies Garage's now, and the next three will bring the chain to 11.
Franchising is a goal that's not far off, Upton said.
"That's ultimately one of our goals is to get to 12 or 15 stores, and then be able to show whatever market we go into … that we are a strong presence in that market," Upton said. "In 2023, I think with our growth pattern, we'll reach between 12 and 15 (restaurants) at that time."
Thursday, June 9, is the chain's anniversary date.
The company also has outlets in Bismarck, Sioux Falls and Rapid City, S.D., Bellevue, Neb., Las Vegas and Kissimmee, Fla.
To celebrate the milestone, Sickies added some throwback options to the menu, which will be available June 1 to July 31 at all locations.
Anniversary menu items include a Tater Tot Hot Dish Burger, Chili Cheese Fries Burger, Fried Potato Salad, Chili Cheese Fries, Buffalo Chicken Cheese Balls, and a Birthday Cake Shake.
CEO predicts independent workers will dominate tomorrow's corporate workforce
Is corporate America ready to lose half of its workforce?
According to one future-of-work strategist, Miles Everson, CEO of MBO Partners, companies need to wake up and come to grips with the fact that 50% of their future workforce will work outside of the company.
In a release from MBO Partners , Everson makes the following predictions:
By 2025, the most skilled talent will come from the independent workforce. Today 33% of workers are independent, and that could grow to 50% by 2025.
As ghosting and the Great Resignation have led to employee churn, longevity will come from independent workers. Everson claims independents -- NOT employees -- will work for a company for 20 years.
Boomerang Boomers will save the day, as companies integrate 80-year-olds into their talent strategies.
Gen Z and Millennials are flipping the script by leaping to independence after only a couple of years of job experience.
MBO offers a business operating platform designed to support independent contractors or multi-person consulting practices.
Study: ND No. 4 in US for remote-working opportunities
With over half the US workforce (55%) now wanting to work remotely, some people have found it's worth moving to a state with more remote opportunities. In fact, several states -- namely, Oklahoma, Vermont, Alabama and Colorado -- are offering financial incentives for employees to move to their states and work from their new homes.
To help job seekers identify which states have high potential for remote job opportunities, FlexJobs analyzed the job postings in its database to discover which states have the most remote job postings compared to job seekers.
Just over half of the top 15 states are on the East Coast, but you'll find North Dakota, South Dakota and Nebraska in the mix as well.
Here are the top 15:
Rhode Island
Washington, DC
Delaware
North Dakota
Maine
Vermont
South Dakota
New Hampshire
West Virginia
Nebraska
Wyoming
Utah
Connecticut
Kentucky
Massachusetts
Commute stress is routinely cited as one of the primary reasons workers seek remote jobs, along with work-life balance, family, and avoiding exposure to illnesses.
Job seekers can search for remote jobs by location by visiting https://www.flexjobs.com/searchLocation .