Chamber, EDC unveil new Fueling Our Future initiative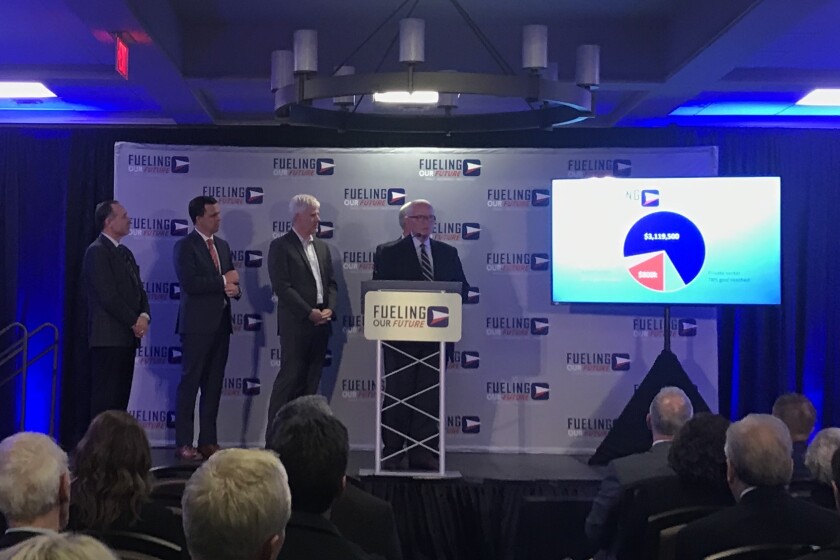 We are part of The Trust Project.
FARGO — The Fargo Moorhead West Fargo Chamber of Commerce and the Greater Fargo Moorhead Economic Development Corporation have raised 78% of its $5 million goal for a new initiative that aims to bring businesses together to build regional programs and projects.
The Chamber and EDC began the Fueling Our Future initiative with comprehensive feasibility studies nearly two years ago and set a goal of raising $1 million in public funds and $4 million private funds over five years. The projects will focus on three pillars: people, places and prosperity.
EDC President and CEO Joe Raso said the cities of Fargo and West Fargo have committed $400,000 each to the initiative and the city of Moorhead is currently in discussions of committing funds as well.
Private donations have raised $3.119 million so far.
As part of the people pillar, the initiative will invest in projects that help workforce development such as building out regional career academies.
"These are critical operations," Raso said. "It's not just about a building, it's about the students."
As part of places, Fueling Our Future has begun a regional shovel-ready site program, which will aim to help connect future businesses with land available for development in the metro area.
"We know if we can provide sites that are ready, those businesses can move in more quickly," Raso said.
The initiative will also partner with Hector International Airport to focus on building quality air services for the area, he said.
As part of the prosperity pillar, which will include efforts to attract new businesses and support of existing industry, the organizations plan to establish a business accelerator with a site where businesses can come together and national site scouts can be shown what's available in the metro.
Nate White, COO and president of Sanford Health, a leading partner in the initiative, said Fueling the Future collaborative will allow many groups to accomplish more than working alone.
"It's about putting the needs of the community above the needs of your own individual organization," White said.
An advisory board and executive committee have been created to decide on future programs for the initiative to undertake.
Chamber President Craig Whitney said the Fueling Our Future initiative is the first of its kind for this region.