'City on the Grow' West Fargo looks to find its identity, build a brand
We are part of The Trust Project.
A small town with big city amenities.
That's the longstanding attribute many West Fargo residents feel best describes the city of West Fargo. But, as the city has grown from around 5,000 to an expected 40,000 in the past two decades, the city plans to incorporate not the small town feel into a distinct identity that will set the city of West Fargo apart but one that will gel with the other two metro cities.
"I think the city of West Fargo's story for the last 20 and even longer, has been growth, and, we know that growth has been driven by families," West Fargo Communications Director Melissa Richard said. "A lot of that growth is due to the growing school district and south of Interstate 94. And with that, we have a lot of new residents that haven't been part of West Fargo's history. Now that we have a big population infusion into the city, we have a new identity. We need to look at how that looks and what it is made up of. We don't have the same West Fargo we had 20 years ago, but the West Fargo we had 20 years ago is still very strongly part of our identity."
In 2021, the West Fargo City Commission approved hiring the Nashville, Tenn.-based branding consultant, ChandlerThinks for $59,000 which was paid for by the city's economic development sales tax.
While ChandlerThinks will consider the city's current logo and slogan, "A City on the Grow," those are the basics of what ChandlerThinks aimed to redefine. Through a series of surveys, sent both within the city of West Fargo and outside the city, as well as focus groups, the consultant is helping West Fargo find its identity after years of growth and population changes.
"The idea that we have new families here and with a new population here, we need to recognize that and look at it to see how it's impacted us," Richard said.
ChandlerThinks sent out a number of surveys and also held public focus groups in October 2021 to engage the public about how they describe West Fargo to enhance the community's brand. The city also hosted interviews and smaller focus groups with a variety of community members.
Steve Chandler of ChandlerThinks said while his company's research found West Fargoans have a great deal of pride in their community, they are not very good at promoting that. Chandler said helping West Fargo find its identity will be done in four phases.
Following the first phase of research and community surveys, the second phase includes working with city staff to decide the best way to work with the research results. Phase three is a creative development process, and the fourth phase is creating a plan to get the story of West Fargo out in the public. More than 1,900 people participated in the early research of West Fargo done by ChandlerThinks and about 1,600 residents responded to the survey.
"That, I think, is the largest number of people that have participated in the 65 communities I've worked with over the last nine years," Chandler said.
About 263 people outside of West Fargo responded to the survey as well, which was sent to residents in a 70-mile radius of West Fargo.
From the research, Chandler said the overall key observation was that "West Fargo, no doubt about it, has been a city on the grow." A city on the grow is West Fargo's current motto.
Chandler said a city that is growing was among the top two things that participants mentioned when they discussed West Fargo. "It's time to be just more than a growing city," Chandler said. "Your citizens are excited about being the city that is growing, but we want to be sure we preserve our identity and we're not just known as a suburb."
"Suburb" is not the moniker survey respondents want, Chandler said, but it is what the city has become. "They want their own city beyond the shadow of Fargo," he said.
Along with a growing city, Chandler said research revealed that residents are very proud of their community, but when asked, many people could not elaborate on what is great about the city.
Chandler said one of the things consultants will be working on in the coming months is how to preserve and present the history of West Fargo. "Your city history is precious and you need to celebrate it. It's uniquely yours," he explained.
Research found that the awareness of city history was rated very poorly. "It's time to purposely harness its character so it's expressed in all aspects of the community. Showing residents and everyone else it truly is a one of a kind," Chandler said.
Richard said the city showed exceptional pride and interest in the West Fargo School District.
"It's one of our best assets," she said. "They also loved the sense that there is a small hometown feel yet we have the amenities of a big city and that's in reference to what West Fargo has grown to offer. There is a quality of life here that you just can't find anywhere else."
Richard said the city wants to find its unique identity to not only help market the community to new residents and business growth, but also to have accurate representation within collaborating groups such as the Fargo Moorhead West Fargo Chamber of Commerce or wider economic development groups that assist in marketing the full metro area.
"It helps the metro overall," Richard said. "We have these three communities with distinct personalities, where people are living and working and bringing their business to."
Richard said having its own identity and brand will help bring the voice of West Fargo to the table at metro and statewide levels. "What we're really focused on is the story of West Fargo, the full messaging and the full architecture of what that brand is," Richard said.
While new branding proposals are planned to be approved by the City Commission by the end of this year, a major visual change may not be seen. Richard said once a brand, logo and identity are decided upon, the rollout will be gradual.
The city has no plans at this time to repaint water towers and change out designs on city property at an extra cost. It would likely replace the old logo as pieces of property and equipment are replaced.
1
/
6:
Community members participate in yoga at The Lights.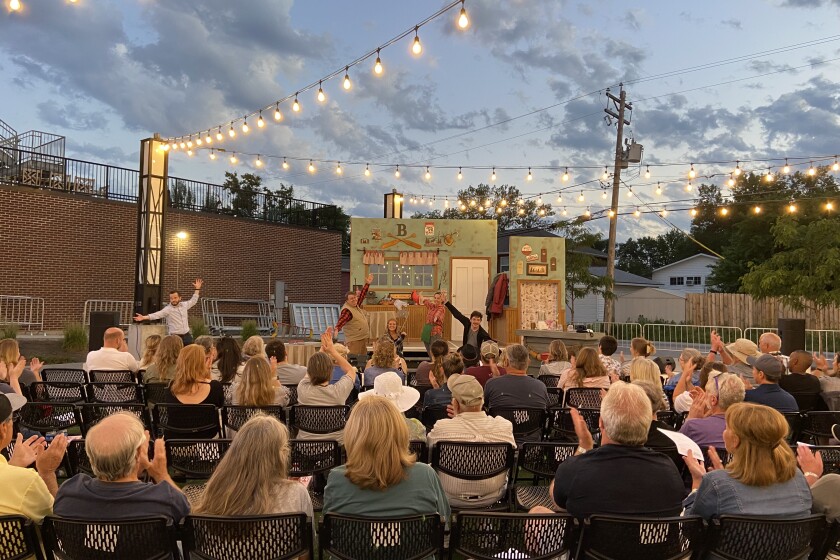 2
/
6:
The POW/MIA Plaza north of the Pioneer Place building in West Fargo on Sheyenne Street is a popular venue for outdoor performances as well as community events.
3
/
6:
Classic cars draw a big crowd as West Fargo Cruise night returned back to Sheyenne Street on Thursday, June 16, 2022.
4
/
6:
A young attendee enjoys creating art at a community art experience event in West Fargo this year.
5
/
6:
Justin Moore performs on the Midco Stage at Essentia Health Plaza at The Lights.
6
/
6:
A patron walks into the Pioneer Place along Sheyenne Street in West Fargo.