Fargo-developed CareerViewXR offering new level of immersion to career discovery
Created by Be More Colorful, a virtual reality agency housed in NDSU's Research and Technology Park, the CareerViewXR platform aims to revolutionize how students explore career paths. "What we're really working to do is use immersive media to help create authentic experiences that align the right people with the right careers," company CEO and co-founder Matt Chaussee said.
FARGO — A virtual reality agency in Fargo is seeking to improve the career exploration process for children across North Dakota and beyond.
Matt Chausee, the CEO and co-founder of Be More Colorful , has a whole world of immersive, 360-degree job experiences at his fingertips, all in the name of helping students identify careers in which they may be interested. Inside the company's office in the NDSU Research and Technology Park, Chaussee opts to cue up footage from the construction of the RDO Building in downtown Fargo, immediately transporting the viewer into the active construction site.
The sky-high view is thanks to CareerViewXR , the platform Chaussee and the Be More Colorful team have developed over a two-and-a-half-year period.
Chaussee, working alongside wife and co-owner Katie and four other employees, said the platform has a simple goal in mind. "Just like a home virtual tour where you can navigate through the home, we're creating virtual tours of job shadows and field trips so that you can get an immersive experience," he explained. "What we're really working to do is use immersive media to help create authentic experiences that align the right people with the right careers."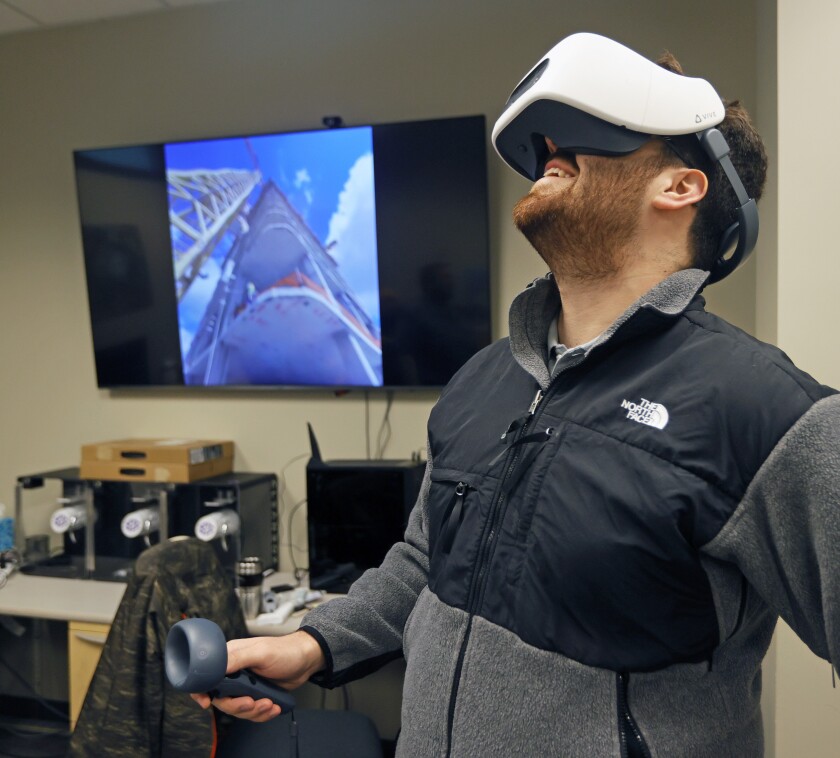 The journey started when Chaussee bumped into Michelle Kommer, then North Dakota's Commissioner of Commerce, at a tourism convention in June of 2019. Chaussee pitched his idea for CareerViewXR to Kommer, which spawned a meeting with the state's Workforce Development Council.
That meeting was a roaring success, Chaussee said, giving CareerViewXR a boost. "I had 15 minutes to talk and everyone was buzzing," he recalled. "We ended up with two clients straight out of that meeting."
Those two early clients were the North Dakota Building Trades Union and Fargo-based General Equipment and Supplies. Don Shilling, the chairman of General Equipment and Supplies, took an immediate liking to the platform's potential for showcasing careers in diesel. "He immediately said, 'This is something we absolutely need.'," Chaussee said.
Next came interest from Williston and Devils Lake, two cities which applied for Perkins V grants to fund more of CareerViewXR's experiences. The dominos have been falling since, and now Chaussee estimates 70 to 80% of Be More Colorful's business is focused on CareerViewXR.
'Oh my gosh, that's a big ladder'
CareerViewXR features three different experiences.
The fastest is a work environment tour, which offers a quick peek inside an active worksite. One such option is elevator construction, which features three scenes inside one of the RDO Building's elevator shafts .
The next option is a field trip, which is a more "storyboarded" tour of a facility. These offer an inside look at places many people have never seen before, like a wind turbine near Langdon . "These scenes are really impactful because you're looking at this and the first thing you're thinking is, 'Oh my gosh, that's a big ladder.'," to the top of the turbine, Chaussee said while walking through the field trip.
For a full day in the life view of a specific job, CareerViewXR also features job shadows. The job shadows are the longest tours and allow viewers an in-depth look at a realistic work day for a given profession. At the end, viewers can watch quick question-and-answer videos from the professionals themselves.
All three experiences are loaded with what Chaussee called "hotspots", buttons on which viewers can click for more information. The experiences can be viewed on a desktop computer, tablet or mobile device. "All of the devices that students are already using are now in play to be able to use these experiences," he remarked.
Those with access to a virtual reality headset will have the most immersive experience. "You can be looking around in a scene as if you're there in-person," Chaussee described.
The range of options is designed to give either a surface-level view or a deep-dive into a field. "It's a choose-your-own adventure," Chaussee commented. "It's flexible based on the interest level of the user. It's less of a video and more of a video game experience."
The video game experience draws inspiration from Minecraft, the sandbox survival game that's a favorite of Matt and Katie's children. "This isn't as immersive an environment as Minecraft, but it creates those opportunities to go seek and explore and find those next things," he said.
Devils Lake Public Schools was one of CareerViewXR's earliest education clients. Devils Lake High School principal Ryan Hanson said the platform has been a game-changer for students.
For younger students, the platform features possible career interests. Older students meanwhile get a peek at a more imminent future. "They're getting a real look at what life maybe would look like after school," Hanson said. "It just gives you that opportunity to check out a lot of stuff."
School counselors have been leading the charge when it comes to implementing CareerViewXR in the classroom, Hanson said. The objective is to get it in front of all the students by the end of the year.
Devils Lake, Hanson explained, is in a tricky spot geographically. It's within driving distance to North Dakota's four major metro areas, but it's comparatively just a dot on the map. "We're kind of in one of those spots in North Dakota where we're a little forgotten, so to speak," he said. "You have the Fargo area, the Grand Forks area, the Minot area and the Bismarck area. Then there's everybody else. We're in that everybody else area."
Being in that "everybody else area" means it can be hard to retain young residents when larger cities come calling. Hanson hopes CareerViewXR can change that by showing students jobs in the community and aligning those students with local employers.
That it's quick, real and interactive also helps educators who are vying with infinite other alternatives for students' attention. Some students have been "all in", Hanson said, while others have been more shy about using the platform.
Either way, Hanson hoped the platform would get students thinking. "We tell them that you don't need to know what you want to do right now," he said. "For those kids, to me, this is an opportunity to just take a minute-and-a-half to two-minute glance at several opportunities that are out there."
CareerViewXR, he continued, may spur an interest or show them something they didn't know was out there. "Kids these days have to remember that a lot of the job opportunities that might be out there, we don't even know what they are yet. They don't even exist," he said. "Those kids just need to have an open mind and this really gives them an opportunity to see at least what things look like now."
Virtual reality has become a daily part of Ann Pollert's work life, so much so the director of workforce development for General Equipment and Supplies keeps a headset plugged in on her desk every day.
The headset has become a focal point at both the jobs fairs she runs and the classrooms she visits across the state. "We use it everywhere that we're recruiting," she said.
At the ready are site tours of General Equipment and Supplies' facilities, which Pollert can pull up for anyone interested. It brings an inside look at a diesel mechanic's shop to the masses, especially useful in the rural areas Pollert frequents.
What it also brings, Pollert noted, is "enthusiasm", making it easier to start a conversation with a student. "It's hard to work with middle schoolers and high schoolers. Sometimes it's hard to get the conversation rolling," she said. "Then you show them these (tours) and the ice is broken."
It's why virtual reality has become such a staple of Pollert's recruiting efforts — it's both a conversation piece and an entry to the diesel industry. "It's so great for recruiting young people because they're intrigued by it," she said. "That's why they're so great for us. They see those on my booth and they know what they are."
In the office, that means shop tours can be enhanced with a virtual reality view at a NOx sensor repair, offering detailed information about the tools and computers used for the task. At an event, the headset signals that General Equipment and Supplies is a company with an eye to the future.
To Pollert, it's all about getting the ball rolling. "The more people that I can have a conversation with, the more I'm going to find the right kids who are interested in diesel," she said. "The more kids I can talk to, the better. VR helps me reach more kids."
'We're out to solve a problem'
Both Hanson and Pollert agreed that the career exploration opportunities CareerViewXR provides simply didn't exist when they were in school. "When I grew up, nobody talked to me about career exploration," Pollert said. "When I picked what I wanted to do and I was going to a four-year school, nobody said, 'Have you job shadowed that?'"
Pollert said she did her career exploration in college. Today, college is too costly an endeavor for bouncing between majors and career interests, which is why Hanson said CareerViewXR was a quick sell for Devils Lake Public Schools. "It's just amazing to me what they've been able to do," he said. "There's nothing else like it. They are cutting edge and we're just happy to be part of it in the early going."
Chaussee called CareerViewXR a "passion project", expressing optimism about its potential to revolutionize the way students consider their career options. "We're not out to sell the neatest, coolest tech. We're out to solve a problem," he said. "What you see is not what we just dreamed up one day, it's what's been crafted from thousands of conversations with students, educators and employers."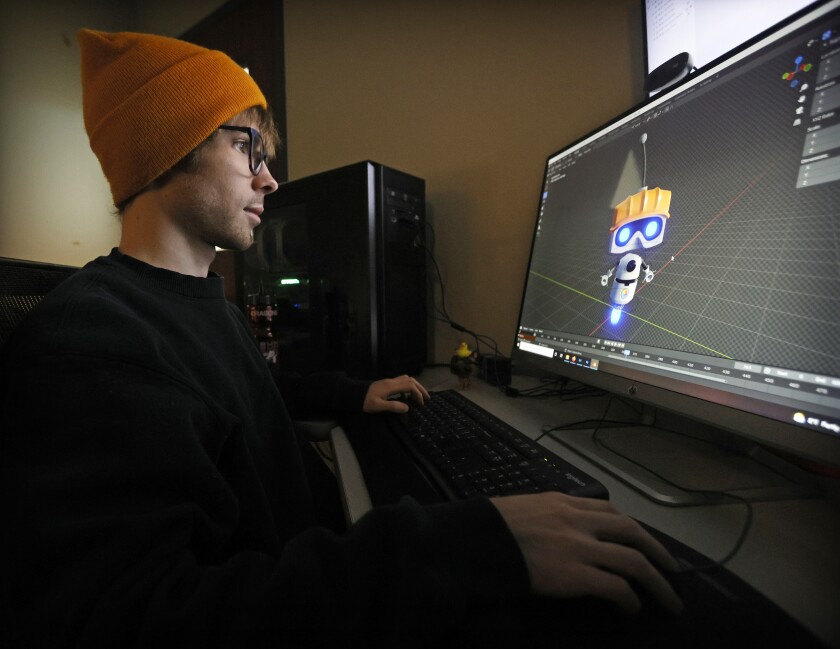 The response from teachers and students alike has been overwhelmingly positive, he noted, adding that students are "starved" for this sort of offering. "The feedback we're getting from educators is that it's a very effective tool for their one-on-one conversations with students about careers," he said.
Businesses meanwhile have enjoyed the chance to showcase themselves, giving them an edge in hiring. "It really allows the businesses to be able to tell their story in a new light. It's not click, play and watch, it's 'Here's our space, now let's engage with it.'," Chaussee said. "It provides huge value to companies and they've responded really positively to it."
To move the platform forward, Chaussee wants to add even more career paths, mentioning healthcare, cybersecurity and even more building trades as possibilities. "We are just getting started. I want there to be hundreds if not thousands of these experiences," he said.
Long term, it's all in an effort to retain children in the region and ease the state's workforce shortage, which is why he's placed a strong emphasis on featuring careers in North Dakota.
If all goes to plan and CareerViewXR reaches a national audience, Chaussee said it'll help the state put its best foot forward to prospective residents. "We're North Dakota born and bred, we are passionate about all things North Dakota," he said. "We want to start this here, but all of the experiences that we're creating, they've got value around the country because this problem of being able to get authentic career experiences in front of kids is a universal one."