First look inside Brewhalla shows venue ready to become region's you-name-it-they've-got-it destination
Drekker Brewing's 100,000-square-foot market concept serves up food, drink and plenty of spaces to work, play and celebrate.
FARGO — A bigger, bolder, brasher Brewhalla is ready to tap into some good memories.
The "good times factory" — a marketplace, brewpub, meetup, convention, wedding, vacation, staycation, play, dining, you-name-it-they've-got-it venue — throws open its doors to the public Saturday, March 18, with "soft opening" events leading up to that day.
The four-story, 100,000-square-foot mix of market, hotel and events center at 1702 1st Ave. N. was bustling with construction workers and business owners Monday as they hooked up food coolers and cash registers, painted walls, stocked shelves and cleaned.
"It's a mad dash," said Mark Bjornstad, president and founder of Drekker Brewing and Brewhalla. "It's fun seeing it all come together."
The $20 million building has a modern, industrial vibe inside and out, with concrete floors and exposed beams and ductwork.
Huge windows and the expansive skylight covering the four-story atrium bathe the market, mezzanine and hotel levels in natural light.
Enter the main doors and you'll see the gastronomic amusement park that is The Market, a 24-tap beer bar featuring a selection of Drekker Brewing's beers, and a 5,100-square-foot event space dubbed "The Magic Factory."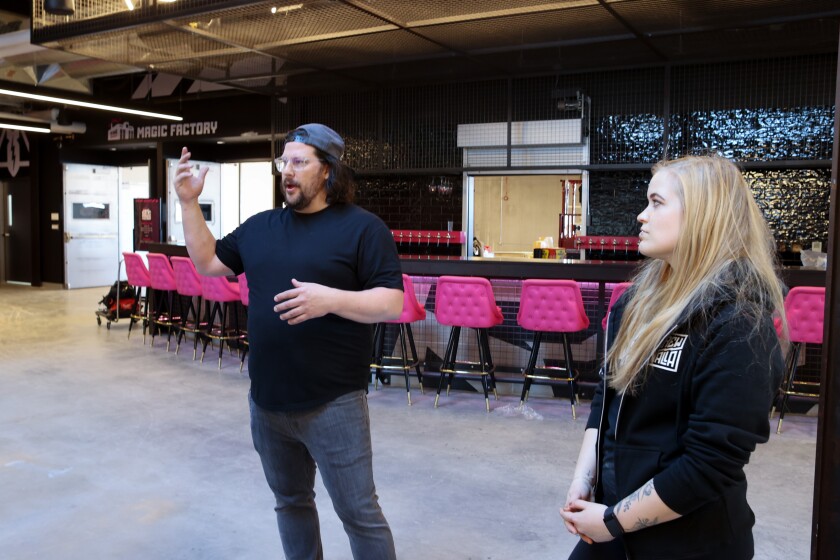 "We're excited to show it off," Bjornstad said as he led a tour of the building.
Concepts offering dining, shopping and business and events spaces are popular in major cities like Denver, Chicago, Atlanta and the Twin Cities, but it hasn't been done in Fargo on a large scale, he said.
"They're a place to come grab a quick lunch, a quick cup of coffee. They're a place to hang out and do work. They're a place to meet a big group of friends and flop down on one of these living room areas and just chill for a night. Markets serve multiple different functions for different people, and that's what keeps the activity and the flow always going," Bjornstad said.
Brewhalla's ground floor eateries include Mangata Wine and Raw Bar, Luna Market and Unicorn Park Fine Foodery, all overseen by Chef Ryan Nitschke, as well as Blackbird Woodfire Pizza's "The Bird" satellite shop. There's also Cows & Co. Creamery; Duchessa Gelato, which is under the Cows & Co. umbrella; Nichole's Fine Pastry & Cafe; and Thunder Coffee, which has a drive-thru pick-up area. Of course, there is also Drekker Brewing's significant presence.
Non-food outlets include the Unglued arts and crafts store, Livin' The Dream Pottery, The Plant Supply and Red River Refillery.
Bark'n Biscuits Co. also has a shop offering treats for the four-legged set.
There are about 100 seats on the first floor, but the mezzanine level offers diners plenty of room to spread out and people watch The Market below. There are two- and four-seat tables, lots of couches and even stadium seating that can double as a business presentation area.
Beyond dining, the mezzanine is designed for play — pinball anyone? — crafting at Unglued's "Craftorium," and for non-private business or friends and family events.
"Families, friends, companies want a space where they can throw a party, … but they don't want to have to define their space. They want to be somewhere where there is other activity," Bjornstad said.
It's also a place to spend time with friends.
"It's not just a space to get a bite, it's a space to hang out," he said.
The 4,000-square-foot "Odditorium" events space is on the second level, too. It includes green rooms for wedding parties, serving areas and a balcony. A second 24-tap bar area is there to service events.
Brewhalla isn't designed to be the answer to all of Fargo's convention center needs, Bjornstad said, but it will be a good option for many organizations.
"The need that we designed around was (that) Fargo doesn't have a convention center. … We're not trying to be 'the' Fargo convention center, but we're trying to offer that as a function. You could be doing all the types of things that you want to do. An expo in one of the event halls, meetings in another and breakout spaces all across here. We've got a lot of room," he said.
The third and fourth floors hold the 40 rooms of the "Crash Pad" boutique hotel, which is still being finished and about two months away from being fully ready for occupancy, Bjornstad said.
The original plans for the building included condominiums, but demand for hotel rooms pushed that plan to the side. Dropping the condos "was really where the whole concept started to come together as a cohesive thing," Bjornstad said.
There are about a dozen standard-size hotel rooms, but most of the rooms are designed as suites with kitchenettes, refrigerators, microwave ovens and sinks. Full suites include dishwashers and washers and dryers. Most of the rooms have balconies.
Guests can check in at the first-floor bar or online to obtain a personal identification code to access the hotel any time, day or night.
Hotel booking goes live sometime after the opening of the market and events center, Bjornstad said. He expects the hotel to be open before Memorial Day.
Though the apartments have been dropped from Brewhalla, a nearby venture Bjornstad is involved in — the four-story J Street Flats at 1418 1st Ave N. — will provide housing that he hopes can help reinvigorate the residential, commercial and industrial area just west of downtown.
Construction of J Street Flats, which includes 90 one-, two- and three-bedroom apartments, is well underway.
Schultz and her husband now own the south Moorhead Grill and Chill shop and are planning improvements. They also own Dairy Queens in Wahpeton and Dickinson, North Dakota.
Company social media post indicates the closure is temporary, but gives no date for reopening.
Drekker is already a destination for beer lovers.
Bjornstad and Brewhalla's Supreme Experience Conductor Hailey Von Wald expect that trend to grow.
"We get a ton of traffic from the region on a regular basis for our beer releases," which are every other Friday, Bjornstad said.
Each release of five to 10 new beers "draws a lot of traffic into town from all over Minnesota and North Dakota. We get a lot from Iowa and Wisconsin, South Dakota, as well," he said.
Von Wald said she recently got an email from a Denver man planning to fly to Fargo and make a pilgrimage to Drekker.
"People are pretty hardcore," Von Wald said.
On the ground level, there's a connecting passage with a gently sloping ramp between the original railroad repair building that houses Drekker Brewing (now called Drekker at Brewhalla) and the new Brewhalla.
There, you can find a glassed-in side room with five 250-gallon Foeder's Crafters' oak fermentation barrels. The beer brewed there uses "wild" yeasts from the air around the brewery. The brewing process can take nine months to three years to complete, Bjornstad said.
Between the old and new buildings is a large outdoor patio and turf lawn space around the 1883 smokestack that was preserved on the site. A stairway leads to a rooftop patio above.
"To me, this is the spot where we really get to show the intention and the design, where we have the old building standing next to us here, the old brick of the 1883 smokestack. … And then you have this new, modern industrial building," Bjornstad said. "We love things that are raw, industrial, the bones of stuff."
The market will be open 10 a.m. to 8 p.m. daily, Bjornstad said, though some businesses, such as Thunder Coffee, will open earlier, and others may be open later on weekends.
The Brewhalla project was announced in December 2020. Construction began in 2021. It was hoped the project could be completed by the end of 2022, but supply chain issues delayed the arrival of materials and threw construction timetables off.
There are also intricate and advanced safety systems in the building that took time to design, install and integrate.
"This isn't our first project," Bjornstad said. "Getting open seems like the most important thing in the world, but that's just a marker on the calendar." Getting the space right "is really what it's all about."