Marge's Diner brings its 1970s vibe to downtown Fargo
The breakfast, lunch and brunch-focused restaurant offers up a kitschy, but fun, Brady Bunch meets Midwest atmosphere.
We are part of The Trust Project.
FARGO — Take the house from the Brady Bunch, fill it with some Midwest knickknacks and gewgaws, overlay it with a soundtrack of 1970s pop/rock hits, and you'll start catching the vibe of Marge's Diner, the latest addition to Fargo's downtown.
The breakfast, lunch and brunch-focused restaurant at 220 Broadway opens its doors to the general public Friday, Dec. 9.
Marge's is a memory lane for those of a certain age, and a time capsule for the rest - with grandma's orange couch by the entry, plants suspended in macrame hangers, and about 250 sets of salt and pepper shakers filling a shelf and sprinkled around the eatery.
Bright Christmas lights hang overhead, while smiling Santas and other Christmas decorations of old grace the shelves of the bar, sandwiched in-between purple and green glassware and Corelle Ware.
Church pews line one wall, their cushions seasoned with coffee stains, adding to the old-timey diner feel.
Abba's "Dancing Queen" plays overhead, followed in quick succession by The Eagles' "Take It Easy," Billy Joel's "Piano Man," and Earth, Wind & Fire's "September."
Marge is clearly the queen of kitsch - and she knows how to party like it's 1979.
The Marge's Diner concept has been percolating for about a year, says Dan Hurder, president and CEO of the Great Plains Hospitality restaurant group.
Downtown needed a homey, comfortable place to serve up breakfast and lunch, he said Wednesday, Dec. 7.
Marge's Diner aims to fill that need.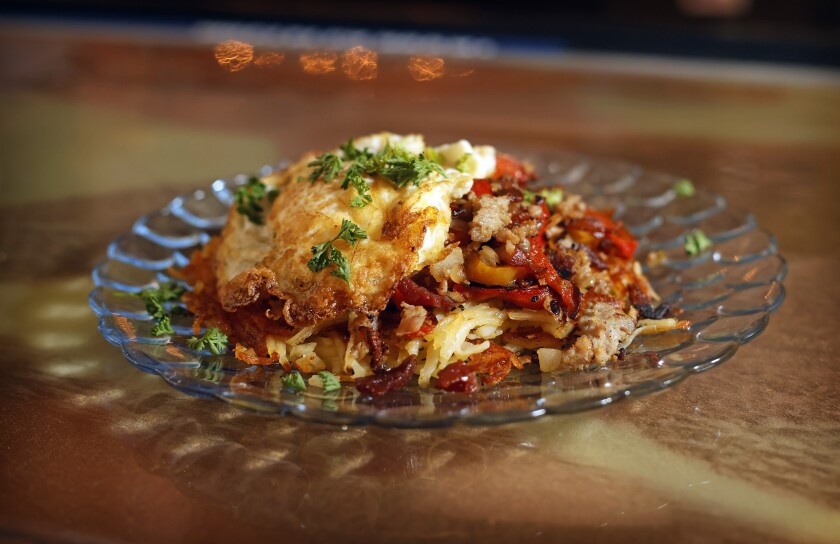 Among the breakfasts are loaded "Hangover hashbrowns" ($13), country fried steak ($14) and French toast ($12), while lunch offerings include a soup and salad bar ($13), sloppy Joes ($10), or tater tot hotdish ($12).
And what's a diner without specials?
Every Tuesday will be a "Tightwad Tuesday," with chef's choice specials. "Low cost, quick and easy" dishes, Hurder said.
The hours are limited compared to a lot of eateries: 8 a.m. to 3 p.m. Monday through Friday and 10 a.m. to 4 p.m. Saturday and Sunday. It makes staffing much easier, Hurder said, and provides the opportunity for the space to be used for events after 4 p.m. daily.
The restaurant offers a full bar, available when the door opens in the morning and carrying into the evening for events.
"We're already getting some 8 a.m. breakfast meeting reservations," Hurder said. "We need that early part of the day to make this work. We can only fit so many people in here at lunch."
He hopes the to-go salad bar option proves to be popular.
"A lot of lunch places have closed in the last couple of years and of course a lot of new offices are downtown. We keep hearing that there's a demand for lunch," Hurder said. "We also really like the event piece of our business, which is what we're going to do with the space in the evenings. So, we felt like those two complimented each other."
About 225 of the salt and pepper sets that line a shelf from the front of the restaurant to the salad bar line, came from a north Fargo woman who was selling her collection through Facebook marketplace.
"This is their new home, and that's how we filled up the whole wall," Hurder said.
The pews turned into dining room bench seating came from a church in Hawley.
Collections of ceramic plates and copper bundt and cake pans hang on the walls near the back of the restaurant.
"The decor is kitchy and probably not something I want in my house, but something I'm kind of into. My inner 50-year-old Midwest woman finally got to come out and decorate a bar, I guess," Hurder said. "We're not the perfect setting for a corporate presentation. It's going to be more about the atmosphere and the drinks and the food."
The Downtown Neighborhood Association had a meeting there Wednesday night, and some Christmas parties have been booked. Marge's is also prepared to cater weddings and rehearsal dinners, but … "if you're looking for a black-tie setting, this might not be it," Hurder said.
The space was originally the upscale Monte's Downtown restaurant and bar. Monte's gave way to the New Orleans-themed cuisine of the Sazerac Alley restaurant and bar. After that came Twist restaurant and bar , which was an unfortunate casualty of the business disruptions of the COVID pandemic, Hurder said.
For a short while, the space was rented for a business called Nosh Kitchen . Now, it's Marge's Diner.
"We encourage folks to come check it out. I tell people all the time, use it or lose it. We have to frequent restaurants to keep them around our community," he said.
The newest member of the Marge's brand is an extension of Great Plains Hospitality's popular Marge's Bar (212 Roberts Alley), which opened in 2019 next to The Boiler Room (210 Roberts Alley).
Other businesses in the GPH portfolio include the Boiler Room in Wahpeton, N.D., Chef's Table Catering in Fargo, Urban Foods Catering in Moorhead, Minn., and the Otter Tail Supper Club in Ottertail, Minn.
For more information, including a full menu, go online to Fargomarge.com .