Moorhead's newest bar, Harold's, taps into history
When Eric Odness decided to open a bar, the one thing he wanted it to be was completely different from any other bar in Fargo-Moorhead.
Harold's on Main, at 1330 Main Ave., Moorhead, looks to be that place. Odness and his partners transformed the 1,290 square-foot garage that had been Main Avenue Auto into a space that looks more like a mid-century modern cocktail lounge.
The new night spot opens Friday, Feb. 1.
Beyond the dark wood paneling, green upholstered booths and luxurious wallpaper, perhaps the most noticeable thing at Harold's is what it doesn't have. There are no TVs or video games.
"I personally can't stand a million TVs in bars. It makes for horrible lighting and people don't talk to each other," Odness says. "I just wanted a nice bar with dim lights. Everything seems so massive now, big cavernous spaces. I prefer a cozy bar."
The coziness at Harold's is partially embodied with a fireplace in the corner and pendant lights that will make the bar glow through the windowed garage doors at night.
The Moorhead native, now living in Brooklyn, N.Y., wanted a place that reminded him of Ralph's Corner, a bar he could visit and always run into a handful of old friends. Since the bar closed in 2005, he says Ralph's expats have been looking for a place to drink when they return to Fargo-Moorhead.
Unlike Ralph's, Harold's won't have live bands or a jukebox, but music is an integral part of Harold's chemistry. Odness (Ageist, Primitive Weapons) and his partners Rob Pope (Spoon, The Get Up Kids), Frank Bevan (Freedom Fighters), Sean Tillman (Har Mar Superstar), Preston Olson (Dirty Preston) and Tom Kemmer (The Danforths) have all been in bands.
The idea for the bar came after Spoon played the Fargo Theatre in 2015 and Pope enjoyed his time in town.
"I had a wonderful night and the next morning I called Eric and half-joked, 'We should open a bar in Fargo,'" Pope says. "A little while later he asked if I was serious and I said, 'Yeah.'"
Odness, Tillman and Olson did some site searching around the area before settling on the current space. Odness likes that it's relatively close to Minnesota State University Moorhead, remembering that the art, design, theater, English and music majors there helped make Ralph's such a fun scene.
He also likes bringing something cool to Moorhead.
"I feel like there are more bars on Broadway than in all of Moorhead," Odness says.
Partner and operations manager Aaron Hanson knows there is an association with Ralph's, but says Harold's will be its own bar.
"I love the atmosphere. The whole vibe is cool," says Hanson, who went to Moorhead High School with Odness and Olson.
A veteran bartender of a number of FM area establishments, including the HoDo Lounge and Monte's, Hanson says Harold's key is its mix of upscale aesthetics and dive bar appreciation.
"It's a nice balance between a cocktail lounge and a VFW," he says, adding that you can get a $3 Hamm's on tap or a signature cocktail named for one of the owners.
The Hamm's is a nod to the bar's namesake, Odness' grandfather, Harold, who was a former delivery man for Hamm's, located in downtown Moorhead. The bar's logo is a copy of the embroidered shirt he used to wear.
1
/
3:
Exterior of Harold's on Main located at 1330 Main Ave. in Moorhead. David Samson / The Forum
2
/
3:
Booth space at Harold's on Main located at 1330 Main Ave. in Moorhead. David Samson / The Forum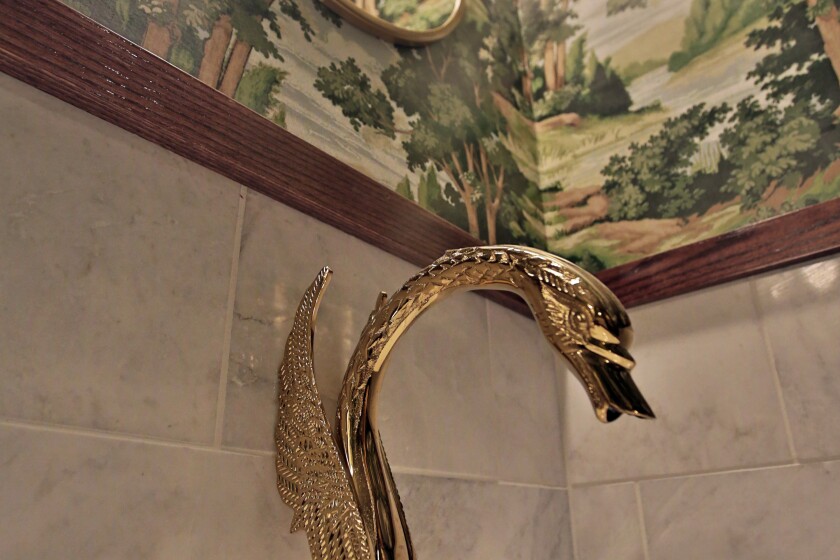 3
/
3:
Bathroom sink in Harold's on Main located at 1330 Main Ave. in Moorhead. David Samson / The Forum