New business promises homeowners floor-to-ceiling garage transformations
Hello Garage specializes in polyaspartic garage floor finishes and storage systems. Since opening, local franchisee Dave Reek and his crew have been refinishing garages throughout the area.
We are part of The Trust Project.
FARGO — A finished garage floor has been on Lisa Christianson's wishlist since she and her husband, Mike, bought their home in south Fargo eight years ago.
The floor moved up the list recently after Christianson began working from home.
"Now that I work from home and I see the garage a lot more, I said, 'It's time. Let's do this,'" she recalled Monday, June 20.
Dave Reek, owner of the local Hello Garage franchise , and his crew finished their floor Tuesday, June 14, and the Christiansons are ecstatic.
"It just makes a world of difference," Christianson said. "Driving in, it's really an aha moment."
Her only regret: She wishes she could have purchased some of the garage organizational products sold by Hello Garage.
"We do already have some storage that was built in, so we did not. I wanted to!," she said.
Polyaspartic versus epoxy
Reek recently launched Hello Garage here after spending months researching different franchise opportunities online.
He was looking for a change after working 16 years as an orthopedic sales representative for companies like Zimmer Biomet, which manufactures hip and knee replacements and other medical devices. Reek had grown weary of life on the road and felt like there was little room for advancement. Supply chain woes were also a factor.
"I quit my last job because it was up to me to make sure implants were ready (for surgery), but I'd be sitting there waiting for Fed Ex. That's why I wanted to find something for myself," Reek said.
The self-proclaimed DIY-er has done projects like kitchen and basement remodels, but he didn't really want to work inside people's homes full time.
That was a major reason he settled on Hello Garage. Reek was also attracted to the franchise's focus on education and customer service.
Hello Garage specializes in polyaspartic finishes for garage floors as well as storage systems.
He explained the science and benefits behind using Hello Garage's polyaspartic finish versus epoxy on garage floors.
"With epoxy, the molecules are larger than they are for polyaspartic. When they hit the concrete, they spread out. It looks very nice from the top, but microscopically from the side it's not seeping into all those cracks. So, when water becomes an issue from the bottom or the top it can cause havoc," he said.
"Epoxy can also be really brittle," he continued. "If something drops on it and it's not supported, it will crack. Once it cracks, it's over. Epoxy is just fine inside of a house in a more controlled climate with less temperature variation and water issues."
Hello Garage also offers a lifetime warranty for the finish, which is applied in five steps:

The floor is prepped with an industrial grinder.
Cracks and surface damage are repaired.
A tinted base coat is applied.
Decorative flake is applied to the surface.
A clear top coat is applied.
The Christiansons were pleased with the quick turnaround time. They were able to walk on their garage floor within 24 hours and drive on it the following day.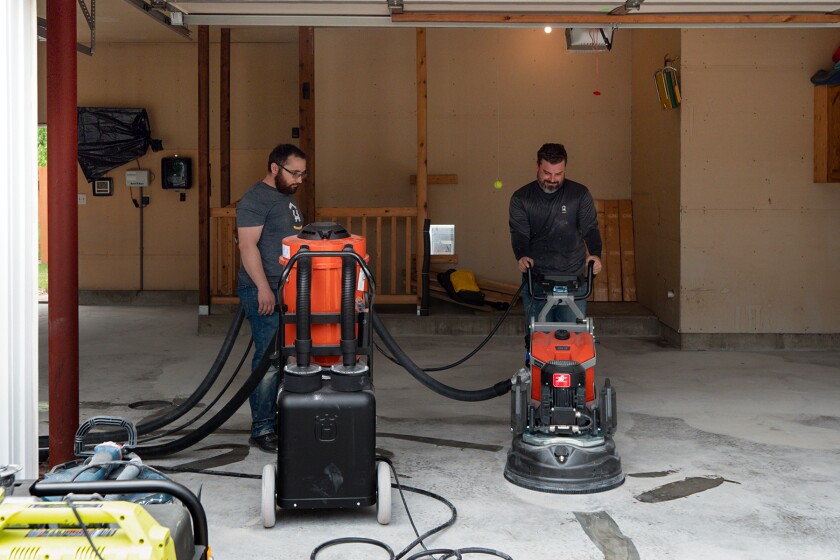 Hello Garage also sells and installs slat walls, track systems and accessories to help homeowners organize their garage.
The customizable organizational systems include heavy-duty frames, shelving, pegboards, work benches, drop zones, cabinets, garage heaters, vacuum systems, lighting systems and more.
Reek said customer service is where Hello Garage shines. The franchise provides a bidding software that he works through with clients so they know the exact cost of the project.
Christianson said she would highly recommend the experience.
"I love it and am so glad we were able to work with Dave. He was very helpful, knowledgeable and took the time to explain everything and take all the measurements, which was really nice," Lisa said. "If we ever move, we're going to need to have Dave come over and do the floor of our new garage."