New do-it-yourself photo studio now open in downtown Fargo
Selfie WRLD Fargo offers 30 different photo backdrops that appeal to a wide range of interests and ages.
FARGO — Owners of a new do-it-yourself photography studio have a sweet deal for couples in advance of Valentine's Day.
Selfie WRLD Fargo is currently offering couples two-for-one admission for a one-hour photo session in its new studio at 630 1st Ave. N. in downtown Fargo.
While co-owner Robbin Taves said men occasionally drag their feet coming in, by the time they leave they're texting their buddies to say, "You've got to come try this."
Selfie WRLD Fargo offers 30 different backdrops or stations. Some are required by the franchise, others were designed by Taves and co-owners Kim Collins and Jill Boor.
The stations appeal to a wide variety of ages and interests, Collins said. One of the most popular so far has been the vintage diner.
"People are digging the nostalgia," she said.
While subzero temperatures have been a challenge since opening Jan. 15, the women said they're having a lot of fun and are pleased with the response so far. Right now they're focusing on getting the word out about Selfie WRLD.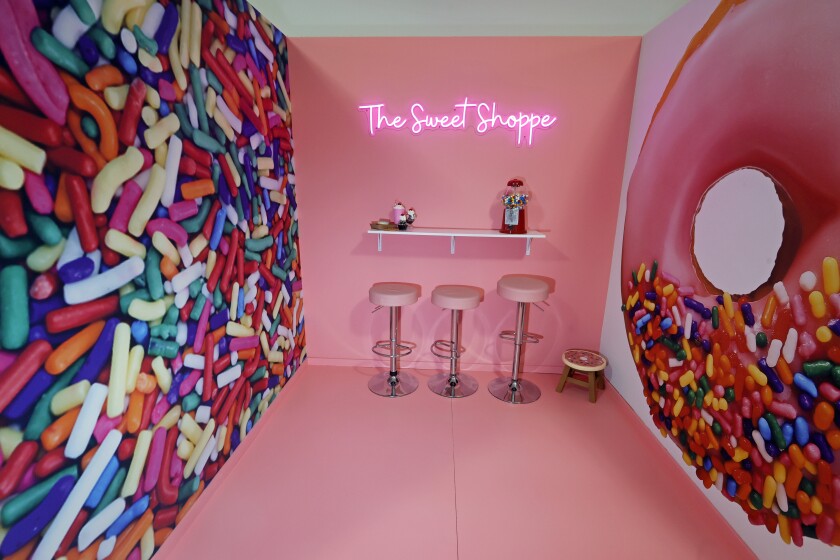 Selfie WRLD Fargo charges $25 for adults and $15 for children ages 3-10 for a one-hour session. Group rates are also available.
When clients come in, they're given a ring light to hold their cellphone as well as a remote control clicker.
But don't get the impression that Selfie WRLD is only for amateurs. The women say many professional photographers have come in with clients for senior photos, engagement shoots and other special sessions.
They have public restrooms and a changing room, so clients are welcome to bring in a few different outfits.
Collins recalled a young gal who came in recently.
"She had all these changes of clothes and said she was there to take a profile picture for her dating app. I said, 'What music do you want? What will get you in the mood and all sassy for your photo?,' Collins said. "She was so fun."
A father/daughter session was a recent favorite of Taves.
"A little girl and her dad were in and had all sorts of fun. He brought her for her birthday," she said.
The women are asking those who come in to tag the Selfie WRLD Fargo in any photos posted to social media. Check out photos of those who have, as well upcoming specials, on their Facebook , Instagram and TikTok pages.
WHAT: Selfie WRLD Fargo
WHERE: 630 1st Ave. N. Suite 3
CONTACT: 701-478-4004
ONLINE: selfiewrldfargo.com
COST: $25 for adults; $15 for children ages 3 to 10. Group rates are also available.