New facility means new possibilities for West Fargo's Assembly Systems
Diversification has long been on the agenda for West Fargo's Assembly Systems. For too long, branch manager Jeff Manuel said, the company had been reliant on a small group of clients. Thanks to a new facility which opened in 2021, Assembly Systems aims to bring on new business in the form of medical devices, autonomous vehicles, drones and beyond.
We are part of The Trust Project.
WEST FARGO — Since opening in 1993, Assembly Systems has been content in its role as an under-the-radar employer in the Fargo-Moorhead area.
The company's lane was fairly routine and straightforward. Doing subassembly work for a stable list of clients in the transportation and agriculture industries meant coming into work came with few surprises each day, branch manager Jeff Manuel explained to The Forum.
"We knew what the schedule was. We knew what we had to build every day," Manuel, an eight-year veteran at the company, remarked. "We didn't have to go out and look for other business.
Thanks to a variety of factors, including a new, 70,000-square-foot facility and the COVID-19 pandemic, those predictable workdays are in the rearview mirror. Asked if this was the most change he'd seen during his tenure with Assembly Systems, Manuel replied swiftly in the affirmative. "That world has changed," he said.
Walk across the production floor at the Assembly Systems plant, tucked into a nondescript industrial park on the city's north end, and the company's transportation and agriculture background is readily apparent.
On the floor, you'll find several work benches where hoses are fastened to engines, tires are balanced and trucks are up-fitted with various attachments like additional storage compartments.
Manuel will quickly note, however, that nothing is anchored into the floor, meaning the whole production area could be repurposed if needed. "We definitely can adapt to whatever our customer needs. That's really been our success," he said. "We can take what's chaos to a customer and that's what we focus on."
That chaos can come in the form of a particularly difficult assembly, storing excess inventory, managing various suppliers or anything else. "They have a lot of stuff going on," Manuel added. "We can take some of that chaos away by focusing on what they've asked us to do."
Put another way, Assembly Systems can be thought of as a "subcontractor" for other producers, Rick Lemke, who works in business development, said. "If there are other companies that are assemblers or manufacturers and they're short on manpower, or short on space, or in some cases both, that's where we come in," he explained.
Currently, one of their biggest tasks is preparing and storing engines, transmissions and axles for New Flyer's St. Cloud facility. Assembly Systems will then deliver the parts as needed to New Flyer's facility."That's referred to as just-in-time delivery," Lemke said. "You could almost back the truck up right next to the production line and have everything come off that truck in the order that it's needed on the production line."
It isn't just New Flyer components that pass through the doors at Assembly Systems, however. Other noteworthy projects over the years have included spray tanning booths, an off-brand snowmobile, ground thaw heaters and sidewalls for double-decker buses. They've also helped produce the Door Stud , a tool from a local firm that makes hanging doors a one-person job.
In short, give Assembly Systems the materials and a blueprint and they will handle the rest. "We can build anything that we have a drawing to," he said.
`Assembly Systems's new production facility opened in 2021. It's provided a major step up for the company's capabilities, Manuel explained.
Beyond the 70,000-square-feet of production space, there is a 6,000-square-foot modern front office area.
On the production side, the biggest change from their previous facility is more headroom. Whereas the previous building had 12-foot ceilings, the new plant's ceilings more than double that.
More vertical space means more storage, as shelves now reach up to 24 feet. It also means the plant has room for two-, five-, and 10-ton cranes, which Manuel said operate "all in parallel."
Even after work benches, shelving and cranes, Manuel said the facility still isn't at its most efficient use. There's still empty space on the floor and production only runs on one, weekday shift. "We have room to grow just within this building," he commented. "We're a Monday through Friday, 7 a.m. to 5 p.m. (employer). We have square-footage out there that's still available and we have the ability to work the entire 24 hours of the day."
All told, the new building is a "total game-changer," Manuel believed. That's where Lemke steps in.
In his six months with Assembly Systems, Lemke has been working the phones to bring in new business.
The ultimate goal, he said, is to diversify beyond their core competencies in the transit and agricultural world. "In the time since I started, one of the big things that we've talked about is diversifying," Lemke said. "As time goes on, we want to get away from one big contract type of company to the type of company that's filling production slots."
While Lemke has served as the latest spark, Manuel noted that talks of diversification have been ongoing since 2018. "We needed to diversify," he said. "We relied on ourselves to support the transit bus world and that was our only customer."
The company rises to new heights with continued investment through a 16,000 square-foot expansion, adding 50 high-tech, skilled positions.
In an effort to bolster its presence in the agricultural industry, Continental announced its acquisition of WCCO Belting Tuesday, July 5. Financial terms of the deal were not publicized.
D&M Industries' ESOP structure is a source of pride among the employee-owners, and has fostered loyalty, teamwork and an aim for excellence.
The ultimate push came in 2020 in the form of the COVID-19 pandemic. Demand from New Flyer took a downward turn. Fortunately, Manuel said, Assembly Systems had enough other lines of business to weather the storm, but the message was clear. "We need that diversity so we can withstand any type of economic changes," he remarked. "When that hit, it forced us to really look harder at moving forward."
Settled into the new facility and his role, Lemke has been orchestrating the diversification drive. It's been as much about bringing on new business as it has been about stepping out and making connections. "We've taken an approach to really go out and sell what we do," said Manuel. "Not only are we going out to potential customers, but we're also going out to the city mayors and economic development groups."
For one of their newest prospective clients, Lemke credited the Greater Fargo-Moorhead Economic Development Corporation with an assist.
It was Ryan Aasheim, chief business development officer of the GFMEDC, who made the connection between Assembly Systems and CorVent Medical , a ventilator manufacturer which settled in Fargo earlier this year.
CorVent relocated to Fargo from California this year, though CEO Richard Walsh told The Forum their manufacturing still takes place in the Golden State. The company has already relocated other aspects of their production to North Dakota, working with firms such as ComDel, Dakota Micro, and a Fargo-based labeling company. The ultimate goal is for manufacturing to follow suit. "We still manufacture in southern California where it's fairly costly to build stuff just because of the cost of doing business in California," Walsh remarked. "Everything from the complexity of their regulations and their taxes and just the cost of living there."
A company that was assembled in a hurry at the beginning of the COVID-19 pandemic, CorVent Medical made Fargo its permanent home Tuesday, Jan. 11, at North Dakota State University.
That's where Assembly Systems would step in. Walsh said CorVent has been "looking very seriously" at hiring Assembly Systems as a contract manufacturer for their ventilators and CPAP devices.
Manufacturing ventilators, however, requires "ultra-cleaned" rooms, Walsh said. That would require Assembly Systems to construct new facilities free of petroleum products, but it's a step Lemke said they're willing to take. "We've developed a very good relationship with them and they know we're willing to build a clean room for them in order to manufacture their product," he said.
While a final decision won't be made for another few months, Walsh has already been impressed by Assembly Systems and their willingness to make accommodations. "Assembly Systems, they've been really, really good as far as having good, collaborative discussions," he said. "They've gone above and beyond trying to accommodate the special types of manufacturing facilities that we need because we're governed by the FDA."
Modern tech is no problem
Assembly Systems is also seeking to build the technology of the future in West Fargo. For that, Lemke has turned to Grand Farm and Emerging Prairie.
Lemke made contact with Arun Seelam, the CEO of Boson Motors, through the GFMEDC as well. Boson Motors is a manufacturer of autonomous farm equipment and light utility vehicles which plans to move from California to the Fargo area this year.
While scouting the area for tier-one suppliers, Boson Motors found Assembly Systems, Seelam said. The company manufactures its vehicles in India, though Seelam said final assembly and distribution would take place in Fargo. "It will take us some time before we actually set up space and scale," Seelam said, though he plans to bring 10 employees to the area right away.
Seelam said Boson relied on a list of "pain points" from Grand Farm as well as a presentation from Lemke to design their products. Lemke said Assembly Systems provided 21 different use cases for autonomous light utility vehicles specific to the Midwest.
While it is yet to be determined whether or not Assembly Systems will do the final assembly for Boson, Lemke anticipates that the groundwork that has already been laid will lead to future partnerships. "I don't know if we'll end up getting to build those for them, but I do know that we may have a relationship with them at some point," he said.
While autonomous vehicles represent new territory for Assembly Systems, Manuel said the company is up to the task. "As far as the concept of doing assembly of that type of vehicle, it fits right in our wheelhouse. It's different, but exactly what we already do," he said. "The brains of it will be a little bit different, but again, that's a plug-and-play deal."
It was through Emerging Prairie that Lemke discovered an opportunity for Assembly Systems to move into drone production as well. He attended an Emerging Prairie event about automation when a company official in the drones industry told him that the U.S. government had banned U.S. citizens from investing in DJI , which was discovered to be sending data from U.S. drones back to the Chinese government .
The lightbulb immediately went off. "We can make room pretty quick to make these drones for a number of companies," Lemke said. "A lot of these companies just don't have the ability to come up with 100 or 200 or 300 square-feet to build. Hopefully some of this stuff is going to trickle down our way."
Aasheim said his top job with the GFMEDC is to support existing industries in the area. It's why he makes a point of visiting anywhere from 100 to 200 companies per year to learn more about their operations and how the EDC can help.
He recalled that his visit to Assembly Systems was "eye-opening" in several ways. "You never really truly know what everyone's up to," Aasheim said. "There's always these hidden gems in probably any market and Assembly Systems would certainly be one of those gems."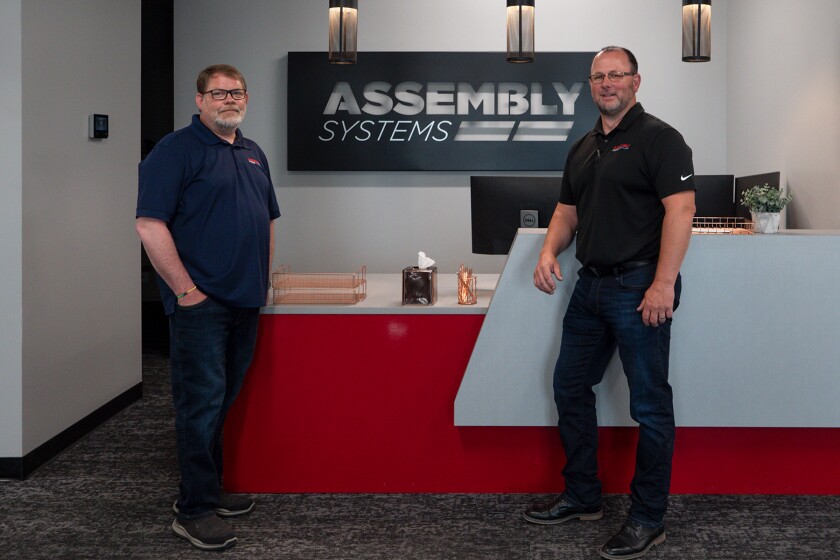 It didn't take long for Aasheim to make the same connections that Lemke already had, leading to the introduction with CorVent. "As we're pursuing opportunities in agtech, medical devices and autonomous systems, I'm continually thinking about who has capabilities that could be parlayed or connected to some of these other industry opportunities," Aasheim commented.
Lemke is hoping prospective clients will have the same illuminating experience Aasheim had. "Around this town, there are certain business names that are synonymous with certain lines of business," he said. "We want to make sure and build our name up because we know what we've got here."