Nova Eatery on track for summer opening at Fargo Brewing Company
With permitting issues squared away, construction on the food truck-style restaurant to complement the craft brewery's taproom and entertainment venue is underway.
We are part of The Trust Project.
FARGO — Nova Eatery is moving another step closer to becoming a reality at Fargo Brewing Company.
The restaurant, a concept that was once thought would be housed in a food truck or an Airstream style trailer built into the brewery complex at 610 N. University Drive, will now be housed in a shipping container now being rehabbed and fitted up to become a kitchen.
Nova Eatery will be run by chef Ryan Nitschke and business partner Nikki Berglund, who also own and operate Luna Fargo and Sol Ave. Kitchen in Moorhead.
Jade Nielsen, a concert promoter and partner in Fargo Brewing, said the opening will depend, in part, on when kitchen equipment arrives and is installed.
"Kitchen equipment is scheduled for delivery in June and we'll go from there," Nielsen said.
It will then be up to Nitschke and Berglund to determine when they're ready to open after that, he said.
Much of the delay to this point has been working through the permitting process with the City of Fargo, Nielsen said. The permanently located food truck concept is a first locally, he said.
The construction permit issued to Fargo Brewing in February listed the project cost at $21,600.
"It's certainly been longer than any of us hoped. We're through all the hurdles now. We have a clear path. We did finally jump through all the hoops to get it permitted," he said. "We're on our way now, so that's good.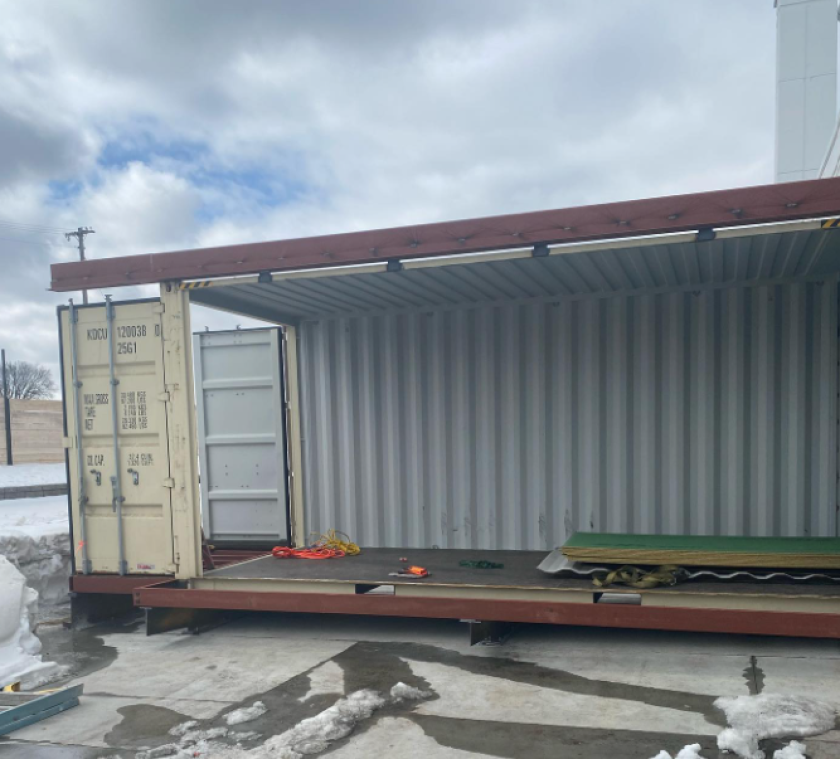 Nova Eatery has held a number of pop-up events at Fargo Brewing, giving people an opportunity to try their menu. The pop-up events are announced on both the Nova Eatery and Fargo Brewing Facebook pages, Nielsen said.
An early March post on the Facebook page for Nova Eatery let the world know that work had finally gotten underway.
"Well what do we have here?! Could it be? Yes, yes it could be! You are looking at the future home of Nova Eatery!" said the post, accompanied by two photos of the shipping container with work started.
The post referenced the difficulties that the partners in the endeavor had in trying to get approval to use a food truck/Airstream trailer as a permanent kitchen.
"Turns out Airstreams don't always make the best food trucks? Who knew?" the post continued. "Thanks for your patience! Now we just need you to hold on a little longer. We promise you will not be disappointed!"
Fargo Brewing unveiled its revamped craft brewery in April 2021 , with a new entrance to a large, new taproom. The updates also included The Hall, a concert and events center with its own bar, the Nice Barber Company barber shop, and a rentable meeting area called The Lounge.
The idea to create a destination brewery had been fermenting for a while with co-founders Hill and Jared Hardy. The concept got a further infusion when developer and concert promoter Nielsen bought a partnership share in late 2018.
The project was announced in spring 2019, but finalizing financing took time and then the COVID-pandemic arrived. That added delays to the renovation of the building, which began its life in 1941 as the home of Fargo Tractor and Equipment.