Tati's Mediterranean Saveur planning April 12 take-out opening in West Fargo
The Lebanese restaurant, in The Lights complex on the south side of town, promises made-from-scratch food.
WEST FARGO — Savory and sweet Lebanese and Mediterranean flavors are on the horizon on West Fargo's south side.
Tati's Mediterranean Saveur restaurant is opening with take-out service starting Tuesday, April 12.
Finding staff has been difficult, so the eatery at 3150 Sheyenne St. will start by offering a to-go only menu including sandwiches, dips and salads, co-owner Tatiana Samaha Nammour said.
Tatiana promises made-from-scratch dishes.
"It's healthy food. It's satisfying, but healthy," Samaha Nammour said. "I want to feed everybody. I want to nurture everybody."
Hours are 11 a.m. to 7 p.m. Monday through Friday. The restaurant (located between Bar Down and the Jade+Jasper Boutique in The Lights complex) will not open on weekends for now.
The menu is slimmed down, too.
Sandwiches include beef or chicken shawarma and falafel.
Among the dips available are traditional and pepper hummus, baba ghannooj and labneh (a cheese made from strained yoghurt).
There are also salads (fattoosh, tabbooleh, and beet salad), as well as soups (chicken and rice or lentil and spinach).
Heidi Nammour and Dr. Fadel Nammour (Tatiana's brother) are the other co-owners.
Heidi, who owns Renew Spaces in Fargo, designed and decorated the 2,900-square-foot restaurant and will be its manager.
Tatiana grew up in Lebanon and studied for several years in France. She later moved to the United States and lived in Delaware, working as an interpreter for the court system.
Folks in that area loved the food Tatiana made and encouraged her to start her own restaurant, she said.
Fadel, a local gastroenterologist, encouraged her to start the business in North Dakota. Tatiana worried about the cold winters, but after a few visits, decided to make the move.
"It's a nice community. I like it here," Tatiana said.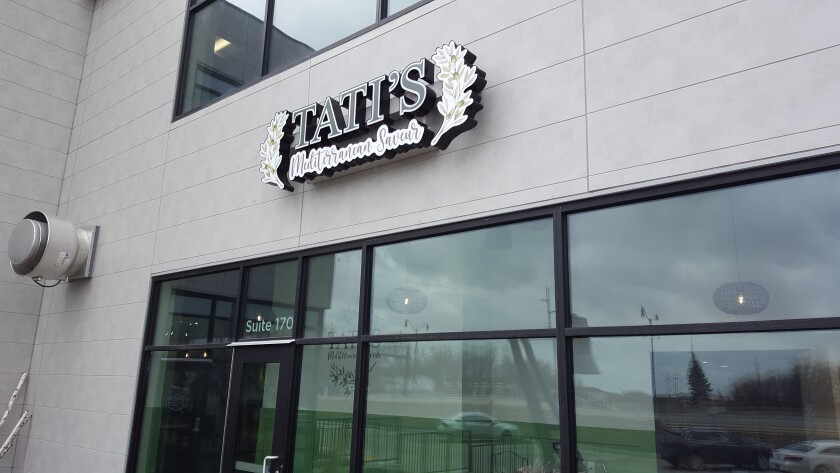 The restaurant is able to seat 88 comfortably indoors, and has a roomy patio for nice weather.
Heidi said the restaurant's location should be good, particularly with the concerts regularly held at The Lights. Plus, there is a covered parking ramp so patrons can avoid getting drenched by rain showers or the worst of winter's cold.
If you're looking for a job, Tatiana needs kitchen and wait staff to get the operation in full gear.
"I had no idea I was going to run into this shortage of labor," Tatiana said.
For more information, go to www.tatismediterraneansaveur.com or to the restaurant's Facebook page.