Wahpeton's WCCO Belting acquired by Continental
In an effort to bolster its presence in the agricultural industry, Continental announced its acquisition of WCCO Belting Tuesday, July 5. Financial terms of the deal were not publicized.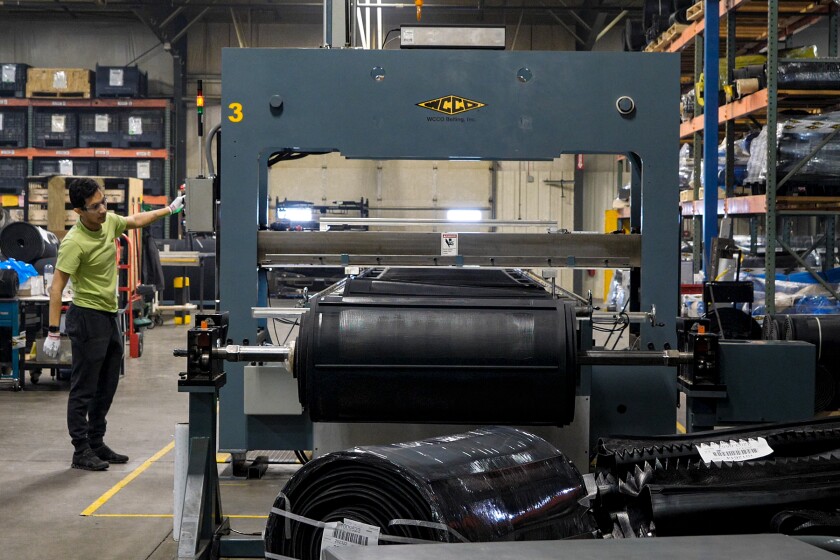 We are part of The Trust Project.
WAHPETON, N.D. — In a move aimed at strengthening its agricultural business, Hanover, Germany-based Continental announced Tuesday, July 5, that it has acquired Wahpeton's WCCO Belting.
WCCO Belting has been a long-standing employer in Wahpeton. The company was founded in 1954 and currently has 300 employees, a press release from Continental stated. WCCO manufactures customized rubber belts for a variety of applications, with an emphasis on agriculture. WCCO's products are distributed in over 20 countries worldwide.
Automation and robotics are seeing increased usage in factories across North Dakota. Despite fears that automation will lead to job loss, company officials say this isn't the case. "There is such a shortage of workforce, we automate because we have to," Rod Koch of WCCO Belting explained.
Philip Nelles, an member of Continental's executive board, stated the acquisition of WCCO Belting will allow the company to enhance its belting portfolio. "This strategic acquisition is a threefold perfect fit: portfolio, sales market and people," Nelles stated via press release. "Moreover, we continue our transformation towards a holistic solutions provider in one of the growing industries, namely the off-highway industry."
Financial terms of the acquisition were not disclosed, the press release stated.
Continental's interest in WCCO Belting, the press release explained, stemmed from the company's desire to grow their agricultural offerings. Three-quarters of WCCO's business deals with agriculture, the release noted.
The company rises to new heights with continued investment through a 16,000 square-foot expansion, adding 50 high-tech, skilled positions.
Diversification has long been on the agenda for West Fargo's Assembly Systems. For too long, branch manager Jeff Manuel said, the company had been reliant on a small group of clients. Thanks to a new facility which opened in 2021, Assembly Systems aims to bring on new business in the form of medical devices, autonomous vehicles, drones and beyond.
D&M Industries' ESOP structure is a source of pride among the employee-owners, and has fostered loyalty, teamwork and an aim for excellence.
Tom Shorma, CEO of WCCO Belting, shared Nelles's assessment that WCCO Belting would be a natural compliment to Continental's business. "We perfectly fit to Continental as we share the same passion for our industries. Everything we do is to better support our current and prospective customers' needs based on our longstanding experience and with our team's dedication contributing to the process of creating custom rubber products that impact businesses across the world," Shorma stated via press release. "We are very much looking forward to our future common path."
Continental has been in business since 1871. In 2021, the firm posted 33.8 billion Euros in sales. Continental has 190,000 employees in 58 countries.