'The future looks bright' as Fargo celebrates first official Juneteenth
Hundreds gathered Saturday, June 19, at Lindenwood Park to mark the North Dakota's first official Juneteenth celebration.
FARGO — In-between organizing parking spaces and dishing out Juneteenth cake, Faith Shields-Dixon paused for a minute to soak in the feeling of celebrating the state's first official Juneteenth holiday.
"The future looks bright. Today shows that the community can come together and put aside all the darkness," Shields-Dixon said.
By 1 p.m., more than 300 people had already arrived at Lindenwood Park where the celebration featured free food including hot dogs, chips, drinks, and games, but also live entertainment, snow cones, hair braiding, giveaways, bouncy slides and more.
A slight shadow crossed Shields-Dixon's face when she discussed threats she received earlier on June 19, the day that is now a federally recognized holiday known as Juneteenth , which commemorates the arrival of Union forces in Galveston, Texas to inform enslaved Black Americans about their freedom in 1865.
"I don't want to focus on that, though," Shields-Dixon said. "I'm so happy, I'm so happy. Tears of joy."
North Dakota was one of three states that did not pass legislation recognizing the holiday until earlier this year after Sen. Tim Mathern, D-Fargo, introduced a bill that passed during the last legislative session .
Gov. Doug Burgum signed legislation in April designating June 19 as Juneteenth in North Dakota.
"We encourage North Dakotans to observe this commemoration of the end of slavery in the United States and celebrate the ideals of liberty, justice and equality for all citizens," Burgum said in a press release.
On Thursday, June 17, President Joe Biden passed legislation that went into immediate effect, marking Juneteenth as the first national holiday established since Martin Luther King's Birthday in 1983.
"All Americans can feel the power of this day, and learn from our history," Biden said at a ceremony at the White House, according to the New York Times.
On June 18, Minnesota Gov. Tim Walz proclaimed the holiday as Juneteenth Freedom Day.
"Juneteenth is an important opportunity for all communities across our state and nation to celebrate freedom, honor African Americans and their history, and commit to growing from the tragedies of the past," said Walz. "It is important that as we celebrate this year's Juneteenth, we recognize that there is still work to be done, here in Minnesota, nation-wide, and globally."
"It feels like a freedom day, it's a day to reflect on that connection and to make it a national holiday and feel recognized," said Matuor Alier, chair of the Fargo Human Relations Commission.
Ron Sjosterand, a botanist from Clearbrook, Minn., said plants, just like people, thrive best with diversity.
"The healthiest ecosystem is diverse. It's an undoubtable truism. How is it that we have been unable to recognize that?" Sjosterand said.
Wess Philome , an organizer with social justice group OneFargo, said the celebration represents the end of a chapter in his fight for racial and social justice, and the beginning of a new chapter.
"It's the end of the chapter of not officially being recognized and the beginning of a new chapter with our fight against opposition to what is systemic racism, including critical race theory," Philome said. "I'm an advocate of the truth."
As a young boy, Philome was taught that Christopher Columbus discovered a country that was deserted, and did not know of the injustices committed against Native people until much later in life.
"But today, this is what community looks like, and it's what we have been talking about all along, accepting and loving and including," Philome said.
In front of the performance stage, posters included historical and current Black American figures like Oprah Winfrey, former President Barack Obama, Jackie Robinson, the nation's first Black baseball player, Mae Jemison, the first Black American to enter space in 1992, and Harriet Tubman, who helped free more than 300 slaves after escaping slavery in 1849.
Barry Nelson, a member of the North Dakota Human Rights Coalition, attended the Juneteenth celebration and said it wasn't long before protests last year that he knew about the importance of June 19.
"In the times we're living I can't think of anything even more important," Nelson said. "We're learning our collective history, Native, Black, and it's who we are and to celebrate the end of a really dark period in our country's history."
"Unity. That is what I'm feeling right now, and being part of the community that is embracing cultures and diversity," Nelson said.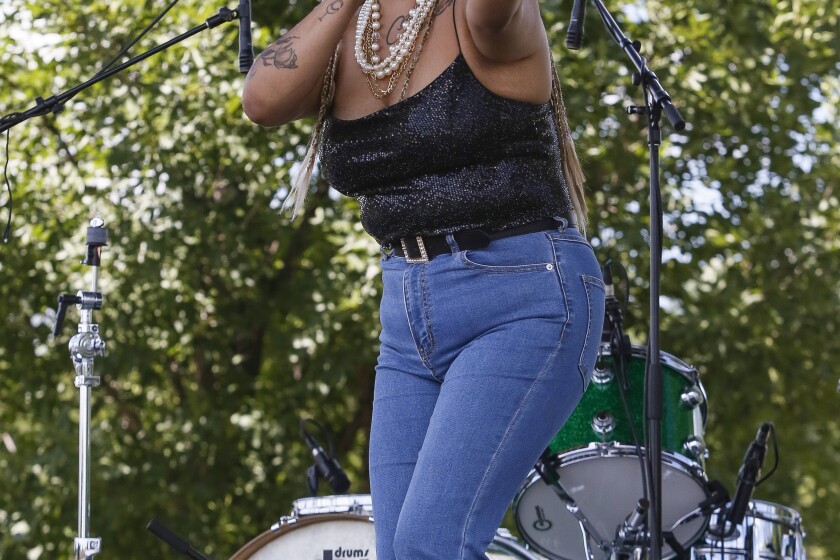 1
/
7:
Angel Amaya sings her original music at the Juneteenth Freedom Celebration on Saturday, June 19, 2021, at Lindenwood Park in Fargo. Alyssa Goelzer / The Forum
2
/
7:
Be The Light dance group performs a dance routine at the Juneteenth Freedom Celebration on Saturday, June 19, 2021, at Lindenwood Park in Fargo. Alyssa Goelzer / The Forum
3
/
7:
Kylen, a pop singer, performs his original music at the Juneteenth Freedom Celebration on Saturday, June 19, 2021, at Lindenwood Park in Fargo. Alyssa Goelzer / The Forum
4
/
7:
Jade Brown performs his original music while the crowd dances along at the Juneteenth Freedom Celebration on Saturday, June 19, 2021, at Lindenwood Park in Fargo. Alyssa Goelzer / The Forum
5
/
7:
Kids of all ages get temporary tattoos at the Juneteenth Freedom Celebration on Saturday, June 19, at Lindenwood Park in Fargo. Alyssa Goelzer / The Forum
6
/
7:
Wess Philome, organizer of OneFargo, hugs a friend at Lindenwood Park during the first official Juneteenth holiday in North Dakota on June 19, 2021. C.S. Hagen / The Forum
7
/
7:
Not far away from the food lines is where ribs and hot dogs were grilled during Juneteenth at Lindenwood Park on June 19, 2021. C.S. Hagen / The Forum