Fargo museum's podcast amplifies the voices of Native American artists and creators
The Arts Partnership's Ethan Mickelson visits an exhibit at the Plains Art Museum and interviews the host of "5 Plain Questions," an offering from the museum that offers rich conversations.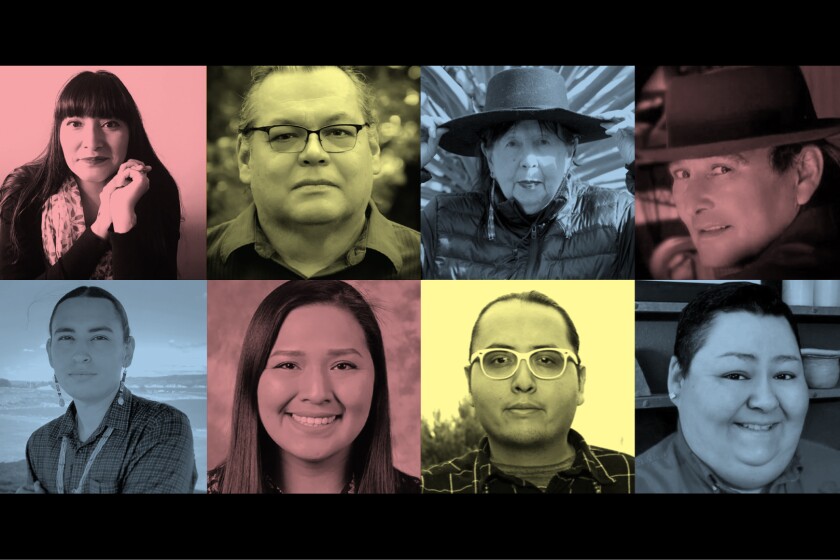 We are part of The Trust Project.
FARGO — It happens all too often: You're standing face-to-face with a breathtaking piece of artwork but left with so many questions.
Take, for example, the series of monotypes called "Things I Remember" by Roger Broer. Not to be missed, the painterly prints are the first thing visitors notice as they enter Plains Art Museum in downtown Fargo.
The Lakota artist mixes animal and human figures to tell stories through his art. But the hints he leaves behind in the eyes of these figures pose further questions.
Not necessarily what the work is about, but rather a curiosity about the particular person that created it; what led the artist to make such a piece and what their voice might sound like if they described it.
Now thanks to a podcast called "5 Plain Questions" hosted by Joe Williams, director of Native American programs at Plains Art Museum, viewers can sit down and dive into a rich conversation with Broer and others.
Listeners can explore the paths of Native artists and the work that can be found all throughout the museum.
In addition to the podcast produced by Williams, listeners can also enjoy audio content produced in conjunction with "High Visibility," a long-term, collaborative partnership between Art of the Rural, Plains Art Museum and individuals and organizations across the continent.
On a mission
Propelled by the museum closing last year due to the pandemic, Williams went on a mission to document Native voices.
"I thought, 'Well, this way people don't need to come to the building. They don't need to drive to Fargo,'" Williams says.
In a soft voice leading the conversation, "5 Plain Questions" lends itself to the tangent, to touch on direct and indirect influences on artists in the work they create.
Now 30 interviews deep, featuring conversations with Native visual artists, filmmakers and dancers and briefly diverging to cover medical doctors during the height of the coronavirus pandemic, "5 Plain Questions" comes full circle in the second season with new interviews available every Wednesday.
"I want to have these recorded for young Native American kids who are looking for inspiration, for heroes in a sense," Williams says.
In a preview of what's to come this year, Williams explains a rocky road wrapping up the first season.
RELATED ARTICLES:
Opera's next generation of stars looks for new opportunities as the pandemic continues This year's group of singers with Fargo-Moorhead Opera's Gate City Bank Young Artist Program reflect on performing virtually or in parking lots as they find ways to get back onstage.

Travel enthusiast documents trip via train from Fargo across America Travel writer and photographer W. Scott Olsen, a professor at Concordia College, is releasing a serial travel publication online about a trip around the country aboard an Amtrak train.

Photo exhibit lets places speak to raise awareness of sex trafficking Photographs now on display at a North Dakota State University gallery in Fargo allows viewers to envision and immerse themselves in thinking about what it means to be a victim of trafficking.

Bump in the road
"That was a very tough moment," says Williams, who contracted COVID-19 while taking care of his sick father.
Cared for by his wife, Ciciley Littlewolf, a physician who appeared on the podcast just a few months before he got sick, Williams quarantined himself while trying to finish the last few podcasts of the first season.
As his father's health was deteriorating and he fought off symptoms while isolated at home, Williams worked to put out the final few interviews.
"I was working on my computer at home and it just crashed," Williams says.
While the project wasn't a personal one, as host of the podcast, the project had become instrumental to his professional path — and now he was faced with a set of seemingly insurmountable obstacles.
"I could feel my conditions getting worse hour by hour while trying to record as fast as I could and get those out," he says.
"I felt like I had a duty to round this off," Williams says about his series of interviews with Native American artists he's connected with throughout his career.
Day by day
Taking it day by day with his father in hospice care, Williams is back in the office working on the second season, putting his computer problems in the past with a new laptop.
Continuing to draw on his working connections with Native artists, Laura Youngbird joined Williams as the most recent guest of the podcast to talk about what she's been up to since she retired as director of the Native American arts program last year .
As William's predecessor in the role, Youngbird is equally tuned to her heritage and the enduring traditions of Native people.
With the charming buzz of cafe murmurs in the background during their interview, Williams talked with the enrolled member of Minnesota Chippewa Tribe's Grand Portage Band, who found her way to Minot, N.D., when her father was stationed there for the Air Force.
To learn more about Plains Art Museum's Native American outreach and education programs as well as current exhibitions, visit plainsart.org/native-american-artists .
"5 Plain Questions" is available on SoundCloud at soundcloud.com/eleven-warrior-arts and on other podcast platforms.
This article is part of a content partnership with The Arts Partnership, a nonprofit organization cultivating the arts in Fargo, Moorhead and West Fargo. For more information, visit http://theartspartnership.net.