Former Bison quarterback Stick talks Trey Lance's rise and disrupted NFL offseason
We are part of The Trust Project.
FARGO — Former North Dakota State quarterback Easton Stick has had two distinct offseasons as he readies for his second season with the Los Angeles Chargers.
Last year, he was navigating the draft process and preparing for his rookie season after leading NDSU to a Division I FCS national championship. This season, it's dealing with the disruption caused from the coronavirus pandemic that's altered the NFL offseason.
"The last two years have been so unique," Stick said Tuesday via video conference from Sioux Falls, S.D.
Stick has tried to use the lack of in-person team activities this offseason as an opportunity for self improvement.
"It's been different, but I think it's been really productive, found ways to improve," Stick said. "You miss the reps, you miss being in the locker room and the camaraderie and everything that comes with that. I think that's the biggest thing you miss. It's allowed me some time to really focus on myself."
Stick was in Sioux Falls at the Sanford Sports Complex for various sports testing. He's spent most of the offseason in Irvine, Calif. He's been in the middle of what looks to be a string of Bison quarterbacks who advance to the NFL.
His predecessor at NDSU, Carson Wentz, is the starter for the Philadelphia Eagles, while Stick was a 2019 fifth-round draft selection. Current NDSU quarterback Trey Lance is already generating NFL buzz after his redshirt freshman season that ended with an FCS national crown.
"I think the quarterback room at North Dakota State has been a really good group to be a part of for a long time," Stick said. "It was great for me to learn under Carson, be around Cole Davis, and then getting a chance to be around Trey for a year. You could tell (Trey) was pretty special the first day he showed up on campus."
Multiple NFL Draft analysts have projected Lance to be a high first-round selection if he decides to turn pro early after his upcoming sophomore season. The 6-foot-3, 221-pound Lance was impressive in his first season as a starter, passing for 2,786 yards and 28 touchdowns with no interceptions in 16 games. He also rushed for 1,110 yards and 14 TDs.
Lance was a redshirt during Stick's senior season with the Bison in 2018. The 6-foot-2, 221-pound Stick passed for 2,752 yards and 28 touchdowns with seven interceptions in 15 games in his final season with NDSU. He also rushed for 677 yards and 17 TDs.
"I know I tried to be better than Carson and Trey is trying to do it better than I did it," Stick said. "That's kind of the culture we built there. He'll be fine."
Stick said Lance has the right makeup to deal with the expectations, including the NFL Draft buzz Lance has received since the Bison season ended in early January.
"It is crazy how quickly things can change," Stick said. "He's projected all over the place and social media is blowing up. … I just know the way Trey is built, the family he comes from, he's going to have no problem. You want that expectation, you want the pressure."
The Chargers have a different quarterback mix heading into this season after longtime starter Philip Rivers moved on to the Indianapolis Colts via free agency.
Stick is one of three quarterbacks on the Chargers roster with veteran Tyrod Taylor and incoming rookie Justin Herbert. Herbert, who went to Oregon, was the No. 6 overall selection in the 2020 draft.
"My role is to compete and whatever that looks like, we will see," Stick said.
Coincidentally, NDSU and Oregon were scheduled to play in football on Sept. 5, but that game was recently canceled due to a Pac-12 Conference decision to eliminate nonconference games. Stick said he and Herbert had talked briefly about the potential matchup between their alma maters.
"We did a little bit, but not too much," Stick said. "I'm sure as it would have got closer, we would have a little bit more fun. A bummer that that's not going to happen."
The Oregon game would have been NDSU's first game against an FBS and Power Five opponent since 2016. During that season, Stick helped lead the Bison to a 23-21 victory against Iowa at Kinnick Stadium.
Stick said he feels for the current Bison players who won't get that chance to play against a highly regarded FBS opponent.
"It's unfortunate, but that's kind of where we're at," Stick said. "They'll move on and they'll be ready to play whoever it is wherever it is. … They'll be ready to play regardless."
Stick said he will be ready to play this NFL season no matter how that may look with the COVID-19 outbreak.
"No. 1, it's about safety and can we ensure that people are going to be safe," Stick said. "I'll be ready to go, hopefully it's July 28 when it was scheduled, but regardless I will be ready to go."
Stick was asked about the prospect of playing in stadiums without fans if that is one of the health measures needed to have a season.
"It will be awkward, it would be weird if that was the case, but you find a way to make it work and get used to it," Stick said.
"I've been in some raucous ones. I've also been in some at other levels that weren't as raucous, so I've experienced both."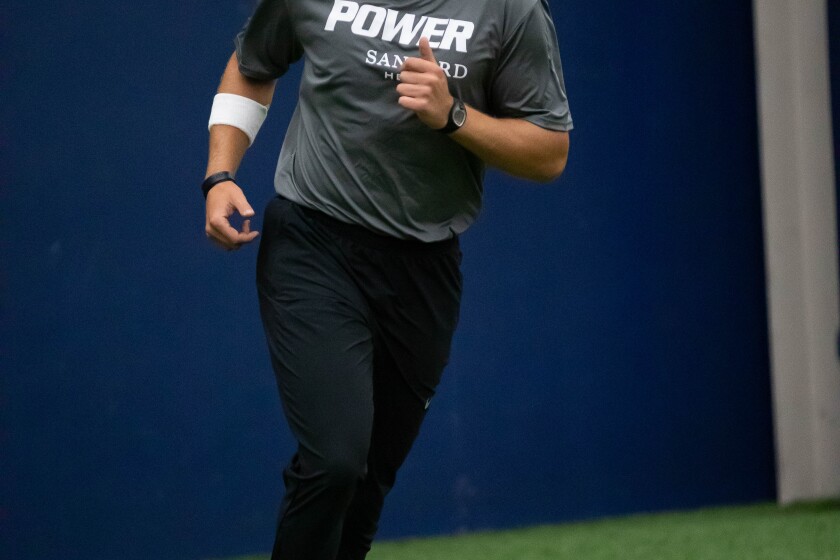 1
/
2:
Former North Dakota State quarterback Easton Stick was in Sioux Falls, S.D., on Tuesday doing sports testing at the Sanford Sports Complex. Sanford Health photo
2
/
2:
Former North Dakota State quarterback Easton Stick is preparing for his second NFL season with the Los Angeles Chargers. Sanford Health photo