Kolpack: Bison receiver Kepouros is the feel-good story of the year
Carbondale, Ill.
Everything about Saturday afternoon screamed late fall in the Little Egypt section of the state of Illinois. The gray, thick clouds seemingly hung not far above the lights at Saluki Stadium.
It was cool, but a light mist made it feel cold. The mid-afternoon darkness made it feel more like early evening and an upset waiting to happen with Southern Illinois hosting No. 1-ranked North Dakota State.
For two quarters, that was the reality.
The Bison, however, toughed out a 21-7 victory to cap off a 12-0 regular season. Like any win, especially in the 33 straight that this program has put together, there are multiple reasons for it. NDSU's defense shut out the Salukis in the second half including a goal-line stand late in the game.
Safety James Hendricks and linebacker Jackson Hankey had a couple stops with SIU having second-, third-, and fourth-and-goal situations from the 1-yard line late in the game.
Perhaps the biggest reason, however — or at least the coolest reason — is a senior receiver from the state of Illinois who is Mr. Clutch on third down. Jimmy Kepouros had three receptions on third down against the Salukis that went for a first down.
Two of them led to Bison touchdowns in a game where every point was precious. His performance in that stat category is bordering on special, or in his case Special K. He has caught a pass for a first down on third down 14 times this season. Most are typically emotionally-killing plays to a defense hoping to get off the field, only to see No. 19 catch a pass that moves the chains.
"He's fearless," said head coach Matt Entz. "He's running across the middle. He got open all the time today and what a great year for that young man to elevate his play."
Kepouros is the feel-good story of the NDSU season. In five years, it's the only year he's seen the field.
He redshirted at Western Michigan in 2015. He transferred to a junior college in Illinois but did not play in 2016. He transferred to NDSU, but suffered an ACL injury not long after arriving in Fargo in the summer.
That shelved him for 2017. He saw limited time last year appearing in four games.
"That's the best thing about college football, right there," Entz said. "When you start talking about the people and the experiences, James will never forget his senior year because everything he's gone through prior to it.
"Jimmy is a huge part of that receiver room," said quarterback Trey Lance. "He's stepped up into a big leadership role this year."
Kepouros' reception on third-and-5 on NDSU's first drive of the game led to a Kobe Johnson touchdown and a 7-0 lead. Later in the first quarter, Kepouros caught a pass from quarterback Lance for 18 yards on third-and-9 from NDSU's own 4-yard line that helped get the Bison out of a hole.
"We needed to convert, we got into third-and-long a couple too many times," Lance said. "We needed to be more efficient on first down. He's been making plays and has been consistent. You don't see him drop balls and that's a credit to him."
It can't be easy to catch every one of Lance's passes. The redshirt freshman has a rocket arm where if you don't get your hands up in time the ball could knock your head off. Kepouros came close to hitting the jackpot on fourth down on the last play of the first half. With three seconds remaining and NDSU facing fourth-and-8 from the SIU 28-yard line, Lance's throw to Kepouros in the left corner of the end zone was ruled out of bounds. Replays of the reception were inconclusive and the half ended with a 7-7 tie.
Never fear, Mr. Third Down is here.
"It's funny you say that, a lot of people do say that, a third down guy, but I don't even think about it when I'm out there, I just think about if the ball comes to me, I'm going to make a play," Kepouros said.
Leading 14-7, Kepouros made a key play that gave the Bison a two-possession lead. On third-and-8, Lance found him for 11 yards to the Bison 27-yard line. Instead of punting that would have given the Salukis good field position, it was NDSU that kept the ball and began mounting a scoring drive.
Ten plays later, with the fourth quarter just getting going, Lance rushed for a 34-yard score and it was 21-7.
"It's cool when a lot of guys come up to you and say good play, way to keep the drive alive," Kepouros said. "That's the biggest thing, just keep my confidence high. I don't need to score but if somebody else does, that's what matters."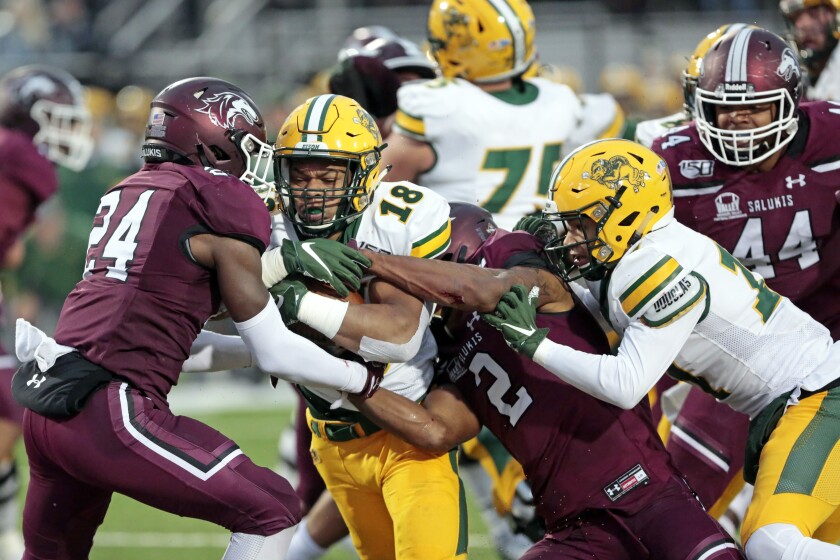 1
/
3:
North Dakota State running back Adam Cofield takes on Southern Illinois defenders Qua Brown and Jeremy Chinn as he fights his way in for a 8-yard touchdown run at Saluki Stadium in Carbondale, Ill. on Saturday. David Samson / The Forum
2
/
3:
North Dakota State head coach Matt Entz congratulates quarterback Trey Lance on the win over Southern Illinois at Saluki Stadium in Carbondale, Ill. on Saturday. David Samson / The Forum
3
/
3:
North Dakota State's Marquise Bridges and Zack Johnson celebrate the hard fought win over Southern Illinois at Saluki Stadium in Carbondale, Ill. on Saturday. David Samson / The Forum