Kolpack: Wentz part of a bad week for journalism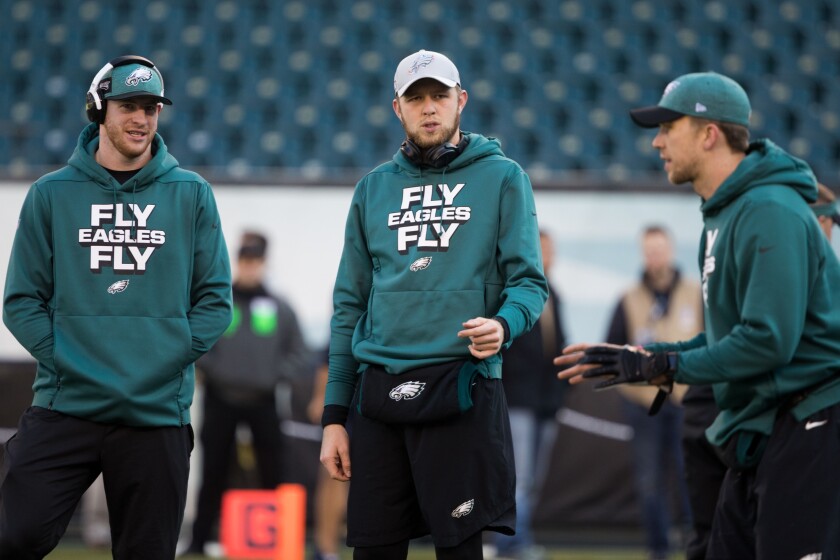 Fargo
The week started with Carson Wentz's character being attacked by unnamed sources in a Philadelphia publication. Two days later, Mick Garry, a 30-year veteran of the sports writing mob announced on Twitter his days in the business in Sioux Falls, S.D., are over. He was part of Gannett's corporate-wide cuts.
Who knows how the week will end. Maybe I'll find some scrub Bison football player who will tell me that Easton Stick is a real loser; not the highly-intelligent, FCS record-setting community volunteer that we've portrayed him to be the last few years. Maybe I'll find another freshman Bison backup who took offense to Stick telling him what to do. Here, all along, we thought Stick was showing leadership. Turns out telling a young frosh what to do is being a jerk.
I'm joking, to be clear. What's not a joking matter is journalism took a couple hits to the abdomen this week.
The story on Wentz by Joseph Santoliquito referenced several unnamed sources, all speaking on the condition of anonymity. I have no problem with the unnamed source thing, if the following two conditions are met: The story is of utmost importance and sources are credible.
One quote in part, however, bordered on laughable.
"Carson Wentz's biggest enemy is Carson Wentz," Santoliquito quoted one source. "He's had his (butt) kissed his whole life, and sometimes acts like he's won 10 Super Bowls, when he hasn't played in, let alone won, a playoff game yet."
The entire life, rear-end kissed factor? Wentz's basketball and football coaches at Bismarck Century were old school, veteran guys who don't exactly bow down to players. Wentz sat for three years on the North Dakota State bench behind Brock Jensen, even though by the time Wentz was in his third year in the program many of us figured he was more talented than Jensen. But how do you sit a guy who was on pace to become the all-time winningest quarterback in FCS history? Not much favoritism there.
Then that egomaniac Stick had the audacity to beat Jensen's record.
The number of players lining up this week in support of Wentz has been consistent. Most are the front-line recognizable guys, which makes you wonder who exactly had a problem with the quarterback. There are also sources that weren't players. Maybe the assistant to the assistant to the assistant building superintendent?
The mistake, Santoliquito admitted to Philadelphia sportswriter Marcus Hayes, was he didn't ask the accused about the story. Does the Philly Voice have editors? It's guerrilla warfare journalism, you whack somebody and then retreat into the bushes and hide without giving them a chance to speak.
I covered Wentz for five years, although only really talked to him consistently for two since it took him until his redshirt junior year before he became the Bison starting quarterback. Not once did any teammate mutter anything negative about the guy's off-the-field, in-the-locker-room demeanor.
Jackhammers usually get outed over time. People change, but I'm not getting that vibe with Wentz.
The guy's AO1 Foundation is feeding people in the streets of Philadelphia and helping kids in Haiti. Sure, it's a story if those attributes are more perception than real.
Once, when former Bison head coach Craig Bohl was the voice of a radio advertisement for traffic safety for the Fargo Police Department, one of our reporters pointed out that Bohl had 19 traffic offenses in the previous seven years. Writer Amy Dalrymple referenced public record, not a faceless person.
Unnamed sources are a tricky animal. For one, you better be right. You see it with reporters covering the White House pretty consistently, but we're also talking about matters of national security.
Wentz being called problematic and selfish is not a matter of protecting our country. Sounds like a desperate, veteran writer trying to get his name back into media circulation. Two Philadelphia sportswriters I know were perplexed by the story.
Maybe that was The Mick's problem with the Sioux Falls Argus Leader newspaper. He was too solid and too credible, a writer who didn't take chances of being wrong.
The Mick should have written more stories on why former South Dakota quarterback Chris Streveler was an overbearing, bullying loser who was hated by his teammates.
1
/
2:
Philadelphia Eagles quarterback Carson Wentz stands on the sidelines during a regular-season game at Dallas. Matthew Emmons / USA TODAY Sports
2
/
2:
Philadelphia Eagles quarterbacks Nate Sudfeld (left) and Carson Wentz during the first quarter of the NFC Divisional playoff football game at New Orleans on Jan. 13. Chuck Cook / USA TODAY Sports
1
/
2:
Philadelphia Eagles quarterback Carson Wentz stands on the sidelines during a regular-season game at Dallas. Matthew Emmons / USA TODAY Sports
2
/
2:
Philadelphia Eagles quarterbacks Nate Sudfeld (left) and Carson Wentz during the first quarter of the NFC Divisional playoff football game at New Orleans on Jan. 13. Chuck Cook / USA TODAY Sports