15 kid-friendly ideas to make your Halloween party memorable
When it comes to Halloween parties at home, there seem to be two different camps of parents. The Super-Creatives have endless ideas and throw parties that guests will talk about for months afterward. The Cautionistas feel like they should plan gr...
When it comes to Halloween parties at home, there seem to be two different camps of parents.
The Super-Creatives have endless ideas and throw parties that guests will talk about for months afterward. The Cautionistas feel like they should plan great parties for the kids but aren't exactly sure where to start.
Here's a list of inspiration for both groups. The Super-Creatives will dive right into the more difficult projects here and add a few elaborate twists of their own. But the Cautionistas may find some surprisingly easy ideas here as well.
1. Be inviting. There are tons of online, downloadable templates for invitations out there. Or you can save paper and send a virtual one.
But for an old-school approach, it's as simple as picking out a couple of coordinating papers at a scrapbooking or discount store. Use a pinking shears to cut out the papers, glue them so one paper borders the other, add stickers and - voila! - you've got an inviting invitation.
Another easy option: Buy a medium-sized cardboard skeleton at a discount or party store. Take the "bones" apart and write the party information on the bones, putting several bones in each envelope. Use parchment envelopes to complete the X-ray effect.
2. Make a garrulous gourd to greet party guests right by the front door. To make a "talking pumpkin," carve a large Jack-o'-lantern or select a large synthetic model. Make an opening in the bottom of the pumpkin big enough for a baby monitor. Place the monitor inside the pumpkin. To make sure no one sees the unit inside, use pushpins to tack a piece of black fabric or paper behind the pumpkin face. Kids can watch at the window and "surprise" people with a personalized greeting as they walk up the driveway.
3. Go batty. These bats, made out of Oreos and chocolate toaster pastries, are as easy to make as they are fun to eat. Cut chocolate breakfast pastries diagonally to form two triangles. Carefully dip one side of each triangle in melted chocolate almond bark. Place triangles, chocolate sides up, on a baking sheet lined with waxed paper. Embellish triangle "wings" with decorative sprinkles and colored sugars.
Dip an Oreo into almond bark. Firmly place the cookie body on top of the triangle wings (this will hold the body together). To make bat eyes, add almond slices or sunflower kernels. Use miniature M&M's for the pupils. Chill until chocolate is set.
4. Take the cake. No Halloween party is complete without frightfully fun cupcakes. To make Frankencakes: ice cupcakes with chocolate buttercream. Use a wooden skewer to dip a large marshmallow into melted candy melts (available at cake and craft stores). Set marshmallow on waxed paper and add miniature M&M's for eyes. Place in refrigerator to chill. When candy has hardened, use black decorating gel to draw the monster's mouth and pupils. Place "head" on cupcake. If desired, place still-soft candy melts in pastry bag and pipe "hands" onto frosting. Add additional chocolate frosting atop marshmallow for hair and use a serrated knife to "muss" it. Add green Tic-Tacs for neckbolts.
Make gravestones by using Nutter-Butters, Mint Milanos or graham crackers. Decorate with candy bones, pumpkins and ghosts.
5. Play musical scares. Enhance the eerie atmosphere with a spooky soundtrack. Compilation CDs containing light-hearted ditties like "The Monster Mash" are available at thrift and discount stores. Or make your own tape recording, complete with clanking chains, creaky doors, nails scraping a blackboard and heavy footsteps.
6. Bone up on décor. Hot-glue plastic skeletons to glass hurricane lamps. Place black or orange candles inside each hurricane and surround with decorative black rocks. If you're concerned about fire hazards, replace the candles with their battery-operated stand-ins.
7. String them along. A bat garland is super easy to make. Buy a pack of black tissue paper. Use the paper exactly as it is: accordion-folded in the package.
Trace or draw the desired design across the full width of the package of folded tissue paper. (You can use a cookie cutter as a template.) Cut along the outline, leaving a bit of uncut fold at both sides so figures connect. You'll end up with several strings of five or six "bats" each, which you can tape together for a garland.
8. Treat them right. Remember to send the little ghouls home with treats wrapped inside these fun pumpkin favor pouches. Cut two 10-inch circles from orange crepe or tissue paper. Stack circles and put goodies in center. Pull sides of paper up around treats to form a pouch. Gather paper just above the treats and twist slightly. Secure by wrapping green floral tape around the base of the twist, binding upward to create a stem.
9. Carbo-load competitively. Try this land-lubber's version of the well-known "Bobbing for Apples" game. Use different lengths of string to hang powdered or plain doughnuts in the doorway. Players can hold their hands behind their backs and try to "catch" a pastry in their teeth. (Dial up the difficulty level for older players by alternating doughnuts with apples and blindfolding them first.)
10. Scare up some strikes. Got a toy bowling set? Wrap the pins in gauze and stick on googly eyes so they resemble mummys. Suddenly, bowling becomes "boo-wling."
11. Get punchy. Try this "Putrid Punch," which tastes a lot better than it looks. You'll need: 1 (13-ounce) package lemon-lime Kool-Aid, 1 cup sugar, 8 cups water, 1 can frozen orange juice concentrate, 4 cups ginger ale, worm cubes (ice cubes with gummy worms frozen inside), 3 scoops orange sherbet. Empty Kool-Aid into punch bowl; stir in sugar, water and orange juice until dissolved. Just before serving, add the ginger ale and worm cubes, and float sherbet on top. Serves 14.
12. Play hat tricks. A frightfully fun variation on the ring toss: Weigh down a plastic witch hat by placing a plastic container filled with dried beans or rice underneath it. Make rings of various sizes from white foam-core board with a different pattern of brightly colored electrical tape for each child. The child with the most successful ring tosses gets a prize.
13. Don't de-face pumpkins. Try "Pin the Grin on the Pumpkin." Position a large, plain pumpkin on a low table where kids can reach it. Cut out funny eyes, noses and mouths from black construction paper. Stick a reusable adhesive, such as Blu Tack, on the back of each cutout, and give a set of cutouts to each player. With blindfolded players starting 4 feet away (smaller kids can stand closer), instruct players to walk toward the pumpkin and create a Jack-o'-lantern face. After each turn, take a photo of the player with the finished pumpkin.
14. Offer lip service. These "Monster Mouths" not only look cool, they're healthy. Quarter and core an apple. Cut a wedge from the center of the skin side of each quarter of fruit to form a slightly open "mouth." Next, press slivered almonds of varying sizes inside the "mouth." The almonds will look like scary teeth. (Brush with orange juice to delay browning.)
15. Make yummy mummies. Partygoers don't have to gorge themselves on candy. It's wise to throw in a few healthful but fun options so they're less likely to fill up on junk food.
To make Pizza Mummies: Split English muffins into halves and cover with pizza sauce. Take slices of black or green olives and place on muffin to represent the mummy's eyes. Lay strips of string cheese across the muffin - leaving the "eyes" to peer out. The cheese will form the mummy's wrappings. Bake for 10 minutes at 350 degrees.
Sources: marthastewart.com ; bhg.com ; familyfun.go.com
Readers can reach Forum reporter Tammy Swift at (701) 241-5525
1
/
4:
These not-so-scary bats are made from chocolate sandwich cookies and chocolate toaster pastries dunked in melted almond bark and sprinkled with candied sugar and decorative sprinkles. Carrie Snyder / The Forum
2
/
4:
Little pumpkins, made from tissue paper and floral tape, make ideal treat bags. Carrie Snyder / The Forum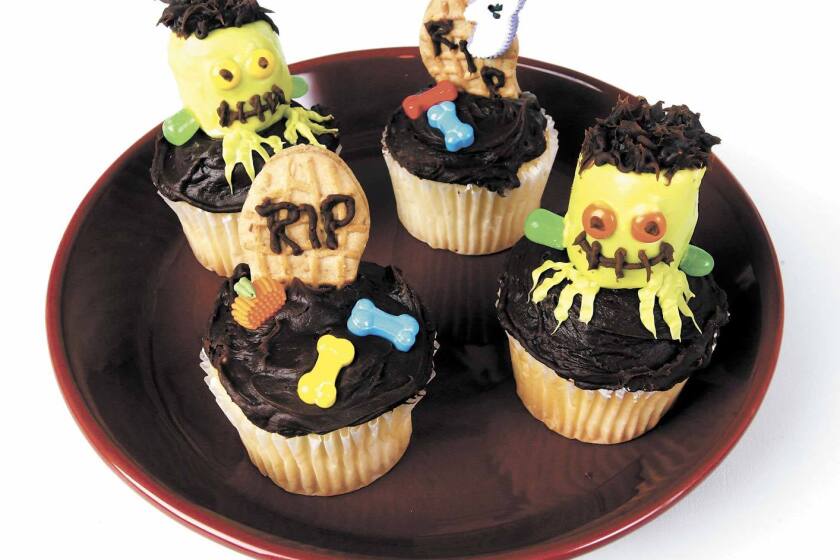 3
/
4:
These fun cupcakes feature Frankenstein climbing out of the dirt and scary gravestones, complete with candy bones and ghosts. Frankenstein's head is made from a large marshmallow dipped in candy melts.
4
/
4:
Inexpensive plastic skeletons can be hot-glued to hurricane glasses for a super-easy Halloween centerpiece. Orange candles and black aquarium gravel reinforce the Fright Night theme. Carrie Snyder / The Forum