Audience and cast of FMCT's 'Steel Magnolias' production laugh through the tears
"What makes the tragedy so powerful is all of the joy and the comedy," says Judy Lewis, director of the show at the Hjemkomst Center in Moorhead.
We are part of The Trust Project.
MOORHEAD — Jean Sando has a bit of advice for those coming to Fargo-Moorhead Community Theatre's production of "Steel Magnolias."
"Bring a tissue," she says.
Robert Harling's play, which inspired the 1989 film , follows six uniquely different female friends in a fictional Louisiana town who encounter hardships in their lives but support each other in their own ways. The tragedy is surrounded by various moments of humor, making for tears of laughter and sorrow.
"What makes the tragedy so powerful is all of the joy and the comedy," says the show's director, Judy Lewis. "The tragedy would be empty without the comedy. We always find the funny in every moment."
The show opened last Thursday night and runs through this weekend. Lewis, who is also FMCT's executive director, says that at last week's preview show, it wasn't just the crowd with tears in their eyes.
"Everyone was crying. I still cry. It was awesome," Lewis says. "A performance can bring you to a real place. Theater is powerful… It's an acting challenge. It can be wonderful or not. The actors can rise to it, and these ladies rose to the acting challenge. They're all very talented."
The power of this show is what attracted the actors.
"It's one of those bucket list shows that as a female actor don't come along often. It's a once-in-a-lifetime play," says Dawn Gunderson, who plays Clairee Belcher.
Clairee is an older woman who seems to bicker with her best friend, Ouisa Boudreaux, played by Jean Sando, though as the play goes on, the audience sees the deep love they have for each other, even when trading barbs.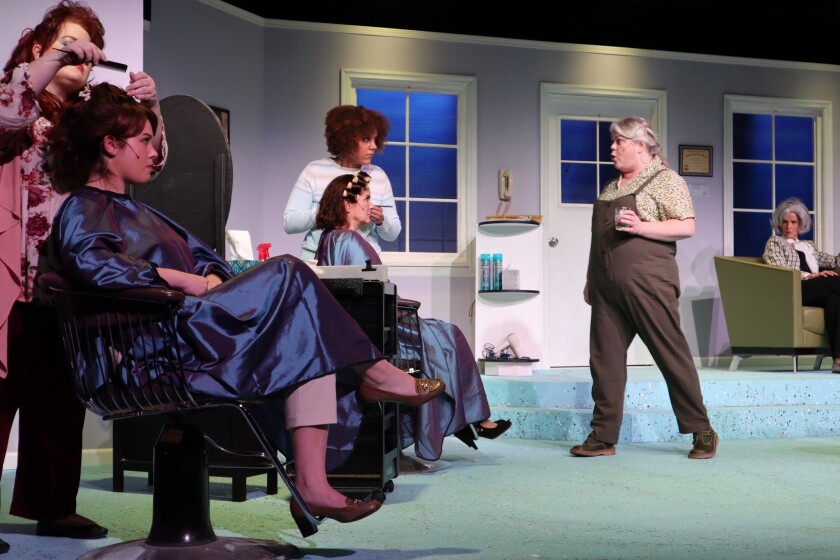 In real life Gunderson and Sando are friends, a relationship they bring to the stage.
"It's so genuine, it's so real," Gunderson says. "It's like Jean saying it to Dawn and Dawn saying it to Jean. When we hug, it's not superficial. It's not uncomfortable to do that."
Sando hasn't been on a stage since 2018 when she was in FMCT's "Calendar Girls," with current co-stars Gunderson and Jeannie Smith-Murphy, who plays M'Lynn Eatenton. That familiarity and built-in camaraderie helps.
"It's fun to be with women I acted with before," Sando says.
Still, even if she didn't know anyone in the show, she was determined to play Ouisa.
"I always loved Ouisa," Sando says. "She's very direct, very genuine. She says what she feels and calls a spade a spade and an idiot an idiot. She channels that curmudgeon in all of us."
Was it hard for Sando to tap into that curmudgeon?
"Not after COVID," she says with a laugh. "It's really cathartic for me to stomp around and be grumpy onstage."
Similarly, Gunderson says crying may be cathartic for the audience after two years of COVID.
"We really did create the moment the right way. It was real," she says.
The tragedy in the show centers around M'Lynn's daughter Shelby, who decides to have a baby knowing that her diabetes may complicate the pregnancy.
"Everybody could walk in the shoes of M'Lynn and know how you would feel about the loss of a daughter," says Gunderson, who tears up, mentioning that her oldest daughter is pregnant.
"It's a reminder of how precious life is. You never know what each day will give you," she says.
She adds that one of the attractions of the play is that the ages of the all-female characters range from young to mature women.
"All of the phases of women's life are portrayed here. You can be any age and identify with the show," she says.
And she says having an all-female cast and director makes the production even more special.
"There's a true, supportive, loving kind of bonding," Gunderson says. "It's magical to be with all of these women and celebrate each other's strengths. It's special to be around all of these women."
"At a time when we've had relationships become so fragile, these relationships are more precious right now," says Sando.
What: "Steel Magnolias"
When: 7:30 p.m. Wednesday, Feb. 9, through Saturday, Feb. 12, and 5:30 p.m. Sunday, Feb. 13
Where: Hjemkomst Center, 202 1st Ave. N., Moorhead
Info: Tickets range from $13 to $35; https://fmct.org or 701-235-6778