Celebrate the harvest at the Hotel Donaldson
Since opening its doors 13 years ago, the Hotel Donaldson has been committed to supporting local food growers by featuring their food throughout its menus in both the HoDo Restaurant and Lounge.
Since opening its doors 13 years ago, the Hotel Donaldson has been committed to supporting local food growers by featuring their food throughout its menus in both the HoDo Restaurant and Lounge. Providing their guests with a farm-to-table experience has long been a mission at the HoDo, and on Tuesday, Nov. 15, the hotel will celebrate this commitment at the second annual One Hundred Mile Harvest Dinner.
This special event will feature a five-course meal inspired by locally grown foods of the season, all produced within a 100-mile radius of Fargo-Moorhead. Guests will gather along with a host of local farmers and ranchers from North Dakota and Minnesota, who will introduce their foods and join the dinner tables. The hotel supports dozens of local purveyors, whose names are proudly listed on the menu, and I've enjoyed meeting several of them this past summer at the Red River Market.
The Hotel Donaldson has long been a favorite spot for our family, and last spring we were delighted when Tony was invited to join the team as the general manager. Thanks to a warm welcome from the crew of seasoned and service-oriented professionals, his transition back into the world of hotel management has been smooth and fluid."
Karen Stoker (owner) has been a pioneer in the historic revitalization of downtown Fargo," Tony says, "and we share a passion for excellent food and service. I am grateful for the challenge that this new opportunity brings, and proud to be part of the Hotel Donaldson team."
Executive Chef Ryan Shearer is another recent addition to the HoDo's management team, joining the kitchen crew last June after a culinary stint at Mezzaluna, also in downtown Fargo. He leads a team of talented cooks, and among them is my new friend Pastry Chef Dana Swanson.
As an enthusiastic home baker, I am naturally drawn to her beautiful desserts, which are thoughtful and creative works of art.The HoDo menus change with the seasons, and always strive to feature local foods whenever possible. Showcased here today is a sampling of their most popular items from the current autumn menu, including a gorgeous stuffed acorn squash appetizer, a colorful spiral beet salad, a rich lobster and pumpkin entrée, and Dana's amazing praline cobbler dessert.
Chef Shearer graciously shared his recipe for the stuffed squash, which is almost too pretty to eat. The dish consists of roasted acorn squash stuffed with a savory mixture of farro and mushrooms, garnished with glazed cranberries and toasted squash seeds. With its striking presentation and seasonal flavors, this dish would make an excellent starter or side dish for Thanksgiving dinner.
If you attend the harvest dinner, you'll find that Chefs Shearer and Swanson have created a sumptuous feast of specialty dishes that are not regularly featured on the menu, and include: Doubting Thomas Mushroom Mousse, Butternut Bisque, Balsamic Pear and Ginger Sorbet, Braised Pork Cheeks with Spiralized Fried Potatoes and a Kale and Sweet Potato Bread Pudding, Squash Panna Cotta with Port and Chokecherry Curd, Honey Popcorn and Cinnamon Candied Oranges.
For even more local flavor, Tony tapped our good friends Greg and Lisa Cook, from 4e Winery near Casselton, to pair each course with a wine selected from their current portfolio. If you're thinking you can't get a good wine produced locally right here in North Dakota, think again. Their pairings are eclectic and interesting, with wines made from locally produced grapes like Frontenac and Frontenac Gris, as well as a refreshingly good dry rhubarb wine.
Some of the key players may have changed, but thanks to the leadership of owner Karen Stoker, the Hotel Donaldson's commitment to providing the best local foods experience remains the same. Now, that's worth celebrating.
The Hotel Donaldson's Stuffed Squash Appetizer
From Chef Ryan Shearer: This stuffed squash recipe from our menu has three main components: the actual squash and its seeds, the farro and the cranberries.
Squash and seeds ingredients:
1 acorn squash
2 teaspoons olive oil, divided
Seeds from the squash
Dash of smoked paprika
Directions:
Cut the top off squash, and a small piece off of the bottom for stability. Scoop out the seeds and reserve on the side.
Rub the squash with 1 teaspoon olive oil and season with salt and pepper. Lay it face-side down on a baking sheet lined with parchment paper. Roast in oven at 350 degrees for 20-25 minutes until fork tender.
While squash is in oven, put a pot of heavily salted water on medium-high heat. Separate the seeds from the pulp of the squash and add to water. Boil in water for 7-9 minutes. Toss in olive oil and season with salt, pepper and paprika and bake in the oven at 350 until crispy, about 10-12 minutes.
Farro ingredients:
1 cup farro
3 cups water
½ cup sliced mushrooms (we use whatever is in our mix for field mushrooms at the time)
1 tablespoon chevre (goat cheese)
1 tablespoon canola oil
1 tablespoon salt
Directions:
Toast farro on sheet tray in oven at 350 degrees for 7 to 9 minutes, until farro appears darker and smells nutty. Once farro is toasted, pour 3 cups of water into a sauce pot, add farro and season with salt, then bring to a simmer over medium heat. When water has fully been absorbed into the grain, remove from heat and set aside.
Heat a saute pan on high heat, add canola oil to pan and add the mushrooms. Cook until golden and add to farro, tossing lightly to incorporate. Mix in chevre, season with salt and pepper
Cranberries ingredients:
½ cup cranberries
2 tablespoons white balsamic vinegar
¼ cup sugar
½ cup honey
Directions:
Toss cranberries with vinegar and sugar, let macerate (sit) for 20 minutes. Heat up honey in a pan over medium-low heat. Toss cranberries in honey. Transfer to a baking sheet lined with parchment paper and bake in oven at 350 degrees for 7 minutes
To finish, fill squash with farro mixture, then top with cranberries. Sprinkle the seeds on top for a crunchy finish.
If you go
What: One Hundred Mile Harvest Dinner
When: 6 p.m. Tuesday, Nov. 15
Where: Hotel Donaldson, 101 N. Broadway, Fargo
Info: Prices are $75 per person for dinner, $20 for wine pairings; taxes and gratuities not included. For reservations, call 701.478.1000.
"Home With the Lost Italian" is a weekly column written by Sarah Nasello featuring recipes by her husband, Tony Nasello. The couple owns Sarello's in Moorhead and lives in Fargo with their 12-year-old son, Giovanni. Readers can reach them at sarahnasello@gmail.com. All previous recipes can be found at thelostitalian.areavoices.com.
1
/
6:
The HoDo's spiral beet features spiralized beets, gorgonzola, hazelnut brittle, apples and balsamic mustard. David Samson / The Forum
2
/
6:
The HoDo's lobster and pumpkin dish features creole lobster meat, gruyere risotto, pea beans, spiced pumpkin sauce and pepitas. David Samson / The Forum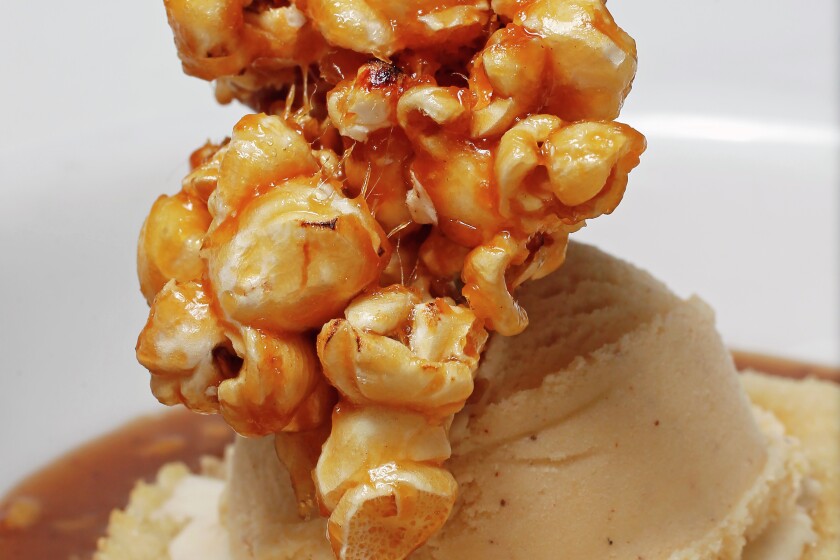 3
/
6:
The HoDo's bourbon praline cobbler features spiced sweet biscuits, praline and bourbon sauce, sweet potato ice cream and caramel corn garnish. David Samson / The Forum
4
/
6:
HoDo Chefs Ryan Shearer and Dana Swanson proudly display favorite dishes lobster and pumpkin and bourbon cobbler. David Samson / The Forum
5
/
6:
HoDo Executive Chef Ryan Shearer works on a lobster and pumpkin dish. David Samson / The Forum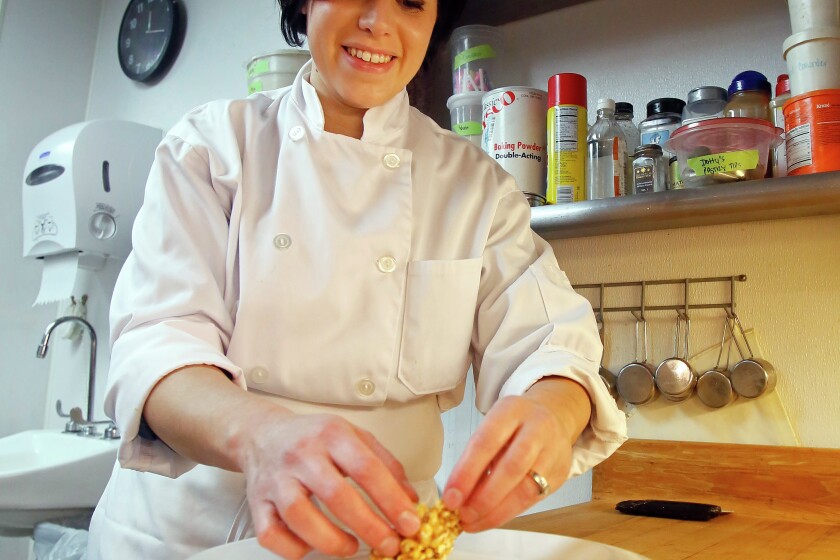 6
/
6:
HoDo Pastry Chef Dana Swanson makes a bourbon praline cobbler. David Samson / The Forum