Classic Italian fish stew a great tradition to try this holiday season
Every year around this time, we receive dozens of emails from our readers who are looking for ideas of what to serve on Christmas Eve.This week, we take our inspiration from the Italian tradition of serving fish on Christmas Eve with our recipe f...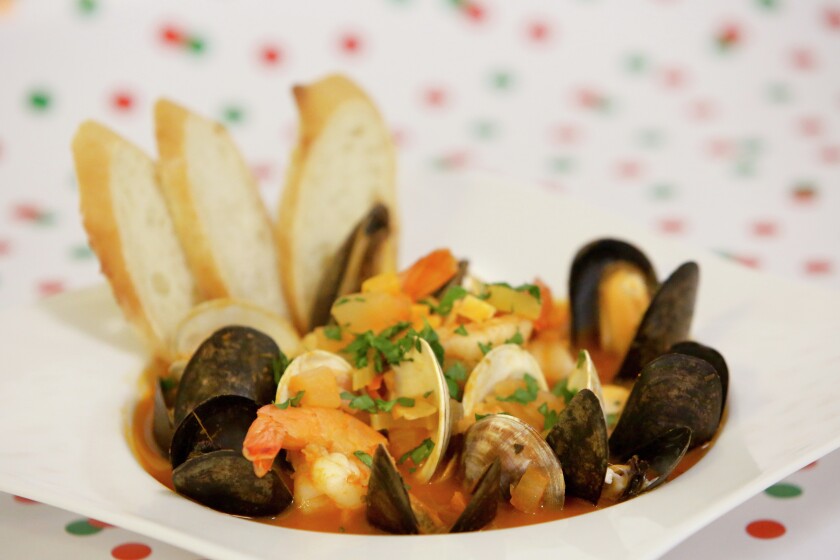 Every year around this time, we receive dozens of emails from our readers who are looking for ideas of what to serve on Christmas Eve.
This week, we take our inspiration from the Italian tradition of serving fish on Christmas Eve with our recipe for a classic fish stew called cioppino.
Like so many Italian favorites, cioppino (choh-PEE-noh) originated among the peasant, or working class, before becoming a popular favorite in high-end restaurants.
Cioppino was created by Italian-American immigrant fishermen in San Francisco, who frequently made the dish while out on their boats, from whatever scraps were on hand from the day's catch.
Pureed tomatoes for the base of this stew and bring a punch of acidity and color to the dish. Similar in style to Manhattan clam chowder, but in addition to little neck clams, cioppino is loaded with a variety of seafood that can include scallops, mussels, shrimp, lobster, crab and a mild, white fish like cod, tilapia, halibut and sea bass.
Because of its acidity, cioppino is best enjoyed with an acidic white wine like Champagne, pinot grigio, or sauvignon blanc, or pinot noir if you prefer a red wine.
Typically, the balance of this dish is shellfish-heavy, but for those of us with shellfish allergies, you can forego the danger and still enjoy the dish by adding some swordfish and salmon to one or two varieties of white fish, cooked in a separate pot, of course.
Making cioppino begins with creating a broth based on classic flavor builders like onions, celery, bell pepper and garlic, which are sautéed in a bit of olive oil until softened. Our recipe also includes fresh fennel, one of our favorite winter vegetables, which brings a lovely, mild touch of anise, or licorice, flavor.
In addition to the tomato puree, more traditional fish-friendly flavors like white wine and lemon are also added, along with a host of other ingredients including dried oregano, crushed red pepper flakes and a bay leaf.
The broth is rounded out with 32 ounces of liquid, and you could use all water or vegetable stock, but we prefer to replace eight ounces of the liquid with clam juice or fish stock, which enhances the dish's overall depth of flavor.
Once the broth is completed, the seafood is added, step by step, and essentially poaches in the liquid.
To save time, the broth can be made two to three days in advance and finished with the seafood just before serving. Seafood cooks very quickly in liquid, and our recipe includes timing guidelines to follow for each type of fish.
While the seafood in our recipe is typically available in our local markets, we recommend contacting your local fishmonger to ensure that your desired seafood choices are available when you need them.
This is a rustic dish, naturally beautiful by the bounty of seafood featured, but not overly fussy. When serving cioppino, we recommend ladling it into individual bowls, which are filled first with broth and then finished with an even distribution of seafood and a sprinkling of fresh parsley. It could be served in small portions as a starter course, but is hearty enough to stand on its own as a main course.
Make sure to have some crusty bread on hand to sop up the remaining broth, like French baguette or Italian ciabatta, served either plain, or grilled for added texture.
The recipe can be easily doubled and, if you make cioppino this holiday season, be prepared for a kitchen that smells fragrant and delicious, and guests who are full and happy.
Christmas Eve Cioppino
Serves: 4
Ingredients:
1 cup fresh fennel, large-diced (from the bulb only, fronds and stem removed)
1 onion, diced
2 celery stalks, diced
1 large bell pepper (orange, yellow or red), diced
2 tablespoons olive oil
3 garlic cloves, minced
3 cups white wine
1 bay leaf
1 teaspoon dried oregano
½ teaspoon crushed red pepper flakes
1 16-ounce can of tomato puree
8 ounces clam juice or fish stock
24 ounces water or vegetable stock (may also use all water or veg. stock if clam juice or fish stock not available)
4 slices fresh lemon, ¼-inch thick
Salt and pepper to taste
1 tablespoon fresh parsley
1 loaf of good, crusty bread (artisan baguette or ciabatta)
Seafood:
8 ounces fresh, mild white fish, cut into 4 even pieces (cod, tilapia, sea bass, halibut - salmon and swordfish also work)
12 each little neck clams 12 each shrimp 8 each sea scallops
12 each mussels
Directions:
In a large stock pot, sauté the fennel, onions, celery and bell pepper in olive oil over medium heat, for about three minutes, until softened. Add the garlic and cook for 2 minutes over medium-low heat.
Next, add the white wine, bay leaf, crushed red pepper and dried oregano, stirring after adding each ingredient. Increase heat to medium-high and cook for 5 minutes.
Add the tomato puree, water and stock and cook over medium heat for 20 minutes, stirring occasionally. Add the lemon slices. Continue by adding the seafood, or refrigerate broth for up to 3 days before adding seafood and serving.
Add the cod fillets, cover the pot and cook for 2 minutes over medium heat. Add the clams, cover pot and continue cooking over medium heat for 3 minutes.
Next, add the shrimp and scallops, cover pot and cook for 3 more minutes. Lastly, add the mussels, cover pot and cook until all mussels and clam shells have opened, about 2 minutes. Discard any shells that have not opened.
Serving recommendation:
Best served individually in bowls. Fill each bowl 3/4 full with broth, and then distribute the seafood evenly between bowls.
Add a sprinkling of fresh parsley to each bowl and serve with hunks of crusty bread.
Tony's Tips:
Fresh crab is also great in cioppino - look for Dungeness or King crab legs.
A tablespoon of roughly chopped basil and/or tarragon could also be added with the parsley.
For added flavor and texture, freshly diced tomatoes may also be added at the same time as the clams.
Recipe can be easily doubled.
"Home With the Lost Italian" is a weekly column written by Sarah Nasello featuring recipes by her husband, Tony Nasello. The couple owns Sarello's in Moorhead and lives in Fargo with their 12-year-old son, Giovanni. Readers can reach them at sarahnasello@gmail.com .
All previous recipes can be found at thelostitalian.areavoices.com.
1
/
3:
Cioppino is an Italian-American stew from San Francisco. This one includes clams, shrimp, mussels and scallops. Michael Vosburg / Forum Photo Editor
2
/
3:
Cioppino is an Italian-American stew that can be made with different types of fresh seafood. Michael Vosburg / Forum Photo Editor
3
/
3:
Mussels can be checked for freshness by pinching them closed. Fresh mussels will hold shut. Michael Vosburg / Forum Photo Editor