Crews prepare downtown Fargo garage for shooting of 'Tankhouse'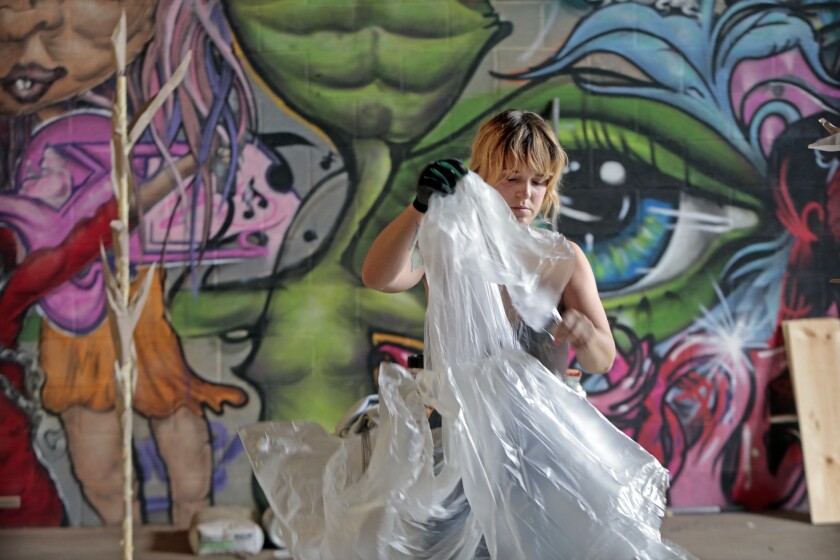 FARGO — On a cool misty Thursday morning, Broadway in downtown Fargo prepared to launch a North Dakota welcome.
After months of writing and planning, a production crew is just days away from shooting a feature film. Actors will arrive in the area shortly and shooting is planned to happen over the next couple of weeks.
Click Content Studios, which is part of Forum Communications Co., is partnering with Los Angeles-based Momentum Studios to produce the film "Tankhouse," a comedy that follows two New Yorkers who move to Fargo to start a theatrical revolution.
The old Goodyear tire store, now called the Broadway Garage, will soon host a cast of characters taking part in the film.
Set design and build crews from Momentum Studios are beginning to turn the old tire bays of Goodyear into a set and sound stage. Most of the design work comes from artists from Los Angeles who can call Fargo home for the next few weeks. On Sept. 12, crewmembers worked on props for the sets.
"I feel very comfortable being here; everyone is super helpful. I could not ask for a better place to shoot, actually," said crew member Jen Messer.
Crew member Christiana Herodotou agrees.
"There is such great food here and people are super helpful and friendly, willing to help with anything you ask," she said.
The crew has been picking up props in Fargo-Moorhead and the countryside, allowing the big-city folk to get a taste of the Red River Valley.
"We drove out in the middle of nowhere to fetch these things. And it was really beautiful ... so much color, wildflowers and plants," Herodotou said.
Look for exclusive daily updates on "Tankhouse" and all that is going into making this movie here in Fargo on WDAY, The Forum and InForum.com.