Emily Lunde puts history in color at Fargo show
The memory painter depicts life in the Red River Valley in the '20s and '30s with exhibit at Fargo's Spirit Room.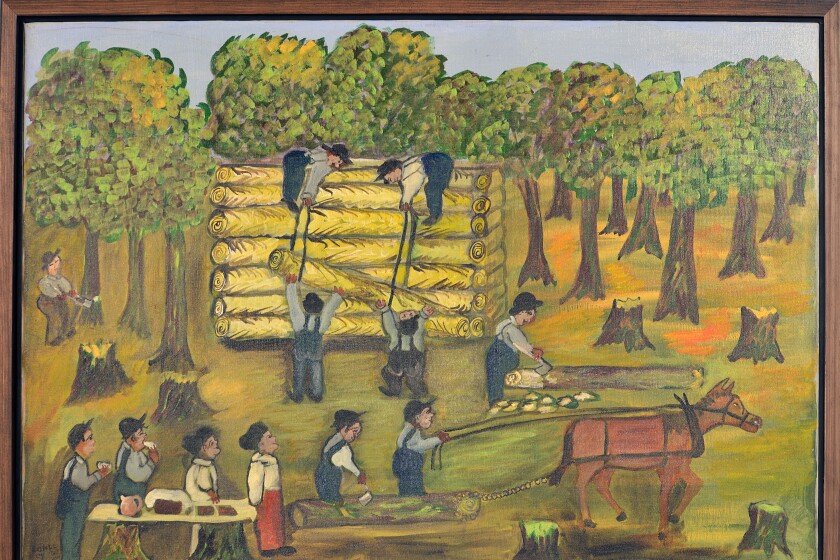 FARGO — Emily Lunde always had an interest in art, but it wasn't until she was older than 50 that others took an interest in her work.
In the 1970s, the Grand Forks artist gained some national attention for her memory paintings, depicting life in North Dakota and Minnesota the 1920s and '30s.
A collection of her work is currently on display at The Spirit Room in downtown Fargo . The show, "Uff Da: The Folk Art of Emily Lunde," is part of the North Dakota Museum of Art's Rural Arts Initiative, an outreach program that brings some of the museum's collections to cities big and small around the area.
Lunde spent most of her life in Grand Forks and her work focuses on life and work in the Red River Valley 100 years ago.
NDMOA Director Laurel Reuter called Lunde a "treasure" and "one of the state's eminent folk artists and unofficial cultural historians," in a statement accompanying the exhibit.
Lunde's recollection of the past allows viewers a rare glimpse into a historically significant period. Born in 1914, Lunde depicts life before and during the Great Depression.
"This is a period we think of telling stories of hardship and doing without," says Suzanne Kelley, who has studied the work of Lunde and other memory painters. "Seeing it from a different perspective, it was more about work, family and play. She's seeing it as not so bad. She'd characterize it as fun."
Kelley is editor-in-chief of North Dakota State University Press and also teaches courses about publishing as assistant professor of practice. She's written about Lunde and memory painters and discussed her work at the show's opening reception earlier this month.
Kelley says while most memory painters depicted rural scenes, Lunde showed life on farms and in small towns in communal events, like dances, visits to a county store, church celebrations, county fairs and picnics, as well as work on the farm.
Kelley characterizes Lunde's work as "naive," a term used for artists that never received formal training. She points out that Lunde had limited understanding of perspective, as objects in the background were often the same size as those in the foreground, giving the works a flat feeling, with people mostly depicted in profile. Lunde also fills the frame with people and activity, an exaggeration of a more realistic view.
"Everything that happened in a recollection happened in that frame," Kelley says.
While the paintings may have lacked sophistication, they garnered an audience that bought up her work. Her fans were such a force, Kelley says that when Lunde tried to paint different subject material, they told her they wanted more of the same, so Lunde stayed with what sold.
"Emily would set up three or four easels and paint all of the red spots and then paint all of the blue spots," Kelley says.
One of her biggest recurring themes was inside and out of old schoolhouses.
Mary Haugo had just graduated from University of North Dakota in the late 1970s and started teaching in Grand Forks when a friend suggested they visit Lunde's home studio. Haugo didn't know her work before entering, but walked out a collector.
"I saw her school paintings and thought, 'I need to have that.'" Haugo says. "I fell in love with her work.
As a new teacher, Haugo was on a budget, but Lunde priced her work affordably. Haugo says her biggest painting was only $30 and over the years, she bought 15 paintings.
"They are primitive. They represent what North Dakota is about," she says.
Emily Wilhelmina Dufke Lunde was born in 1914 in Newfolden, Minn., north of Thief River Falls. Her father died when she was 5 and she and her two sisters were raised on their grandparents' farm, which would influence her paintings.
At 18, she left to work as a maid in Grand Forks. She would marry and raise four kids. She started painting in the 1950s, but took it more seriously in the 1970s.
She found a patron in the director of the Museum of American Folk Art in New York, which has a number of pieces in its collection.
The paintings from the North Dakota Museum of Art collection are from 1980 to 1990, with the bulk in the latter half of the decade.
Haugo would return to Lunde's house from time to time to buy more work, but said while Lunde was polite, she wasn't forthcoming about her art.
"She kind of let her work do the talking. I don't remember her being too talkative," Haugo says.
"I amaze myself when I think about what I was doing at the time," Lunde says in an undated quote included in the show's material. "I was between 5 and 10 years old when I perceived these things that went into my paintings. I was analyzing the adults. I guess you can't fool children as much as you want to."
"Memory artists recognized this was something important and was disappearing," Kelley says. "They're nostalgic, showing a generation that grew up with family farming. Maybe we'll never see the closeness of a family unit in an agricultural setting again."
"All of these tell so much of what it was like growing up in North Dakota and Minnesota," Haugo says of the Spirit Room show. "They all tell about her life. She didn't travel. Her whole world was about 20 miles."
What: "Uff Da: The Folk Art of Emily Lunde"
When: on display through Jan. 14
Where: The Spirit Room, 111 Broadway N., Fargo
Info: The exhibit is free and open to the public