Fargo teen wins 'Saturday Night Live' essay lottery, takes family to Oct. 29 taping in New York
Forum graphic artist Troy Becker passed down his love of "Saturday Night Live" to his daughter, Nora, who scored ticket to a live show in return.
FARGO — "Dad, I won tickets to 'Saturday Night Live'," my daughter Nora exclaimed as she shook with elation. This was also a complete shock to me. As a lifelong fan of the show I have entered the SNL essay lottery every August, but never won. At 16 (and her first attempt) she was now my literal ticket to the show.
The taping would take place Oct. 29, and I was immediately researching airfare to New York City. The host and musical guest would be hip-hop artist turned actor Jack Harlow . Admittedly, I didn't know much about him, but I was willing to give him a chance. Nora, her cousin Sonja Rutten, my wife, Ali, and I were about to embark on a fantastic journey. As the Church Lady would say, "Well, isn't that special?"
For the uninitiated, " Saturday Night Live" is a comedy sketch show also featuring musical acts. For 48 seasons it has launched the careers of icons such as Chevy Chase, Will Ferrell, Tina Fey and countless others. My first "SNL" experience was with the 15th anniversary special in 1990. Many of the jokes and political references zoomed past me, but there was an energy and danger that grasped me. I quietly sat by my mom, wondering at what point she would turn the television off. Not everything on "Saturday Night Live" is appropriate for children. I give my mom credit, she knew what I could handle. For a kid in rural Minnesota it was a fascinating entry into the world of pop culture.
As I grew older my fandom showed no boundaries. I taped nearly every show on VHS and watched live when my one TV home would allow. During college I didn't have cable - my mom recorded it for me. My eventual wife was also a fan of the show and it became a shared experience. We lived on the East Coast for a bit but never made it to a taping. The closest we came was a guided studio tour. I have an encyclopedic knowledge of the show, referencing life's big events with seasons and hosts.
So it seemed inevitable that my first-born daughter would become a fan. Nora shares many of my interests and her mind soaks up popular media like a sponge. She is a very talented artist and avid writer, filling notebooks with screenplays, drawings and skits. Naturally, Saturday Night Live is a perfect outlet for her creativity - and we watch it together nearly every weekend.
SNL wouldn't be our only stop in New York City - she planned a visit to New York University's film school. Her hope is to one day be a director. Her backup plan? A writer on "Saturday Night Live." Might as well dream big.
Upon arriving in New York it became increasingly obvious just how rare it is to secure tickets to SNL. On Friday night a standby line of about 50 people started to form. Spilling with chairs, tarps, blankets and food it looked more like an "SNL" campground. They would be there the entire night - just for a chance at getting into the taping.
We befriended Anthony, a New York cop turned 30 Rock security guard, who quickly took to calling us "North Dakota." He spoke with an accent so thick it would make The Godfather blush. He offered some sage advice, as well as some entertaining accounts on past guests. He was bewildered as to why four hicks from the middle of the country would have tickets. "She must be a helluva writer," he quipped.
Hearts pounding, we proved our credentials and were whisked into the Peacock Lounge. Adults were greeted with a beverage of their choice, while couchside tables were filled with soda, water and bowls of bright Halloween candy. A DJ thumped music while video screens of varying sizes flashed images of Saturday Night Live past.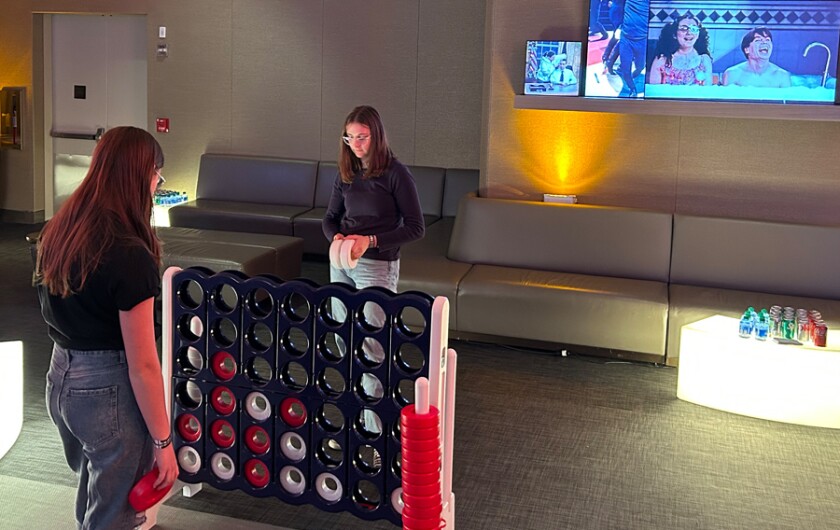 We enjoyed a few rounds of a giant Connect 4 game with a woman from Tennessee while a couple from Belgium looked on. The anticipation was growing and soon they began seating people.
The famed Studio 8H is much smaller than you would imagine. The hallowed space holds around 300 guests, of which about 100 are the general public. We were seated in the second row of the balcony, with an amazing view of the action. Technicians, artisans and performers buzzed around the studio, putting final touches on the sets. The air was cool and smelled like a fresh construction site.
Eventually the band started to perform and a few members of the cast entertained the rowdy crowd. At 11:30 p.m. E.T. the show started, a mere feet from our existence. With every skit I became more of a Jack Harlow admirer. We were even treated to a Tom Hanks guest appearance, which was truly a surreal moment.
As I sat there in wonder I thought a lot about my mom. She passed away a few years ago after a long bout with cancer. She would have been more excited than a Spartan cheerleader to know we were in the crowd. I peered at my wife and felt amazed at how far we have come. I imagined her struggling to keep her eyes open after a long day of graduate studies. I pondered how there will be a time soon that Nora won't be sitting right next to me during the show. We'll still share the experience, just on different couches. But who knows, maybe this isn't the last time I'll visit Saturday Night Live. Perhaps next time I won't be there just as a fan, but as a very proud dad.