Fargo's Madison Johnson eliminated before rose ceremony in turbulent premiere of 'The Bachelor'
Ten women were sent packing during the opening episode of "The Bachelor," including Fargo resident Madison Johnson, who was showcased throughout the eventful premiere.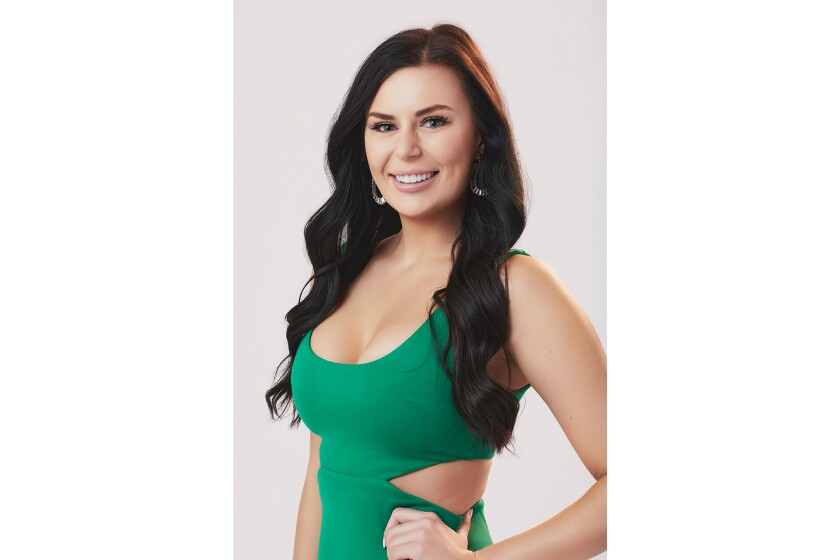 We are part of The Trust Project.
FARGO — Madison Johnson, a Fargo native who made her debut on ABC's "The Bachelor" Monday night, Jan. 23, was eliminated during the season 27 premiere.
Season 27 of the reality show features Zach Shallcross, who appeared on the previous season of "The Bachelorette." On Monday, 30 women made their pitches to win Shallcross's heart, with only 20 progressing past the first episode. "I'm not here to mess around," Shallcross said. "I've lived through this experience and I know that you can find love here."
Johnson drew from her Fargo roots when she first stepped out of the limousine to meet Shallcross. "You are looking mighty fine," she told Shallcross. "In North Dakota, we say, 'Uff da, he's looking mighty fine.'"
Season 27 of "The Bachelor" features 30 women seeking the affection of title man Zach Shallcross, who appeared on season 19 of "The Bachelorette."
After all 30 women were introduced, the episode took on a competitive tone with Johnson quickly emerging as the central figure. While Shallcross and contestant Christina Mandrell were spending one-on-one time on Mandrell's party bus, Johnson led the charge as a throng of women boarded the bus for an impromptu dance party.
"Zach was talking to another girl and I decided to put myself into the position to talk to him," Johnson recalled during a side interview. "When I know what I want, I will fight for what I want."
As the episode progressed, Johnson made it clear to the other women that she was aiming for a rose and a kiss from Shallcross. Johnson had hoped to receive the show's "first impression rose," which ensures passage to the next episode. "Oh my gosh, I would be so excited if I got the first impression rose. I would be a puddle," Johnson said. That rose ultimately went to a 24-year-old Houston native, however.
Johnson was able to score some one-on-one time with Shallcross, again using her North Dakota heritage to find common ground. Johnson brought a picnic basket filled with wintertime apparel, telling Shallcross he would need it if he ever visited Fargo. "I think the attraction between us initially was electric, if there's one word to describe it," she told the cameras after her time with Shallcross. "I am on cloud nine after being able to talk to Zach. He is everything that I could have hoped for and more."
Johnson was later able to secure more one-on-one time with Shallcross, prying him away from a personal conversation with Cincinnati's Olivia M. Johnson. Shallcross invoked Minnesota Vikings wide receiver Justin Jefferson, performing the griddy before Johnson went in for a kiss.
Afterward, both Johnson and Shallcross revealed that their moment together fell flat. "I did kiss him. I wish it was more," Johnson remarked. "The kiss was subpar. It was literally a peck."
"Madison, I think she's really sweet, but I don't know if I was feeling that kiss," Shallcross explained. "It didn't feel right. The kiss sat wrong with me. I'm feeling overwhelmed with my conversation with Madison."
Johnson appeared crestfallen as fellow contestants Brianna and Ariel attempted to console her. Johnson eventually walked off and was shown to be sobbing. "I want to be wanted. It's so embarrassing," she said through tears.
After the first impression rose was handed to another woman, Johnson was again shown walking off, saying she was heartbroken. Before the rose ceremony, during which the bachelor chooses which contestants will progress, Shallcross and show host Jesse Palmer were discussing the events of the night.
Johnson broke up the conversation, asking to speak with Shallcross privately. "I don't want to force things. I want things to come natural," she told him.
It was at that point Shallcross informed her she would not be continuing on the show.
"I really do thank you for being here and I really appreciated getting to know you, but I never want to lie and I always want to be open and truthful," he told Johnson. "My heart wasn't feeling it. I never want to force that and I don't want to put you in something that's not real because I know what it feels like to be led on and I don't want that for you."
"I don't see a future with us, but I still think you're awesome," he said. "I just wanted to tell you the truth."
Shallcross watched Johnson as she walked off the property, where she was shown bawling. "I cannot believe that I gave up my life for him," she lamented. "I know what I deserve, and it's not that. I know for a fact he does not know what he's missing out on. What was wrong? What did I do wrong?"
Before entering the rose ceremony, Shallcross gave his final thoughts on Johnson to cap what proved to be a roller coaster episode. "Madison is beautiful and I think she's very sweet, but she's not my person. I'm not doing her any favors by keeping her around," he concluded.
WATCH: Fargo resident Madison Johnson is eliminated from 'The Bachelor'
Read on for a full list of who stayed and who went home.
Madison, 26, Fargo
Rebecca, 25, Burbank, Calif.
Cara, 27, Pittsburgh
Holland, 24, Boca Raton, Fla.
Chandralekha, 29, Miami
Olivia L., 24, Rochester, N.Y.
Olivia M., 25, Cincinnati
Sonia, 29, Long Island, N.Y.
Vanessa, 23, Baton Rouge, L.A.
Viktoria E., 29, Vienna, Austria
Aly, 26, Atlanta
Anastasia, 30, San Diego
Ariel, 28, New York
Bailey, 27, Nashville, Tenn.
Brianna, 24, Jersey City, N.J.
Brooklyn, 25, Stillwater, Okla.
Cat, 26, New York
Charity, 26, Columbus, Ga.
Christina Mandrell, 26, Nashville
Davia, 25, Charleston, S.C.
Gabriella, 25, Pittsford, Vt.
Genevie, 26, Baltimore City, Md.
Greer, 24, Houston
Jess, 23, Winter Springs, Fla.
Kaity, 27, Austin, Texas
Katherine, 26, Tampa, Fla.
Kimberly, 30, Los Angeles
Kylee, 25, Charlotte, N.C.
Mercedes, 24, Bloomfield, Iowa
Victoria J., 30, Fort Worth, Texas