Greta Thunberg mural intended for Bismarck now spotted across the globe
We are part of The Trust Project.
BISMARCK — Shortly after plans to install Shane Balkowitsch's 7-foot tall mural of Greta Thunberg were cancelled in Bismarck under a cloud of online comments, the artist's images of the young climate activist have been sighted or soon will appear in cities across the world — from Paris to Poughkeepsie, Fargo to L.A.
Balkowitsch, a Bismarck artist who uses a historic wet plate method to make photographs, captured images of Thunberg entitled "Standing With Us All" and "Greta" when she visited the Standing Rock Sioux Reservation in October.
On Tuesday, Feb. 18, Balkowitsch's photographs of Thunberg stretched 40 feet across a digital billboard in Paris, on the MDC VeePee building along the picturesque Rue de Saussure.
Artists in Los Angeles are touching up plans to project a Balkowitsch image of Thunberg up to 70 feet tall. And private citizens, plus the city of Poughkeepsie, N.Y., are paying the cost to put a Balkowitsch mural of Thunberg on permanent display.
"These are grassroots efforts. I'm not paying for these, and I don't make a penny," Balkowitsch said.
The controversy began last week when a permit to hang the first mural outside of Bismarck's Brick Oven Bakery had been all but approved. A story by KFYR-TV spurred negative online comments, and Balkowitsch withdrew his permit application with the city after threats were made to boycott the bakery.
"My crime was giving a gift of art to the city of Bismarck," Balkowitsch said.
In Fargo, former city commissioner Mike Williams started raising funds last week to display the cancelled mural at the Front Street Taproom , 614 Main Ave. That mural will be hung at 1 p.m. on Wednesday, March 18, the same night a documentary about Balkowitsch will be shown at the Fargo Film Festival .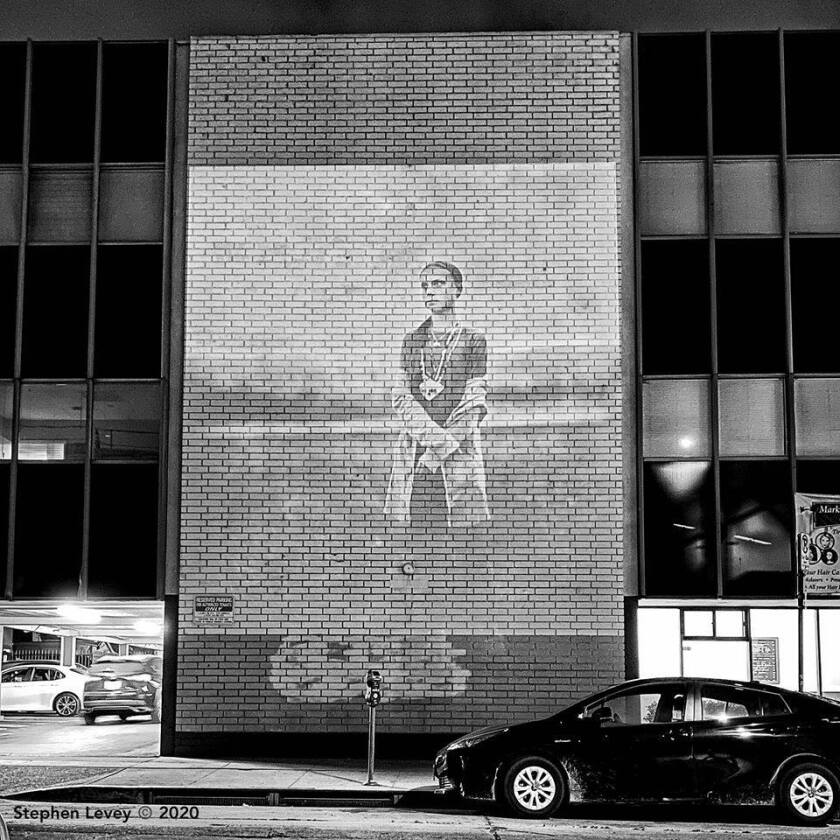 In Los Angeles, photographer Jeffrey Sklan said he and his "partner-in-crime" Stephan Levey, an iPhone photographer, heard about Balkowitsch's situation and decided they wanted to help. "Never surrender to bullying," Levey said.
One of Balkowitsch's older murals currently on display in Bismarck, entitled "Liberty Trudges Through Justice," was defaced last week by eggs. The Thunberg image in Los Angeles will be a projection, so it can't be defaced, Sklan said, noting that a test run of the projection went well.
In Poughkeepsie, Doug Nobiletti said that when he learned the Thunberg mural in Bismarck was nixed, he began working with private citizens and public officials to bring the mural to the city in New York's Hudson Valley.
"I wanted to give her a home. I believe in Greta's message," Nobiletti said. "We have a whole host of public art. We are trying to become a mural city, but what we don't have are photographic mural representations, and look at the message, look who it is. People are aware of her."
Balkowitsch said he will be paying for a Thunberg mural to be installed at the Standing Rock Sioux Reservation's Sitting Bull College. He's also making bumper stickers entitled "Standing With Us All" with his photo of Thunberg that will sell for $5 a piece. All proceeds will be donated to the Native language program at Standing Rock, he said.