Longtime arts administrator Tania Blanich takes the lead at The Arts Partnership
Tania Blanich's career has taken her across the United States but she returned to the Fargo-Moorhead area in 2010. Now, she is replacing Dayna Del Val as the leader of The Arts Partnership.
To say local art is in Tania Blanich's blood is a bit of an understatement.
The Arts Partnership interim executive director, formerly the director of operations, who officially took the helm after longtime President and CEO Dayna Del Val left the organization in late April, grew up in a family where theater, dance, visual arts and other creative pursuits were a way of life.
"It was the best role I ever had," Del Val says of her job.
"My parents met at Fargo-Moorhead Community Theatre's first organizing meeting in 1946. Mom co-founded the FMCT with (prominent local arts advocate) June Dobervich," Blanich said. "I grew up watching my mother dance, act, paint and sing."
Since then, Blanich's early life in the arts has influenced pretty much every facet of her life, from a decades-long career in arts administration to her noteworthy collection of local art on display in her quaint north Fargo home.
"I have a bit of a problem," she said. "I keep saying I won't buy any more art, but then I see something I like and I just have to have it."
Blanich remembers her early years "dancing from the time I could walk at The Halbeisen School of Dance, which was owned and operated by her mother, Bev." She and her sister Tamara Blanich also played piano and violin growing up, among other artistic pursuits.
She recalls her childhood home as "filled with art by local artists" and artworks acquired during family vacations across the United States and abroad.
Family trips often revolved around visiting museums and experiencing local arts in other communities.
"When we traveled, we went to art museums and theater," Blanich said. "Closer to home we attended Straw Hat Player productions and dance or theater productions here, in the Twin Cities and Winnipeg. I really had a wonderful, art-filled childhood."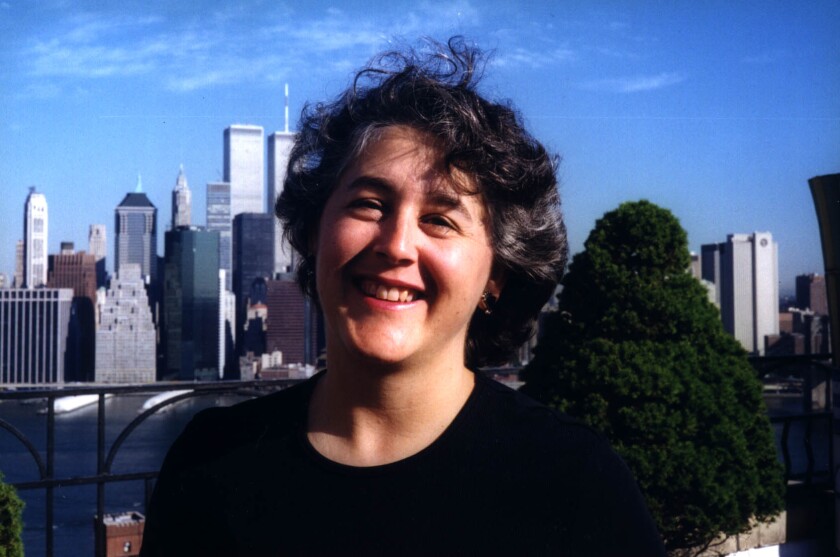 Not surprisingly, Blanich got a liberal arts education, receiving an undergraduate degree in French while also taking dance classes. Blanich said her experience writing papers about French literature taught her the analytical skills necessary to her decades-long career in government and nonprofit work.
Blanich, who moved to New York City shortly after college, eventually earned a Masters in Public Administration from New York University.
"I spent the bulk of my career in New York City government and nonprofit work. After a decade in government agencies, I led a Rockefeller Foundation-funded program that awarded fellowships to media artists in the U.S. and Latin America.
After a brief stint as director of operations at the New York Stem Cell Foundation, where she learned that "stem cell scientists have a very artistic bent" Blanich took a position as Chief of Operations for LexArts in Lexington, Kentucky.
Like many folks who fly the Fargo roost, in 2010 Blanich returned home to help care for her elderly mother. Being hired as executive director of the Rourke Art Museum in Moorhead after longtime founding director James O'Rourke died made the move possible and, according to her, was a good career decision.
"Coming home seemed meant to be," she said. "It's a decision I'm glad I made to this day."
Blanich joined The Arts Partnership in a consulting capacity in 2015 to evaluate the City Arts Partnership grants program and to help curate and manage what's now known as the ArtWORKS program. It didn't take long for Del Val and the board of directors to see her skill sets and experience in arts administration.
Eighteen months later, Blanich accepted a full-time position with TAP as director of operations.
Now, as interim executive director, she's looking forward to continuing the organization's mission "to cultivate community through the arts."
"I think it's an interesting mix of things that we do at TAP. Many local arts councils give out grants to the arts sector, as we do. Many advocate on behalf of the arts, like we do. Some do their own programming, like we do. The fact that we do all three of those things makes us unique," Blanich said.
One of her favorite responsibilities at TAP is helping artists and arts organizations write grants. She's also particularly fond of the Art for All grants program, which encourages health and human services nonprofits to use the arts in mission-related work.
"We say we support local art. But it's not just about financial support. We provide communications services to local artists and arts organizations to help them get the word out about what they do, and that is something extraordinarily unique."
With eight years at TAP already, Blanich is well-prepared to manage the organization's grants and programs.
"I believe that having a long-time employee step in to lead the organization provides a lot of stability for our work," she said. "But I'm also excited to see how we can continue to evolve and improve everything we already do."
Blanich said she looks forward to collaborating with TAP's board members to create tactical plans for the future of the organization. She also hopes to engage community members, businesses and local government in ways to strengthen the region's already solid arts sector.
"In a community our size, it's quite impressive the range of arts represented, from the visual arts to the performing arts to folk arts and everything in between," she said. "Our arts community is strong, resilient and wide-ranging. Supporting local art is not just my job, it's a way of life for me."
Contact The Arts Partnership
Blanich encourages people from the community to reach out to The Arts Partnership with feedback or suggestions on ideas for supporting local art. She can be reached at tania@theartspartnership.net.
This article is part of a content partnership with The Arts Partnership, a nonprofit organization cultivating the arts in Fargo, Moorhead and West Fargo. For more information, visit theartspartnership.net.