Machine Gun Kelly takes his shots at internet critics at Fargodome show
The popular singer packed nearly 30 songs into an explosive show in Fargo.
We are part of The Trust Project.
FARGO — Machine Gun Kelly fired up the Fargodome Wednesday night, July 27 — figuratively and literally.
The singer had a crowd of eager fans on its feet for his 90-minute set that was accentuated with a roving helicopter, two inflatable guests and enough firepower to take down the internet.
MGK's beef with the internet — presumably mostly critics, trolls, tabloids and accounts of his fights with other artists — was centerstage for a quarter of the show. Manifested in a large inflatable figure with a monitor for a head that loomed over the back of the stage, it claimed its authority to put the star "in a box," saying, "I am the Internet. You are what I say you are. You are a poser. You can't play guitar. I thought you were supposed to be a rapper."
The evening of singing includes patriotic songs, folk numbers and showtunes.
Those are the kind of taunts that haunt teenagers — and apparently very successful 32-year-old rappers-turned-rockers.
Being in a box was a recurring theme for the show, which opened with a video call from the singer "stuck in a box" and needing to be freed by the the helicopter. MGK emerged from a platform behind the soundboard, lifted up by the helicopter's ladder and taken to the stage as he sang "Born with Horns" above the crowd.
Onstage, MGK picked up a pink guitar that matched the color of his hair and the tape wrapped around his right hand. The guitar would come and go and when it went, it was tossed to a roadie offstage, which helps build the rock star image.
When he wasn't playing guitar, he was either lighting cigarettes or holding the microphone, giving it the occasional toss in the air. Again, a nice bit of showmanship, but it revealed how much he was singing over pre-recorded vocals at times, thus subtracting any rock star points gained from the guitar toss.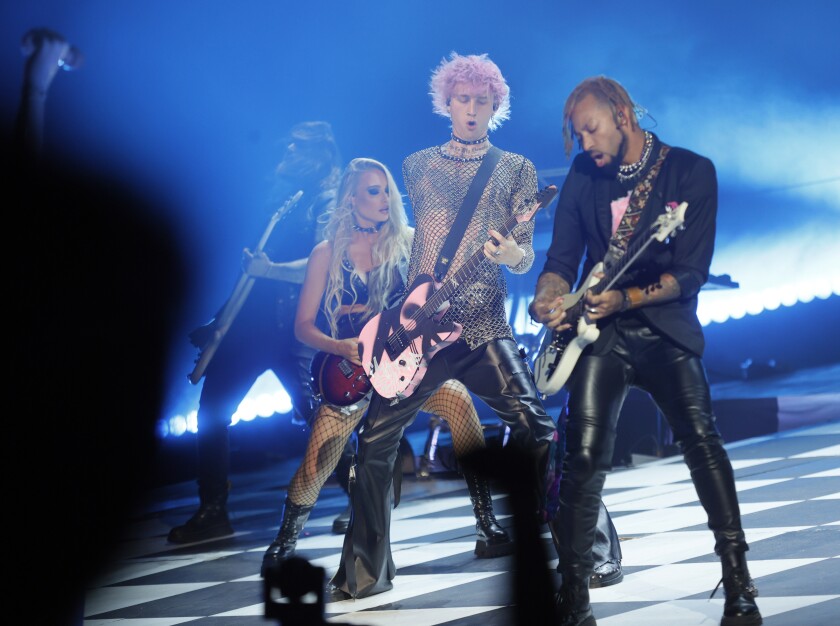 Fans didn't seem to mind one bit, singing along to tunes like "All I Know" and "Ay!" as the singer jumped into the crowd.
He frequently thanked fans for coming out and exclaimed how the Fargodome was a big step up from his previous Fargo shows. The Fargodome doesn't release attendance numbers, but the estimated 12,000 fans was about three times as much as his previous shows at the Fargo Civic Center.
While he didn't pack the house Wednesday night, he put on a full-size stadium production, with about as many semis as Taylor Swift brought to town.
A few songs in, he thanked the crew for spending all day setting up the show and shortly after, shared the love with his band, introducing each member with a quick solo. MGK may be a competent rhythm guitarist, but he wisely lets dueling leads AJ Tyus and Sophie Lloyd take the spotlight, adding a metal crunch to the assault on "WWIII" and "WW4."
The setlist predictably pulled from the last few albums, with 13 of the 29 songs coming from this year's "Mainstream Sellout." While the bulk of the set showcased his recent pop-punk turn , he made space for his tongue-twisting raps, like "El Diablo."
Opener Avril Lavigne made it back to the stage to join him for a fun run through her tune, "Bois Lie." Surprisingly, fellow opener Willow didn't come back to sing her part in "Emo Girl." Instead, a large naked woman was inflated to the side of the stage and the cameras focused on Lloyd lip-synching and again as Halsey's part came up in "Forget Me Too."
Willow held her own as an opener, showcasing some powerhouse vocals as she rolled through a 20-minute set of pop-punk. And no, she didn't sing "Whip My Hair."
Lavigne seemed ageless as she rolled through an eight-song set balanced between this year's releases — "Bite Me" and "Love it When You Hate Me" — and her debut singles from 20 years ago, "Complicated" and "Sk8er Boi."
She encouraged the crowd to sing along, holding out her mic for a couple of lines in every song, but showed she still has the pipes for the power ballad "I'm With You."
I don't see Machine Gun Kelly aging as well. Maybe he'll overcome his self-destructive tendencies in 20 years and come back to a crowded house at the Fargodome. Hopefully by then he'll have grown up and gotten over his beef with the internet. I'm sure his 9.7 million followers on Instagram, 8.4 million followers on YouTube and 16.6 million monthly listeners on Spotify would be OK with that.