Minn. State Fair visitors take a break to thank military
FALCON HEIGHTS, Minn. - Fair-goers stopped chomping their pronto pups, union members paused their chats with visitors and people left exhibits and food booths.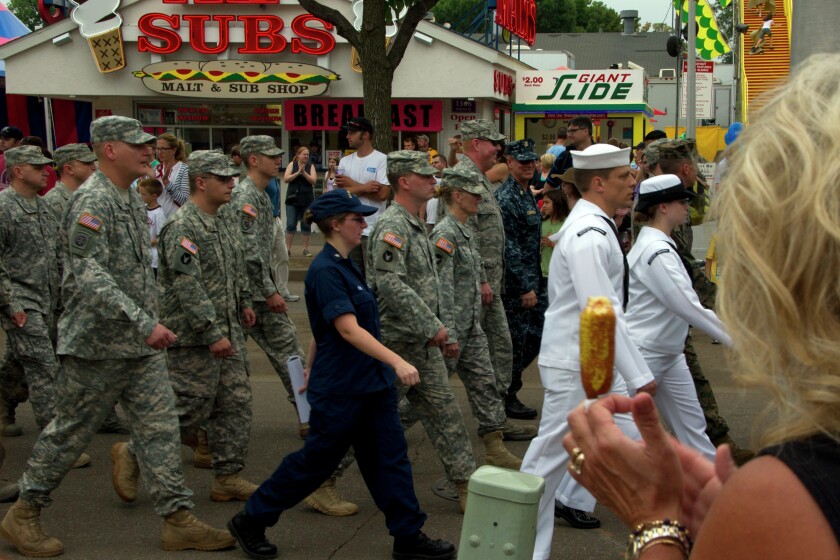 FALCON HEIGHTS, Minn. - Fair-goers stopped chomping their pronto pups, union members paused their chats with visitors and people left exhibits and food booths.
They took a few minutes away from the fun and games of the Minnesota State Fair Tuesday to honor military personnel as they paraded across the fairgrounds. People lined fairgrounds streets to applaud as soldiers, sailors, airmen and Marines marched past.
Military personnel who recently returned from overseas marched to fair visitors' appreciation, but veterans of all ages received their due during a music-filled ceremony, with Vietnam War veterans especially singled out.
"We did not come back to see this kind of reception," said Jerry Kyser, a helicopter gunner in Vietnam and now an activist for military personnel.
Sgt. 1st Class Kevin Smude of Hillman, Minn., stood with his family listening to music for the fair's military appreciation day, saying he was grateful the welcome he received.
"It feels like Minnesota people support us," said Smude, who went to Iraq twice to construct buildings and other facilities.
He knows that reception is much different than people like Kyser received. "They were not welcomed at all."
Smude, who works at the Minnesota National Guard's Camp Ripley as a civilian, said he never regretted joining the Guard.
Gov. Mark Dayton, speaking at the military appreciation ceremony, said the real heroes may have been the families military personnel left at home. The governor said they always faced the unknown.
Lisa Smude said she understands firsthand what Dayton was saying. Not hearing from her husband for long periods was tough, she said, but "I took a back seat for serving out country."
"In some ways," the family had it harder, she said. "But, obviously, we don't have to face the harsh conditions that they do."
For Kyser, coming back from Vietnam to his native North Dakota was easier than what many of his colleagues faced. There were not many hippies in North Dakota, he said.
After growing up in Valley City and Minot, N.D., and attending college at the University of North Dakota and North Dakota State University, Kyser now is active in several Minnesota veteran-related groups. He helps people get federal medical care they deserve, works on veterans' legislation and organizes honor flights for World War II veterans to Washington, D.C.
But unlike today's veterans, there were no programs to reintegrate him when he returned wounded. He stayed away from World War II veteran-dominated veterans' groups until the 1990s.
Years after he came home, he participated in a St. Paul veterans' parade. Almost no one attended.
"As a Vietnam veteran, things did not go well," he said.
His 22 months, 17 days and six hours in Vietnam ended on a Monday. On Thursday of that week, he was attending college in Grand Forks.
Today, the military has programs designed to help people returning to civilian life, very unlike in the Vietnam War era.
The country as a whole is doing better at welcoming home troops, Kyser said. Today's attitude toward the military may be the best in 257 years of his family's history in the military, he added.
"It crosses every line of politics," he added.