Movie review: 'Let Him Go' is a gripping family drama
The new film, starring Kevin Costner and Diane Lane, is based on a novel by North Dakota native Larry Watson.
As the title suggests, "Let Him Go" is a film more about action than words. There are no soaring speeches or witty one-liners or even much verbal exposition in the tense drama. Rather, the characters express themselves with body language or more direct movement.
Writer/director Thomas Bezucha's decision to show and not tell the story makes for a gripping family drama.
The movie, which opens Friday, Nov. 6 is based on the novel of the same name by a Bismarck native, Larry Watson.
Make that a two-family drama as the conflict boils up over custody of a young boy, Jimmy, just a baby when the movie opens. He lives with his parents at the Montana ranch of his grandparents, George and Margaret Blackledge. She (Diane Lane) is a doting grandmother, all too eager to care for the boy as his own young mom, Lorna (Kayli Carter), appears to suffer from post-partum depression.
RELATED ARTICLE: Bismarck native celebrates his book, 'Let Him Go,' as movie premieres
Margaret is indeed the heart of the story. When she sees her son's horse return home without the rider, she calls George, who gallops off to find his son dead, thrown from the horse.
In a clever bit of editing, Bezucha jumps ahead a couple of years as Lorna remarries. It is a loveless event and one George and Margaret don't approve of as her new husband, Donnie Weboy (Will Brittain), seems to have little going for him.
Margaret later sees this firsthand when she spots Donnie hit Lorna and Jimmy while walking the street. Margaret goes home to bake a cake, a ruse to check on the newlyweds, but when she stops by, she finds they've pulled up stakes and returned to Donnie's family in North Dakota.
She goes home, packs the car — and the cake — and after letting George know she's going with or without him, he reluctantly agrees to help get their grandson. George may have worn the badge, but Margaret lays down the law.
It's not that easy. The four Weboy sons are a force to be reckoned with and they take their lead from their mother, Blanche, the excellent Lesley Manville. Just like Margaret, she has a mind and a will of her own and no one better stand in her way.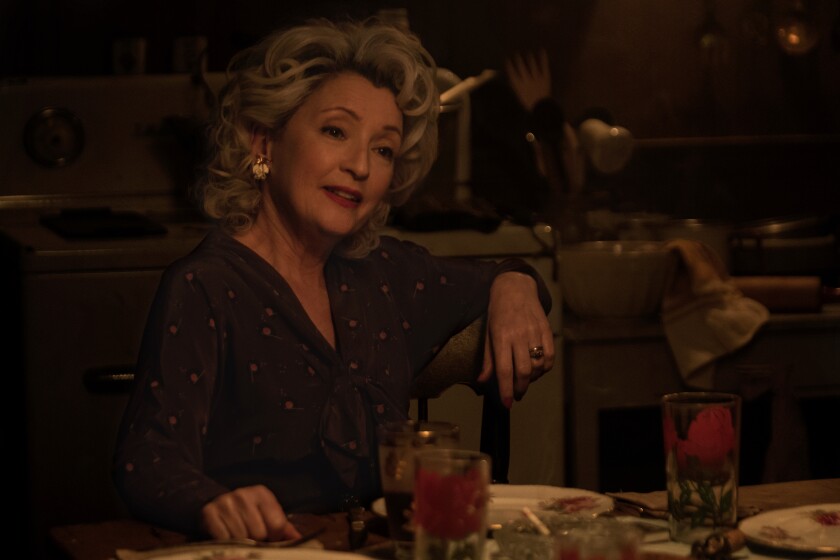 While Margaret is a quiet, down-to-earth matron, at peace outdoors, Blanche is a loud, brash, fading beauty whose blond hairdo seems to hold her exhaled cigarette smoke. We only see her in closed, dark rooms, and when she invites the Blackledges over for dinner, it's not out of courtesy, but only to try and frighten them off.
Margaret, who used to break horses, is not easily scared. When she finally gets to hold Jimmy, she inches toward the door, looking for a way out, but as the Weboys rise, George pushes his chair back to the table. It's a subtle move, but one done with enough force to give everyone a pause in a stressful situation.
Costner is good as George, stoic, gruff, but loving to Margaret. With his ongoing role as a rancher in "Yellowstone," and his history in Westerns, his casting is a bit on the nose.
On the other hand, Manville is a real pleasant surprise. The English actress, best known for playing Princess Margaret in "The Crown," doesn't just wear a Medusa-like wig, but also plays Blanche like a snake, tightly coiled until lashing out with venomous bites in the truly terrifying motel scene.
Jeffrey Donovan ("Burn Notice" and the second season of "Fargo") does an excellent job playing the oldest Weboy son, Bill, on his face. He is sly and charming, but never trustworthy. When he smiles, look out, as he plays the character like a hyena, leading the other brothers in the pack.
Ultimately, it's Lane's movie as Margaret, who she plays with steely resolve. She is the one who sets things in motion and the one to follow through. "Let Him Go" may be about family, but at its core it's about a mother's undying love for her family.
The title may be her words to the Weboys regarding Jimmy. Or it may be George's advice to her after the death of their only child. Or, as we come to discover, it may be something completely different. The one thing we do know is that Margaret has a firm grip on her life and will take it where she needs to go.