'Our Whole Selves' project fills Emergency Food Pantry baskets with gifts of art
The art of nourishment is now in practice and helping to provide fine art to the pantry's food recipients in Fargo-Moorhead.
FARGO — "A splash of color on the wall."
"Lifting the spirits as well as the body."
"Food is great for the body, but the art is something to keep at home and will brighten my apartment."
These are just a few comments Emergency Food Pantry Executive Director Stacie Loegering and her staff have received lately since they started adding gifts of art into food baskets.
The art is part of a powerful initiative called "Our Whole Selves," a social practice project organized by North Dakota State University Memorial Union Gallery Director and Instructor Anthony Faris, that's designed to broaden access to fine art among food-insecure patrons in Cass and Clay counties.
"One man, after getting home, took a picture of the art on his wall and emailed me the following message: 'THANK YOU for the beautiful picture. It adds beauty and much-needed cheer to my apartment,'" Loegering said.
"Our Whole Selves" kicked off in the fall of 2021 after Faris received $3,500 in grant funding from the North Dakota Council on the Arts American Rescue Plan, with the funds designed to assist social practice artists like Faris as they establish and reengage in producing arts and cultural programs and activities.
Now, the food pantry gets to nourish people's bodies — and souls — and also empower them to create positive changes in their lives. "Our Whole Selves" is ultimately an example of the importance of art in all lives and how representation and inclusion can reduce barriers to access.
"I believe that art provides enjoyment and comfort," Loegering said. "Many families who need a food basket struggle to meet basic needs and do not have resources for things like art. They are focused on surviving."
Loegering added that often when people are struggling with basic needs, they have increased stress and fewer moments of relaxation.
"Art can provide a relaxing and welcoming element in a person's home," she said.
Enhancing quality of life with art
"My goal with the project was to use art to enhance the lives of people who use the food pantry regularly, empower them to connect with the art, which I hope will help them in other aspects of their lives," Faris said.
It's a goal that directly aligns with the Emergency Food Pantry's role of helping connect their clients to other resources in the community.
"'Our Whole Selves' extends our work beyond the physical need of food and into other needs such as belonging and contentment," Loegering said.
Grant funding helped Faris secure a bit of extra time to reach out to artists from across the world and ask if they'd want to donate reproductions of their work for the project.
"I did a call for entries, and I got artwork from students, faculty and regional artists. I got artwork from Kansas, Iowa, North Carolina, California, the United Kingdom, India, Ukraine and Romania," he said.
A large majority of funding went to purchasing frames for the art, which happened to be the most expensive portion of the project. In the end, "we were able to fund 300 frames for the 700 prints to be handed out to pantry families," Faris said.
The rest of the prints will still be handed out but will not be framed.
Regional and international artists represented
A jury consisting of food pantry staff and volunteers got together over the holidays and chose seven pieces. In addition, a group of pantry clients completed an online poll of which artwork they would hang in their home.
The final selections include regional artists Alyssa Coloskly, Franklin Ugochukwu, Kimble Bromley, Birgit Pruess and McKenna Lilja.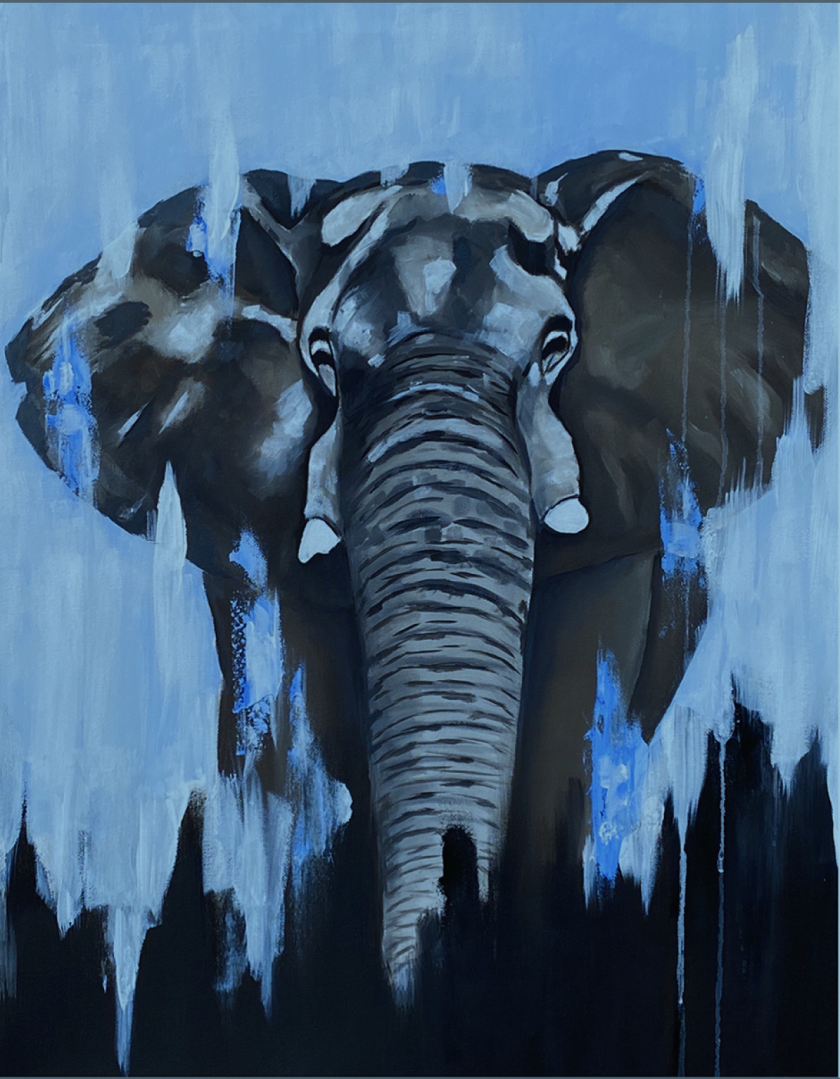 Two other artists included in the art basket giveaway are Rani Arora of India and Tania Belashchuk of Ukraine.
Food pantry clients get to choose which one of the seven pieces they'd like to take home with them. The art distribution will go on until all 700 art pieces have found a home.
"Art is really important," Faris said. "It's creativity, it's expression, it's something that you see every day that can be a source of joy, contemplation and pride."
Food insecurity in Fargo-Moorhead
The Emergency Food Pantry annually serves 21,067 unique individuals, with all but 884 living in Cass or Clay Counties, with 38% under age 18, while 57% are adults and 5% are older citizens.
Out of those 21,067 people, 18,948 live with no income or under the poverty guideline. Almost all of the remaining individuals are under 200% of the poverty guideline.
Learn more at www.emergencyfoodpantry.com.
This article is part of a content partnership with The Arts Partnership, a nonprofit organization cultivating the arts in Fargo, Moorhead and West Fargo. For more information, visit http://theartspartnership.net.