REVIEW: FM Symphony plays the hits and then some in Beethoven and Brahms concert
Guest pianist Alon Goldstein wows crowd with playing.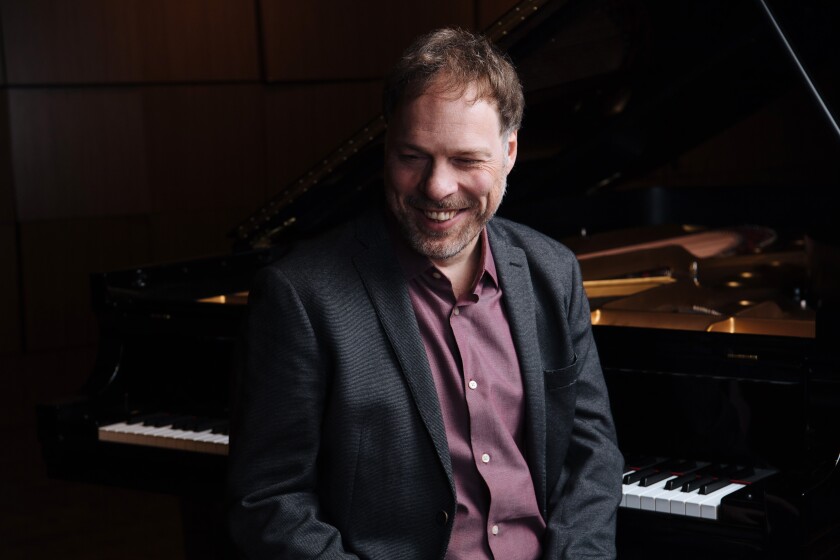 We are part of The Trust Project.
FARGO — In promoting this weekend's concerts , the Fargo-Moorhead Symphony Orchestra referred to Johannes Brahms and Ludwig van Beethoven as "grumpy." The great composers could have been curmudgeons in their times, but in the hands of Music Director Christopher Zimmerman and guest pianist Alon Goldstein, their works were a delight at Saturday's show.
Goldstein exhibited superb technique as the guest soloist for Brahms' endurance piece, Piano Concerto No. 2 and Zimmerman organized a kind of best of Beethoven, picking a favorite movement from five different symphonies.
The approach is a departure for the FMSO, but a well-executed one. Those who didn't catch Saturday's show are advised to make the 2 p.m. Sunday show at Festival Concert Hall, North Dakota State University.
The two men took the stage together and opened Saturday's show with Brahms' monumental work. About 50 minutes later they were hugging after completing the musical marathon.
The FMSO has seen flashier pianists, but what Goldstein doesn't display in showmanship, he makes up for in musicianship. (Actually, in the pre-show talk the pianist was so charming and engaging you'd pay for a whole other ticket just to see him talk and play solo.) Perhaps his onstage composure and reserved technique were part of his training plan to approach the epic composition. If so, it worked.
The piece calls for extraordinary playing and some wild passages in the opening movement followed by a scherzo in the second movement, creating a boisterous scene. Things calm down in the third movement, a slower piece that features Goldstein's fingers playing so lightly they could have floated over the keys. The section is a duet with the cello section and with principal and assistant principal cellists Elise Buffat Nelson and William Comita out, Aleksander Tengesdal stepped up with an emotional lead.
Concertmaster Sonja Bosca-Harasim was also absent, so assistant concertmaster and fellow violinist Jennifer Tackling stepped up as well.
The second half of the show started with Zimmerman and the orchestra teasing to the March concert featuring Mahler's 5th Symphony. This year features a 5th symphony by a major composer in each concert, so it only made sense the Beethoven mashup kicked off with the iconic opening of his 5th. The entire work was performed not long ago, but the seminal number still gets listeners worked up, with a handful of novice conductors in the crowd playing air baton.
As heavy as Beethoven's 5th is, the second movement of his 3rd Symphony is a moving funeral march with the strings leading the way. The lively third movement of his 1st Symphony served as a lively departure.
The tension picks up wonderfully again in the fourth movement of his 6th symphony, with the orchestra mimicking a thunderstorm. Even Zimmerman seemed as if he was struck by lightning, getting a workout conducting such a frenetic work. Things didn't slow down and the conductor made a seamless transition into the final movement of Beethoven's 7th symphony with the rousing finale catching those expecting one more movement off-guard.
The FMSO shies away from "best-of" concerts, but Zimmerman's approach thrilled the crowd and created a wonderfully balanced show.
If you go
What: FM Symphony Orchestra Masterworks Concert
When: 2 p.m., Sunday
Where: Festival Concert Hall, NDSU
Info: Tickets range from $30 - $50.