Review: P!NK raises bar at second Fargodome concert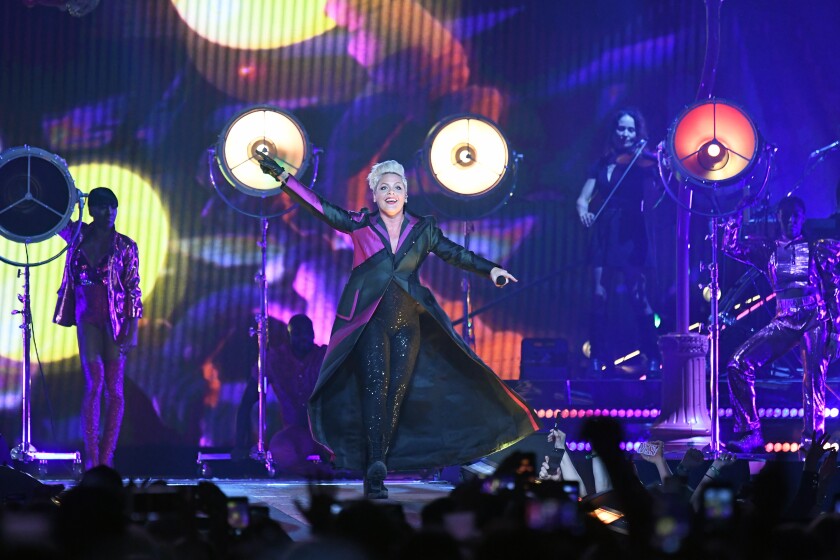 FARGO — After P!NK played the Fargodome in 2014 , fans couldn't stop talking about the singer's energetic, acrobatic show. Saturday night's triumphant return was less of a repeat and more like she was upping the bar — literally.
The singer was back to high-flying antics, the perfect mix of rock concert and Cirque du Soleil. The singer hit the heart-shaped stage, or actually flew above it, hanging onto a giant chandelier to "Get the Party Started." The star was hooked into a harness that allowed her to backflip down to the stage and shoot back into the air for an opener so thrilling it seemed to even take her own breath away.
She got a chance to catch her breath with "Beautiful Trauma," which got the Busby Berkeley treatment as dancers rolled her around on a velvet bench. For the night, the Fargodome looked less like a football arena and more like a Las Vegas showroom as dancers rolled around on luggage carts and swaying streetlights — all pink, of course.
Known for her powerful pipes, she showed them off on "Just Like a Pill" as she rode on a conveyor belt catwalk to the front of the stage to shake hands with fans. A few songs later, she was sliding down ramps at the back of the stage for "Funhouse" that turned into a cover of No Doubt's "Just a Girl."
She was back in the air to do battle with a giant, inflated Eminem on "Revenge," which followed a very adult video intro that showed the concert was more for moms than it was their daughters.
The singer is on the "Beautiful Trauma" tour, though she just released her latest album, "Hurts 2B Human," in late April. She only played two tunes off the new disc, but "Hustle" had about 23,000 fans dancing as the singer descended into the stage.
Things got steamy on the pulsating "Secrets" as she and a shirtless male dancer tangled on ropes above the stage. Sometimes he held her up by only her foot. Other times she stood on or straddled him before they twisted away. She emerged on a swampy-set stage for the dark "Try." She fought off menacing male dancers in what looked like what could be a very dark Disney stage show.
And that was all in the first 45 minutes of what was to be a nearly two-hour show.
The twisted fairy tale theme continued on "Just Give Me a Reason" with P!NK in a bed that flew over the stage, because, why not.
She closed the book on fairy tales and turned an eye to social issues with a video where she talked about being a feminist, advocated for equal rights, touched on #metoo, Black Lives Matter and gun control, all to big cheers from the crowd.
While it seemed like an open door to "Dear Mr. President," which was written for George W. Bush - though it applies as much, if not more, to the current administration - she sidestepped politics for "What About Us". Staged with a couch and flanneled dancers embracing and fighting, it seemed like a number cut from the musical "Rent".
After a pre-recorded talk the singer gave to empower her daughter, young Willow took the stage doing cartwheels after mama introduced her dancers during "Raise Your Glass". That she not only introduced her backup dancers and musicians but giving them a moment in the spotlight was a nice acknowledgment considering it's only her name people pay to see. And if you stuck around to the end - why wouldn't you? - you could watch credits role on the screens.
That would be a suitable ending for most shows, but people came for the stadium anthem, "So What". Or rather, they came to see the singer fly and flip around the room again on wires. That part may not have changed much in five years, but's still a thrill and a wonder she doesn't get dizzy and fall off the stage when she's done.
You'd think that would be the finale, right? How could she top that? Well, she didn't. She didn't even try. Instead, she came back with only the guitarist and pianist behind her to do a simple, elegant "Glitter in the Air". In a show that seemed like it was built for Vegas, P!NK saved one of the best surprises of the night and ended things with a subtle, yet poignant note. The only thing more touching was watching the singer scoop up her daughter in her arms as she walked off stage.
I guess the show really was for kids after all.