Richard Szeitz, creator of West Acres mall fountain sculpture, dies at 92
The sculptor formed and taught in the art program at Minnesota State University Moorhead and quickly established himself as a creative force in the community.
We are part of The Trust Project.
MOORHEAD — To many, Richard Szeitz was a quiet man, but his art spoke from the heart, expressing gratitude, appreciation and compassion for nature and humankind.
No piece of his spoke to more people than the copper fountain sculpture at West Acres, installed before the opening of the shopping center 50 years ago this August.
Szeitz died in his sleep on June 27. He was 92 years old.
Born in Budapest, Hungary, in 1930, Szeitz arrived at Minnesota State University Moorhead — then known as Moorhead State College — in 1965 to help establish the art department. For the next 30 years, he remained an influential teacher and chair of the department.
Even after officially retiring, he returned to teach and donated his income to the school for computers in the art and design department.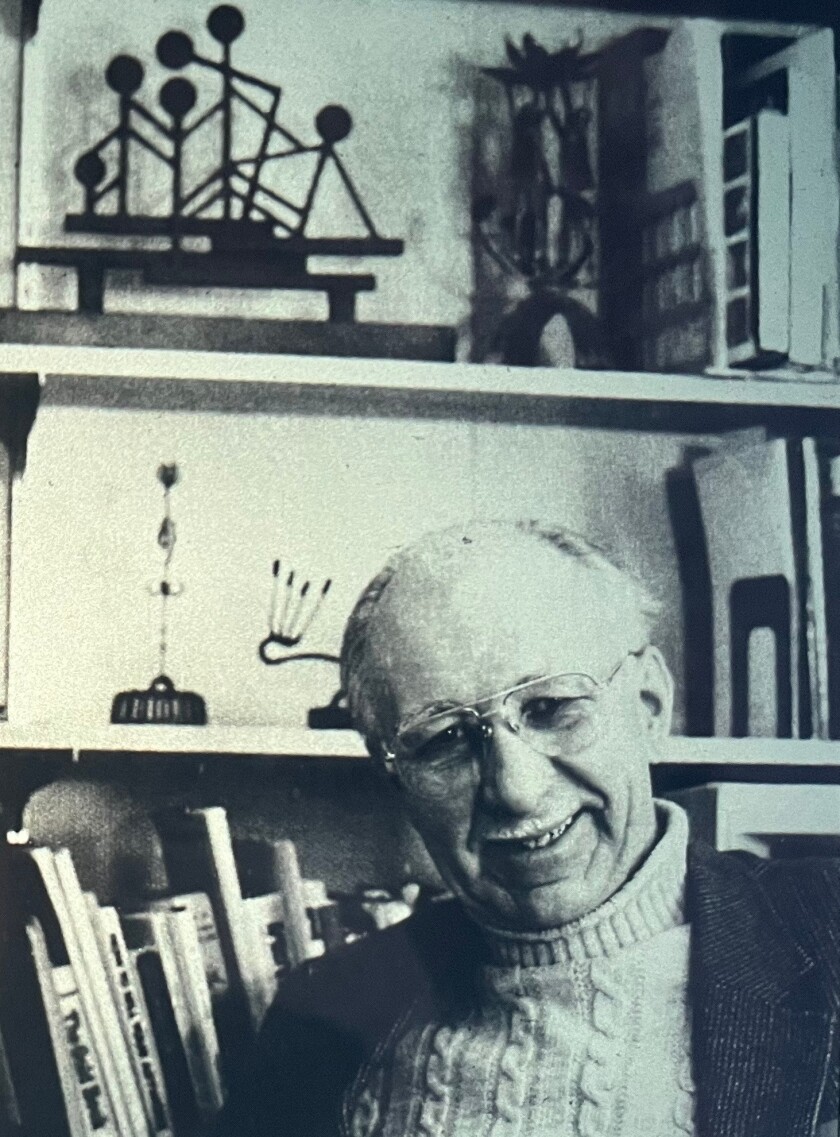 Off campus, Szeitz quickly established himself as a creative force in the community, particularly for his fountain designs. When West Acres was being developed , Szeitz submitted a design featuring four human figures joining hands and lifting them upwards.
"I heard nothing on that one," the artist told The Forum as the mall opened in 1972. "But early this spring I submitted a second design and they liked this alternative idea enough to commission it."
That second design was called "Fountain of Abundance" and features 20-foot-tall stalks of wheat with water cascading down to cup-like flowers and then dripping into the beaks of cranes.
"The tall stalks of grain symbolize the backbone of North Dakota's economy, even now," Szeitz told The Forum at the time. The cranes were meant to show how all living beings, human and animal, are reliant on nature's water.
West Acres commissioned the copper sculpture for $10,000. The artist and a helper, Dean Faye, built it in two months in Szeitz' home studio on Southwood Drive in Fargo, a property adorned with his other fountain projects.
In a note on his Facebook page announcing his passing, a former neighbor recalled how Szeitz used garden hoses to test water flow. He would explain how the piece worked and explain his thought process in producing the art.
Constructed in front of what was then Dayton's — now Macy's — the sculpture welcomed visitors to the mall for 30 years.
"There's probably not a piece of art in the state seen by more people than this," Brad Schlossman, CEO of West Acres Development, said on Thursday.
While the piece was instantly iconic, things didn't always go according to plans.
"There was a surprise. The wheat stalks shot water too high, and it hit the ceiling, so it had to be turned off," Schlossman said. "Most of the early years, it was not fully operational."
"Fountain of Abundance" remained in front of Dayton's until West Acres underwent remodeling in 2001. The sculpture was moved to the renovated JCPenney wing, where "it has plenty of headroom," Schlossman said.
Szeitz, then 72, was happy to help rework the piece in its new space.
"He was thrilled to restore it. He was up there on the scaffolding fine-tuning it with pipe cleaners to make sure it functioned well," Schlossman recalls. "When it was turned back on in all of its full glory, it was something that deserved better and finally got it."
The piece was the first work of art West Acres purchased, and the company now has a collection from more than 200 artists with many of the pieces on permanent display in the mall.
"It probably means different things to different people, but it does draw people to it," Schlossman said.
An unintended benefit of the work is that people, often children, will throw coins in for good luck or to make a wish. Schlossman said West Acres has gathered up about $5,000 in coins each year and donated it to people in need throughout the community, something Szeitz, once a Catholic novice, would have appreciated.
Szeitz fled his native Hungary at 16 as Communist authorities began arresting teachers, students and intellectuals. He eventually came to the United States, settling in a Milwaukee monastery and getting his Master of Fine Arts at the University of Wisconsin.
His faith remained a part of his art, and in 1999 he created a processional crucifix for Moorhead's St. Joseph's Catholic Church. Six years later, he created a larger crucifix to hang above its altar.
According to a note on the church's website, the crucifixes are rare , "as they do not portray Christ in agony. His head is looking straight ahead and his eyes are open. He is portrayed as alive, looking out to the congregation, with his arms outstretched in welcome."
Other examples of Szeitz's religious art include a crucifix and a statue of Mary and Jesus near the baptismal at Nativity Church of Fargo and a Marian statue outside of Assumption Church in Barnesville, Minnesota.
In a 1996 interview with The Forum, Szeitz said making art was as much about creating art for himself as it was about creating art for others.
"It's a purging experience for both the maker and the consumer of art," he said. "You feel better by expressing yourself."