Schnepf: Expectations high for Bison following title run
Expectations have never been higher for North Dakota State University football.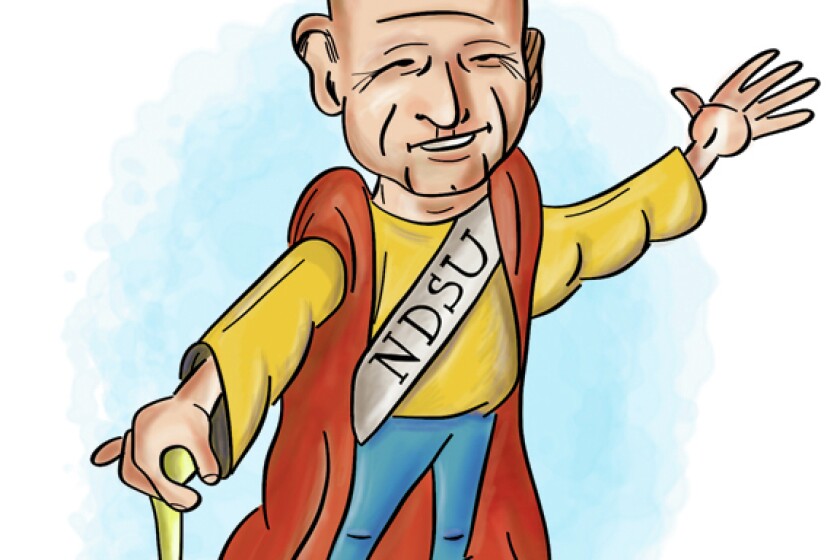 Expectations have never been higher for North Dakota State University football. This was made crystal clear when nearly 200 Bison boosters filled up a banquet room at the Ramada Plaza and Suites on Thursday for the season-opening Team Makers noon luncheon.
"I just ordered my tickets for Frisco," said one Bison booster to another.
Word has it he's not the only one to have already purchased tickets for January's national championship game in Frisco, Texas, where Bison football won its first Division I national title last January.
Granted, based on the difficulty of getting tickets for last January's championship game, Bison fans are obviously planning ahead. But they are also banking on the Bison making it back to Frisco - even before their first snap of the season tonight in the Fargodome.
"If I had a quarter for every time someone has come up to me and said, 'Coach, I have my reservations for Frisco ...' " lamented Bison head coach Craig Bohl.
While he appreciates those high expectations, Bohl said they can be unrealistic.
"There's a lot of water that has to go under some bridges. Yes, potentially, we can have a very good football team ... but we have a lot of games to play before we can start worrying about Frisco."
In the history of the Football Championship Subdivision, only three teams have repeated as champions. Appalachian State won three straight from 2005 to 2007, Georgia Southern was a repeat champ three times (1999-2000, 1989-1990 and 1985-1986), while Youngstown State pulled it off from 1993 to 1994.
And for as much success as NDSU football has had - eight Division II titles - the Bison have repeated only once. That was 1985 and 1986.
"The pressure was always on to be a national champion in Fargo; nothing less was expected," said Earle Solomonson, who coached the 1985 and 1986 championship teams. "I've talked to a lot of coaches who have been at NDSU and most say they have never felt more pressure than they did in Fargo."
But as one Bison booster said Thursday, "pressure creates diamonds."
It becomes a matter of how Bison coaches and players deal with that pressure. Bohl agrees with the saying that "it is more difficult to stay on top than to get there."
"To achieve a championship, the stars have to align," Bohl said. "It's a combination of a lot of hard work, a good plan and a certain amount of luck. Having all those things happen again, that's really a challenge."
The 1985 Bison certainly got the luck of the roll when, after packing their bags for the season, they were unexpectedly invited to the Division II eight-team playoffs. The Bison took full advantage, winning at Cal-Davis 31-12, at South Dakota 16-7 and winning the Palm Bowl with a 35-7 victory over North Alabama.
There is always the risk of complacency after achieving your ultimate goal. But not with the 1986 team, which vowed it was not going to get off to the slow start it did in 1985.
"That was probably the most determined football team that I ever coached," Solomonson said of a talented team that rolled to a 13-0 record with 50-0, 35-12 and 27-7 playoff wins. "In those days, that was hard to do. But I think it is even harder now."
For starters, the modern-day Bison play in the Missouri Valley Conference - much more competitive from top to bottom than the old North Central Conference. And if the Bison want to repeat, they'll have to win four playoff games - and that's assuming they get a first-round bye.
"The margin between winning and losing is really quite small," said Bohl, who constantly reminds his players the following: "We were defeated by a 6-5 Youngstown State team at home when there was a lot riding on the line."
That very well may be the motivation the Bison will use for this season - unlike last year when motivation came a lot easier from a heartbreaking, overtime playoff loss at Eastern Washington.
"I would have to say maybe that first month or so after our national championship, we saw some signs of a little bit of a hangover from being patted on the back all the time," Bohl said. "I have not seen that now. Of course, that's a subjective judgment. You can be fooled."
Those Bison fans with tickets to Frisco certainly hope not.
Readers can reach Forum Sports Editor Kevin Schnepf at (701) 241-5549 or kschnepf@forumcomm.com