The triumphs and tragedies of a highly-acclaimed actress from North Dakota
"Did You Know That" columnist Curt Eriksmoen concludes his series about the life of Angie Dickinson.
We are part of The Trust Project.
Did You Know That...
By the mid-1970s, Angie Dickinson was regarded as one of the major actresses in the U.S. In a number of motion pictures, she was either the star or the leading lady in movies with Kirk Douglas, Gregory Peck, John Wayne, Burt Reynolds, Frank Sinatra, Rock Hudson and more.
On television, she starred in "Police Woman" for four years, for which she won a Golden Globe as best actress. Although Angie's acting career was going very well, there were negative factors that were causing problems in her personal life. Her 11-year marriage to composer Burt Bacharach was falling apart "due to infidelities on his part," and in 1976 they separated.
Angie and Burt got married in 1965 and, a year later, Angie gave birth to Nikki, who was born three months prematurely, weighing only 1 pound, 10 ounces. Nikki did not learn to speak until she was 3, and doctors believed she was autistic, but by the age of 4, she showed rapid development and became a child prodigy on the piano, often making up fast rhythms while seated at the keyboard. She excelled in gymnastics and ballet and was frequently involved in horseback riding and scuba diving. Angie believed Nikki was a normal child, but her husband was concerned about her behavior.
Because of Nikki's premature birth, she suffered from Strabismus, an affliction where her eyes often turned inward. When she started going to school, Nikki's eye condition apparently caused her some teasing by other children. Largely due to the success of "Police Woman," Angie was able to return home each evening and spend time with Nikki. During the run of "Police Woman," Angie did not accept any other acting roles, although she did make appearances for Dean Martin's celebrity roasts and a Bob Hope Christmas special. On Aug. 2, 1977, she was the "guest of honor" on one of Martin's roasts.
After the cancellation of "Police Woman" in 1978, Angie became the co-star of a three-part television miniseries, "Pearl," which centered on the life of certain Americans in Hawaii at the time of the bombing of Pearl Harbor in 1941. Also in the movie was Char Fontane, the daughter of famed gospel singer Tony Fontane, who grew up in Cando and Grand Forks, N.D.
In 1980, Angie had major roles in two motion pictures: "Klondike Fever" and "Dressed to Kill." In the Jack London biographical movie, "Klondike Fever," Angie co-starred with Jeff East, Rod Steiger and Lorne Greene.
When movie director Brian De Palma first brought the script of "Dressed to Kill" to Angie, urging her to take the role of Kate Miller, the adulteress murder victim in the movie, she turned him down. She knew that she had become a "role model" in "Police Woman" and did not want to accept a role that might detract from that image. De Palma eventually got her to accept the role, and she ended up winning the 1980 Saturn Award for Best Actress in a science fiction, fantasy or horror motion picture.
Angie was offered her own Johnny Carson-type show, "The Angie Dickinson Show," but "after only two episodes had been shot," she turned down the project "because she did not feel she was funny enough." In 1981, Angie appeared in major roles in the films "Death Hunt" and "Charlie Chan and the Curse of the Dragon Queen."
On Aug. 4, Angie and Burt divorced, and they shared joint custody of Nikki. Burt was adamant that their daughter needed psychiatric help, and Angie, who grew up in North Dakota where psychiatrists were rare, was opposed to this. The producers of the hit television series "Dynasty" tried to get Angie to take the role of Krystle Carrington, the role that then went to Linda Evans, but she turned it down because "she wanted to spend more time with her daughter."
Angie was offered her own weekly, 60-minute television show, "Cassie & Co.," from Johnny Carson's production company. Angie played Cassie Holland, a "feisty police officer" who was determined to rid the city of vice and corruption. This show debuted Jan. 29, 1982, but after 13 episodes, it was canceled.
By this time, Nikki was really struggling, and Angie did not accept any more acting roles hoping to help her lead a normal life. Burt thought he had the solution when he learned about the Constance Bultman Wilson Center in Faribault, Minn., a psychiatric residential treatment facility for adolescents that also offered high school classes. By 1983, Burt got Angie to agree that it might be best to get Nikki away from her because he claimed that Angie was "very symbiotic and too permissive" in dealing with her daughter.
Angie sat Nikki down and told her daughter, "All kids go away to school to learn and grow on their own without their loving mamas." In August 1983, Angie and Nikki, who was 17, flew to Faribault, where a psychiatrist told Angie, "Be prepared. It could take as long as nine months... for Nikki to get well." Nikki was there for nine years and when Angie took her out, Nikki was in a very traumatic state because a psychiatrist had told her that one day her mother would die and "she would then need to be responsible for herself."
During the time that Nikki was in Faribault, Angie appeared in several low-budget movies and had recurring roles in various television series like "Hollywood Lives." However, she made frequent trips to Minnesota to spend time with Nikki.
It was during the latter '80s that Angie began receiving awards for her past work. In 1987, she received her star on the Hollywood Walk of Fame for her contribution to television. Also that year, the Los Angeles Police Department awarded Angie an honorary doctorate, and upon receiving it, Angie replied, "Now you can call me Doctor Pepper."
In June 1988, Angie returned to North Dakota for the first time and visited her home in Edgeley. In 1989, she was presented the Golden Boot Award for her contributions to Western cinema. In 1992, Angie took Nikki out of the Wilson psychiatric hospital and got her enrolled in California Lutheran University in Thousand Oaks, where she majored in geology.
On Dec. 2, 1992, Angie returned to North Dakota to accept the Rough Rider Award. During the '90s and early 2000s, Angie and her daughter made frequent trips all over the world, which helped give Nikki fun things to look forward to. In 2000, one of Angie's sisters ran across an article about Asperger's syndrome, and the symptoms were very similar to what Nikki was experiencing. Angie then took Nikki to UCLA, where she finally had a diagnosis for what she had experienced for over 35 years.
Asperger's "is a neurodevelopmental disorder characterized by significant difficulties in social interaction and nonverbal communication, along with restricted and repetitive patterns of behavior and interests."
In 1993, Angie made news when she became the only person to refuse to allow her story to be aired on the television show "This Is Your Life." She was lured to the studio for another reason and, at the studio, found many of her entertainment friends like Bob Hope, Jimmy Stewart and Burt Reynolds, as well as friends from her past while she was living in North Dakota. When the show began, Ralph Edwards, the show's host, walked onstage and said, "Angie Dickinson, this is your life." Angie responded, "I won't do it." The show's producers then needed to quickly find another celebrity to honor, which they taped and slid into the time slot originally scheduled for Angie's tribute.
On Jan. 4, 2007, Angie received word that Nikki had died by suicide. Because of Nikki's acute sensitivity, she was no longer able to cope with things that were going on around her. Angie responded, "the world was a place too harsh for Nikki."
Angie's last acting performance was in 2009 in the television movie "Mending Fences," where she played a stubborn grandmother. At the age of 90, she currently lives in her home in Beverly Hills, Calif.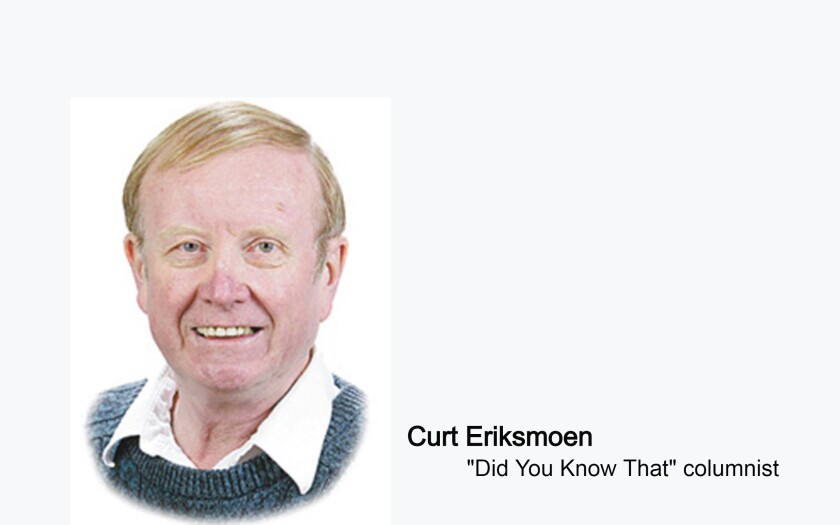 "Did You Know That" is written by Curt Eriksmoen and edited by Jan Eriksmoen of Fargo. Send your comments, corrections, or suggestions for columns to the Eriksmoens at cjeriksmoen@gmail.com.