Bursack: Overwhelmed older caregiver fights bitterness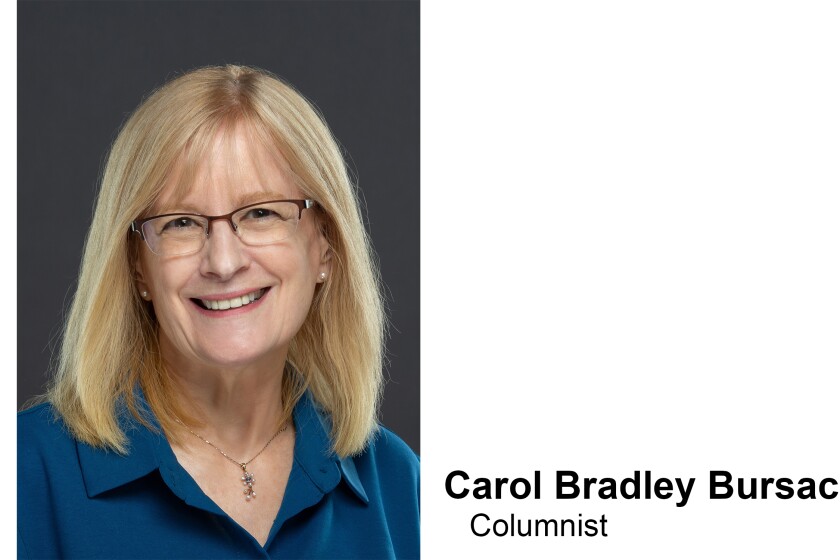 We are part of The Trust Project.
Dear Carol: I'm 74 years old and have been my parents' caregiver since they were my age. My dad died two years ago at 93, and now Mom lives with me and needs 24/7 care. She's physically miserable and mentally incapable of enjoyment.
I've never had the chance to travel because of my parents' needs. Now, I can't even go to theater or music performances because Mom can't be left alone. I love her to bits, but I am grieving everything that I've missed, and I'm physically and emotionally worn out. I'm becoming bitter, which isn't good for her any more than it is for me, but I don't want her in a home, either, because they aren't any good. Maybe I just want someone to listen. — TY.
Dear TY: Sometimes just having someone listen is useful, so I'm glad that the readers and I can do that for you. I hope that you'll gain some encouragement, as well.
While you're entitled to grieve your losses, including the things you wanted that now seem impossible, once you've allowed yourself to consciously grieve, you'll be at a crossroads. You can either let bitterness define you and the life that you live, or you can accept that this is now your reality and decide if you want to make changes.
Remember that acceptance doesn't mean that you like where you are, rather that you accept your current reality. From there, you can ask yourself how you could create a better life for both you and your mom.
ARCHIVE: Read more of Carol Bradley Bursack's Minding Our Elders columns
A light must be shown on substandard and/or neglectful, abusive care homes so that they are shut down or improved. One way to do this is through the negative publicity that you've no doubt seen. However, is this the reality of all care facilities in your community or are there some good ones that you don't know about? Could in-home care be a better alternative for you and your mom?
In the end, you'll need to decide what is possible for you, and that might be that you don't want to change a thing. It's clear to me, though, that you are understandably in deep caregiver distress, so opening up to hiring some help may be more than about preference. If your physical and/or mental and emotional health continues to be challenged, your mom may need to be placed in a care home without you there to be her advocate.
At the very least, I hope that you will join a caregiver support group. Even if you can't go to an in-person meeting, an online group can be helpful. Caregiver.org is a good place to start.
It's true that finding outside help may involve the challenging process of investigating options, checking references and maybe touring care communities, but I think in the end your life will improve if you expand your thinking. As I mentioned, you may not be ready for changes yet, but just knowing that change could be possible should help to some degree.
Carol Bradley Bursack is a veteran caregiver and an established columnist. She is also a blogger, and the author of "Minding Our Elders: Caregivers Share Their Personal Stories." Bradley Bursack hosts a website supporting caregivers and elders at www.mindingourelders.com. She can be reached through the contact form on her website.