Colorful Tossed Salad with Parsley Dijon Vinaigrette is a quick and easy lunch for busy spring days
In this week's "Home with the Lost Italian" column, Sarah Nasello shares a tossed salad recipe with ingredients that will hold up well for several days in the refrigerator.
We are part of The Trust Project.
Amid the whirlwind of end-of-school-year activity and baking hundreds of cookies for graduation parties this month, today's Colorful Tossed Salad with Parsley Dijon Vinaigrette has become my weekday favorite for a quick and easy lunch. This salad holds up well for several days in the refrigerator and it is pretty enough to also enjoy on weekends or any time you want to serve a simple, yet beautiful, salad.
I created this recipe a couple of years ago specifically for weeks when I am on the go and need a lunch that is fast, nutritious and delicious. I wanted a green salad that would hold up well for several days in the refrigerator, and chose ingredients suited to that purpose, including spring greens, spinach, cherry tomatoes, red cabbage, red onion and blue cheese.
There are certain criteria I always consider when choosing ingredients for a new salad recipe: purpose/occasion, season, color and texture. For this recipe, my purpose was to create a quick, easy and nutritious lunch option for my busy weekdays that was interesting enough to enjoy throughout the week.
As for the season, I wanted this salad to be simple and season-neutral, so I chose ingredients that are available year-round. You should have no difficulty finding any of the ingredients for this salad, whether it is June or July.
We eat with our eyes, as they say, and color plays an influential role in creating a successful salad recipe. I love to mix bright colors into my leafy green salads, and this mix of red and gold cherry tomatoes, red onion, red cabbage and creamy blue cheese crumbles is brilliant to behold yet basic enough to satisfy most palates.
When it comes to texture, this salad offers a lovely contrast in styles and includes crispy spring greens combined with tender spinach leaves, juicy cherry tomatoes, crumbles of creamy blue cheese, rounded out with the crunch of red onion and cabbage – a simple mix but so delicious. The only addition I have made is a sprinkling of sunflower seeds when I have them on hand.
When making tossed salads, I prefer to use a 9 x 13-inch glass baking dish instead of a traditional salad bowl, as it is easier to toss the salad. Also, the shallow dish works well for salads that I plan to refrigerate for several days, like this one, as the greens do not become weighted down by the other ingredients. To keep the vegetables crisp and fresh, I add the dressing just to my individual portion so that the salad does not become soggy when stored.
The Parsley Dijon vinaigrette is a result of rooting through my pantry and fridge to find staple ingredients for a dressing that would be fresh and flavorful, and yet neutral enough to enjoy several times throughout the week. The result was a dressing full of zesty, bright flavor that is so delicious I usually make a double batch so I can enjoy it on other dishes like chicken, pork and cooked veggies.
When life seems to be pulling you in every direction, this Colorful Tossed Salad with Parsley Dijon Vinaigrette is the perfect recipe for a quick and easy, nutritious-yet-delicious, lunch option to enjoy throughout the week.
Colorful Tossed Salad with Parsley Dijon Vinaigrette
Serves: 4
Salad Ingredients:
5 ounces spring greens
2 cups fresh spinach, roughly chopped
1 cup cherry tomatoes, halved
½ cup red cabbage, shredded
¼ cup red onion, small-diced
1/3 cup blue cheese, crumbled
Parsley Dijon Vinaigrette Seasoning, to taste
Parsley Dijon Ingredients:
1/3 cup extra virgin olive oil
2 tablespoons red wine vinegar
1 tablespoon lemon juice
1 clove garlic, peeled and cut in half
1 ½ teaspoons Dijon mustard
1 teaspoon honey
2 tablespoons fresh parsley, finely chopped
½ teaspoon dried oregano
¼ teaspoon crushed red pepper flakes
1 teaspoon kosher salt
½ teaspoon black pepper
Directions:
To assemble the salad: Place the spring greens and chopped spinach in a 9x13 baking pan and toss to combine. Scatter the top with the onion, tomatoes, cabbage and blue cheese. Toss with the Parsley Dijon Vinaigrette and serve immediately or cover with plastic wrap and refrigerate for up to 5 days. To keep the veggies fresh and crisp, wait to add any salt or pepper to the salad until after the dressing has been added.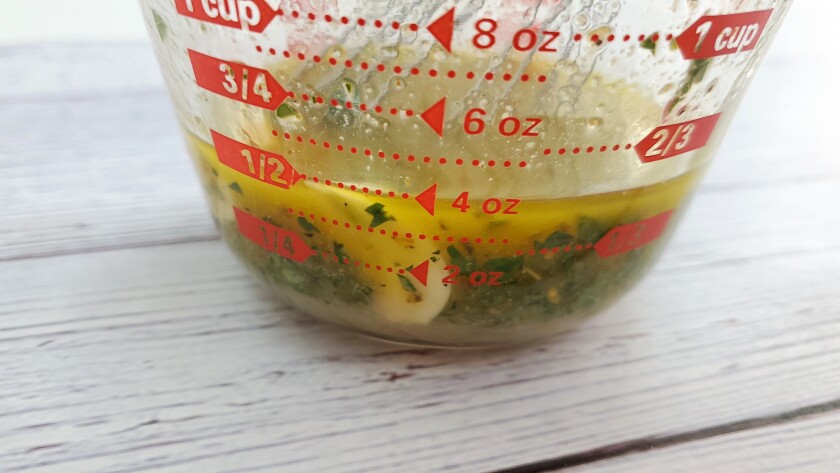 To prepare the vinaigrette: In a small bowl or jar, combine all the ingredients and whisk or shake vigorously to combine, until fully emulsified. Taste and adjust flavors as desired, then let the dressing sit at room temperature for 15 minutes, to allow the flavors to meld. Remove garlic clove pieces before serving and discard. Use vinaigrette immediately or refrigerate in an airtight container for up to one week. Shake well before using.
Sarah's Tip:

Storing the undressed salad in a shallow dish will keep the greens and tomatoes fresh and crisp.
This week in...

Recipes can be found with the article at InForum.com.
"Home with the Lost Italian" is a weekly column written by Sarah Nasello featuring recipes by her husband, Tony Nasello. The couple owned Sarello's in Moorhead and lives in Fargo with their son, Giovanni. Readers can reach them at sarahnasello@gmail.com.