Concordia College professor treks across rugged wilderness of Greenland
TASIILAQ, Greenland - I really wanted to see a polar bear. But the remoteness of our 10-person group complicated that desire. We were trekking through country so wild that there are no trails to follow and landscape so barren that there's no plac...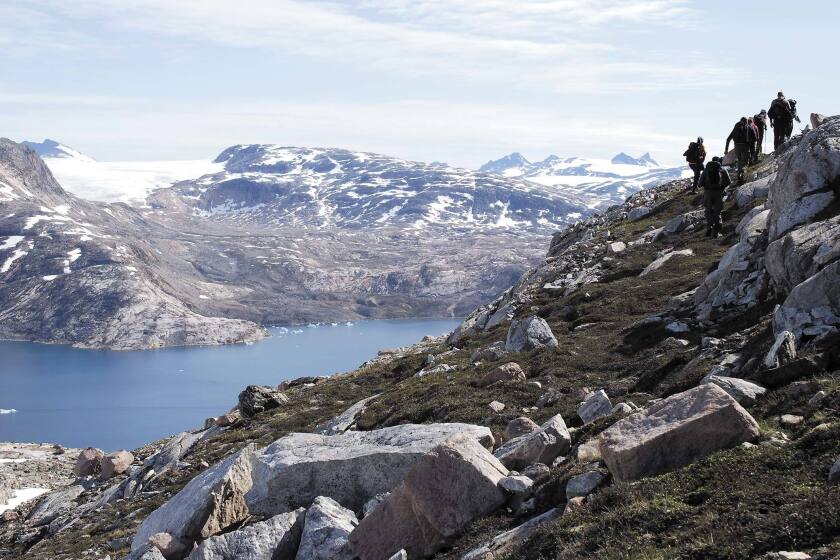 TASIILAQ, Greenland - I really wanted to see a polar bear.
But the remoteness of our 10-person group complicated that desire. We were trekking through country so wild that there are no trails to follow and landscape so barren that there's no place to hide.
In southeastern Greenland, there are no trees to climb. Nor are there even houses, except in a few very small villages. We were truly on our own.
And that was the point.
The trek was planned by Greenland Travel Co. of Copenhagen, Denmark, which describes itself as the largest travel company specializing in Greenland. The eight days of grueling walking registers a rigorous one out of five on the site's comfort scale, and for good reason. The Angmagssalik region, just below the Arctic Circle, has perhaps the most rugged terrain in Greenland.
But the stunning scenery is worth the hike. Jagged mountain ridges rise 2,000 to 5,000 feet above deep fjords. The main channels host an endless procession of icebergs, moving out to the coast where they dissolve into the Gulf Stream. Winters bring deep snow, so trekking is possible only during a six-week window starting in mid-July.
Even getting to the starting gate is challenging. Our trekking group included two Danes, two Swedes, two Brits and two Americans, none of whom knew each other. We flew from the old U.S. base at Keflavik, Iceland, by turboprop to the tiny island of Kulusuk, where we boarded a bright red Huey helicopter for the quick flight across a large fjord to Tasiilaq, a town of 2,000 native Greenlanders who live in charming steep-roofed Danish houses of many colors.
The next morning, we crammed into a speedboat to get to the start of the trek 40 miles up the Angmagssalik Fjord. It took five freezing hours to thread our way through ice jams.
From afar, the snow-streaked mountains look forbiddingly dark, but up close they are brightened by thick velvety fields of spongy green moss. Once ashore, we jumped from hummock to hummock, admiring the glaciers hanging overhead and eventually reached Sermilik Fjord, which carries a full 5 percent of all the ice shed by Greenland glaciers.
For the next six days, we made our way along the rugged slopes above the icebergs, occasionally fording glacial streams in sandals.
At night, our native providers set up camp in dramatic locations along the fjord and cooked our meals. We slept in spiffy new two- or three-person tents and ate in a large portable geodesic dome.
Freed from domestic chores, we had long evenings and early mornings to enjoy the unforgettable sight of icebergs on a glass-smooth sea. There was a constant dripping from their melting, and frequently the sound of a door slamming, made when a chunk of ice fell off. Sometimes it was a loud boom.
One day we put on crampons, harnesses and rope, and climbed onto the Mittivakkat Glacier, where I managed to fall into a crevasse while juggling my camera and ice axe. Another day we hiked three miles along a high peninsula with a grand view of the Greenland Icecap to the west. The icecap looks like a thick band of clouds spanning mountain peaks until you realize it is a slope climbing inland, up toward 11,000 feet at its thickest.
The grandeur of the scenery touched us all but in different ways. Some of us simply perched on a rock to enjoy the icebergs in meditative stillness. Others scrambled around with cameras to register the amazing variety of fantastic shapes. Others retreated to their tents when the sober subarctic solitude became too much. But all agreed that we could never tire of the pure whites and sky blues of the icebergs floating in Sermilik Fjord.
The Angmagssalik region we hiked through is not for the squeamish or faint-hearted. The hiking was strenuous even though we rarely went more than 10 miles a day and usually no more than seven. Winter never seemed far away as chilly breezes undercut the sun's warmth. Still, we craved wind. Midday without a breeze brought hordes of mosquitoes; only a delayed summer kept us from being eaten alive.
Our diet was simple and heavy on protein. Twice we ate fresh Arctic char. Once Michael, our native provider, made a stew from a seal he had shot earlier in the day.
Bit by bit, we became more aware of the sheer physical challenge of surviving the sub-arctic wilderness.
I made the trek in part to look for evidence of climate change, for use in my teaching. Even though global temperatures are rising fastest in the Arctic, it was hard to distinguish normal from abnormal melting. Certainly the Sermilik Fjord was packed with icebergs, and certainly the hanging glaciers we saw had receded sharply, but one quick visit was not enough to draw any conclusions.
Still, it's unlikely the Angmagssalik region will be tamed anytime soon. We saw few birds or animals. The emerald green lakes seemed barren of life. The terrain is too rugged to connect the few human settlements except by boat and chopper. This is wilderness that exists to be enjoyed on its own terms.
And polar bears rule - when they are around.
If you go
Trekking southeastern Greenland is possible only from July 15 through the end of August.
See www.greenland-travel.com , a Danish company based in Copenhagen, for all the trips currently available.
Contact Peter Simonsen ( ps@greenland-travel.dk ) for details of next year's treks. Hiking on your own is definitely not recommended. Note that you can save money by meeting the group in Reykjavik, Iceland, rather than Copenhagen.
Sledding with dogs is also possible; the season starts in March with 12 hours of daylight.
Stewart Herman teaches religion and ethics at Concordia College in Moorhead
1
/
3:
Arctic char, a cold-water variety of salmon, dries on the rack for five days before it can be eaten. Stewart Herman, Special to The Forum
2
/
3:
Hikers slept in two- and three-man tents and ate in a geodesic dome while hiking the Angmagssalik region of Greenland. Stewart Herman / Special to The Forum
3
/
3:
A large iceberg reflects on the ice-blue water of Sermilik Fjord. Stewart Herman / Special to The Forum