Creative art project with Middle Eastern roots is more than pillow talk for Concordia students, community
Pillows made by Concordia College students, staff and members of the community are on display at the campus's Cyrus M. Running Gallery through Sept. 29. "There was this profound sense of community that happened instantly. This experience is one I will not soon forget," said student Ian Scheele, reflection on the pillow-making process.
We are part of The Trust Project.
MOORHEAD — Standing in Concordia College's Cyrus M. Running Gallery, Rotem Tamir looks at a collection of unique, but obviously related pillows seemingly randomly stacked about the space.
"I want people to walk by and say, 'What the hell?'" the artist tells a crowd of onlookers at the opening for "Again, Again & Again." The show is a culmination of a project that started last school year with students and community members collecting wool, creating a dye, then stuffing and stitching their own pillows.
"It's a fair question," Tamir says later about the curious reaction many will likely have when encountering the display, which is up through Sept. 29. "I don't know if the pillow is art. The way we make the pillow, this specific way, that can be art. The art is in the way things are made."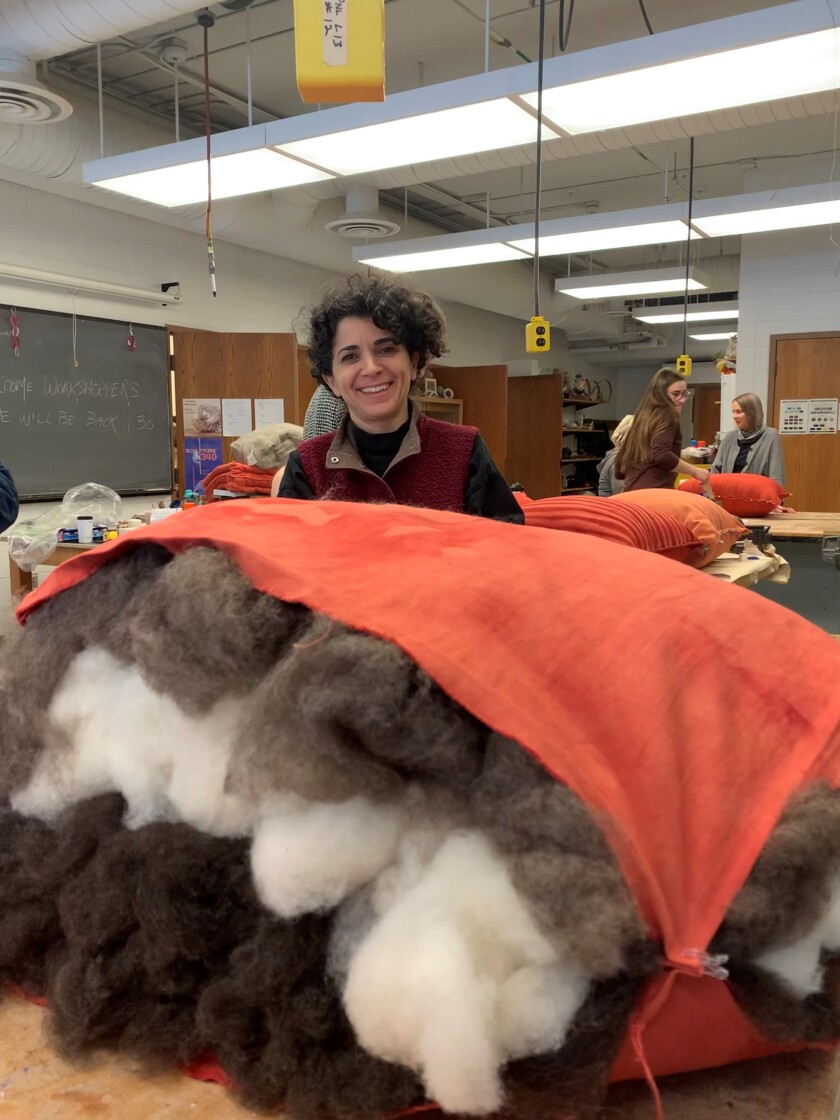 The idea for the project came from early on in the pandemic when she, her husband and young son felt somewhat stuck in their apartment. Having recently moved in, she found herself missing the support network she had in her native Israel. She decided to make a mattress for her immediate family to use in the living room that was inspired by her late Libyan grandmother.
Although her grandmother was no longer there for consultation, Tamir, who teaches sculpture at the University of Minnesota, reached out to family and friends old and new with questions and established a new network of diverse people that helped make the mattress possible.
For the Concordia pillows, she and the participants — a mix of students, faculty and community members — visited a local farm to learn about wool and came back with two different kinds to create the stuffing. They also learned about madder root dye, which gave the exterior fabric its rusty red color.
"This specific red is something I have a strong connection with," Tamir says.
The group gathered to dye and dry the fabric and then later to sandwich the material over the wool, stuffing and stitching the pillow shut.
Again, she found new relationships in those working sessions as people brought in food to share and got to know each other while working.
"Sometimes in a university we are in a bubble and not meeting people not like us," she says. "For some people it was quite meaningful and for others, less. I do think all of us got something meaningful from this."
Dwight Mickelson, a professor of art at Concordia invited Tamir as part of a visiting artist series because he liked her approach to social practice art.
"For them to see steps along the way, visiting the farm, choosing the wool, dying the wool, all of these steps, that's important," he says.
"There's a simplicity that's deceiving in these projects. You're making a pillow, but it's going to be around a while," he says. "That's lost in modern culture. We are creating heirlooms. It's kind of counter-consumerist in a way."
Mickelson opened up the project to more than students so that they could meet people in the community. He was happy that three generations of women came to work on a family pillow together.
Ian Scheele, a Concordia senior majoring in art and neuroscience admitted he was surprised when he heard the project was to make pillows.
"As the process grew, it was really exciting. All of these beautiful materials just stacked up in the studio was like Christmas morning," he says.
As exciting as working with the materials was for him, working with those around him was just as rewarding.
"The dying and the stuffing days in the studio, I can honestly say those two days are up there with my favorite days at Concordia," he says. "There was this profound sense of community that happened instantly. This experience is one I will not soon forget. It was very profound."
Scheele uses his pillow to sit on the floor, or on his office chair when he's working at home. Otherwise it's the centerpiece of the pillows on his bed
"I use it as often as I can. Honestly, I really miss it and want it back," he says, referring to the piece's inclusion in the show throughout the month.
Tamir heard that someone brushes their cat on the pillow. Others use it in their living room to sit and have discussions.
"It's wonderful that someone is using it and could be there for years. There is something about activating an object that I am always after," she says. "As a sculptor, I'm interested in how an object standing still can tell a story about who made it."