Does Kerstin Kealy belong in the 1950s and how groovy is '70s-era Dana Mogck?
The genealogy site MyHeritage has introduced a new feature that lets you (or photos of you) time travel to different decades. See in which time period WDAY anchors Kealy and Mogck and Forum writers Tracy Briggs, Tammy Swift, John Lamb and Jeff Kolpack all belong.
We are part of The Trust Project.
Have you ever wanted to pull a Marty McFly and time travel? Go back to the past and see what your parents were like in high school or what your kids or grandkids will be like in the future? An intriguing idea, right?
Well, short of stumbling across Doc Brown and his DeLorean in the parking lot of the Twin Pines Mall, most of us won't get the chance. But I came across another way to time travel. It's not quite as exciting as going to the "Enchantment Under the Sea Dance" and inspiring Chuck Berry's duck walk, but it's the next best thing.
The genealogy site, MyHeritage , has just unveiled AI Time Machine, a feature that creates images of a person in different time periods throughout history using text-to-image artificial intelligence technology. I've done stories on other tools from MyHeritage, including one that lets you animate old photos and have your ancestors narrate their own stories. The results ranged from fascinating to freaky. And this latest resource is no different.
Here's how AI Time Machine works: You upload at least 10 images of yourself into AI Time Machine on the MyHeritage site. Then, choose which period in history you'd like to visit. AI Time Machine uses artificial intelligence to create imaginary images of you as you might have looked in different periods in history. You can see what you'd look like as an Egyptian pharaoh, a medieval knight, a Victorian lady, a '20s flapper, a World War II fighter pilot, a '60s hippie and dozens more.
AI Time Machine is currently available on desktop and via mobile web browsers. The feature is free at launch for a limited introductory period (with a limit of one model and 50 themes per user, for a total of 400 images), following which it will become a paid feature. A one-time purchase will then allow you to upload photos to create a model of one person and generate 160 images with up to 20 themes.
I was impressed by the results I had with my photos. However, if you do this yourself, don't be surprised if you get a few duds in your bunch. For whatever reason, my photos in the 18th Century Bride theme looked more Bride of Frankenstein. But overall, the results were great. Here are some tips for the best results:

Upload at least 10 images, more if possible
Include full body shots, profiles, close-ups and mid-shots
You should be alone in the image
No glasses or hats
After dabbling with the tool for far too long, I decided I wanted to see results from other people. So I asked Forum Communications colleagues Kerstin Kealy, Dana Mogck, Tammy Swift, John Lamb and Jeff Kolpack to send me their photos so they could time travel with me. I think their results were even better. Make sure to click on the arrow on the right of the photos to view our full galleries.
Time Travel with Dana Mogck
Dana Mogck is a 1978 graduate of Fargo South High, but did he look like this in the 1970s? "Take away the glasses and tint of grey, and it looks like I'm getting ready for a North-South hockey game," he said. See the rest of his images from the pioneer days to the 1920s.
1
/
5:
Dana, a 1978 graduate of Fargo South High, said of this photo "take away the glasses and tint of grey, and it looks like I'm getting ready for a North-South hockey game."

2
/
5:
He looks like he's not prepared for the stock market crash of '29.
3
/
5:
Perhaps Dana could be an extra in "1883" alongside Tim McGraw and Faith Hill
4
/
5:
If Dana Mogck fought in the Civil War (but what side is he on? What's with the two-tone uniform?)
5
/
5:
A swing and a miss for Dana as a Viking. Perhaps this is why he's a Packer fan.
Time Travel with Kerstin Kealy
What's interesting about the feature is how some people/photos just click with certain eras. My 1950s-era shots didn't look good at all, but Kealy's were keen. (Did they say "keen" in the 1950s?) I think she looks like Doris Day here. Of her images, Kealy said, "I think I may have been born in the wrong decade. It looks like I would've fit right in in the '50s. All of them are so me and I love that era!" Check out her other looks from cowgirl to '70s disco.
1
/
8:
Kerstin really could go back to the '50s with Marty McFly. Of all of the themes we ran with Kerstin's photos, she yielded some of the best results with the 1950s photos. She said of her photos, "I have new profile pics for days and I may have some things to talk with management about when it comes to 'new looks.'
2
/
8:
A little Christina Applegate from "Anchorman" vibes here. "I swear I may have been rocking a version of that 70s hair into the 80s and 90s," Kerstin said. "I started singing Dolly Parton's song "Working 9 to 5" when I saw it."

3
/
8:
"I love the Viking look - not a huge stretch for a Scandinavian girl named Kerstin. And I'd love her hair!" said Kerstin


4
/
8:
After the newscast, Kerstin is going on cattle drive out west.
5
/
8:
"The punk rocker pics are fun to see too! I've been encouraged not to dye my hair green or blue for the news (not sure why?) so this is a chance for me to see what could've been or try out a new career in music?? said Kerstin


6
/
8:
A Minnesota native as a French Aristocrat. Mais, Oui!
7
/
8:
"Well, Miss Kealy you're looking lovely today." - Eddie Haskell
8
/
8:
Kerstin as a 1930s British Lady. Brilliant.
Time Travel with Tracy Briggs
While Kerstin seemed to click in the '50s, I had more images that worked in the 1940s, which is also pretty neato (Did they say neato in the 1940s?) since I love WWII-era music and style. I also love that they put me in red lipstick since Hitler hated that! I also like my Celtic images where my freckles seemed to fit, but found I failed miserably as an Egyptian queen, looking more like "Gidget visits Egypt" than royalty.
1
/
7:
An Andrews Sister wannabe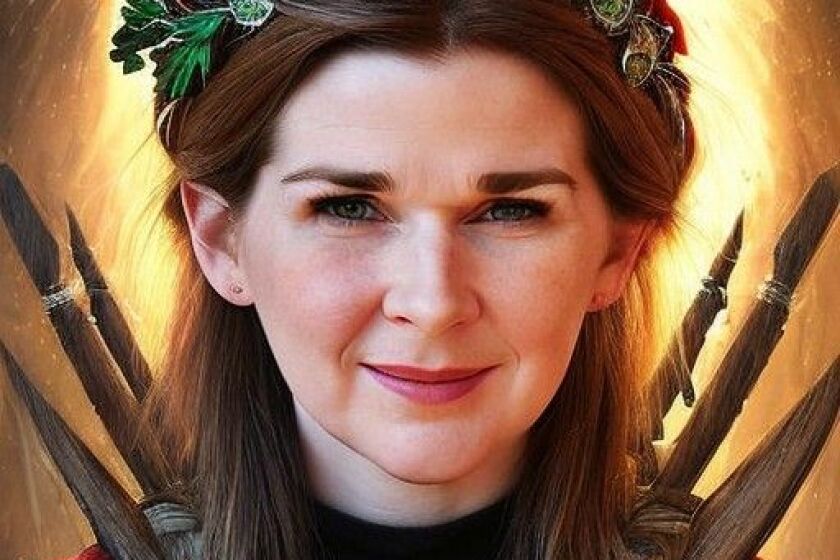 2
/
7:
Celtic warrior. Or elf?
3
/
7:
This will be my new Facebook profile picture
4
/
7:
I'm not sure the Celts had this kind of makeup or grooming products.
5
/
7:
Tracy Ingalls Wilder
6
/
7:
Another fun '40s look. I think I just got done telling a soldier boy not to sit under the apple tree with anyone else but me.
7
/
7:
They can't all be winners. For some reason my photo created a super scary 18th Century Bride. Maybe that's why the groom looks like this.
Time Travel with Tammy Swift
As long as we're in the mid-20th century, Forum columnist Tammy Swift looked refined as a 1930s-era British woman. "I feel like I should be serving my husband, George Sanders, scones with clotted cream and great lashings of butter," she said. Brilliant. I think Tammy looks lovely and ethereal in all of her images, including ones as a French Aristocrat which she says looks like it was shot through a chiffon nightgown.
1
/
7:

Tammy Swift as the 1930s British lady "I feel like I should be serving my husband, George Sanders, scones with clotted cream and great lashings of butter," she said.


2
/
7:
Tammy as a frontierwoman. She reminds me of Miss Beadle on "Little House on the Prairie."
3
/
7:
Tammy as a Viking. "Although it looks a little Ellie Mae Clampett of the Fjords, I do like this one," she said.

4
/
7:
I told Tammy I think she looks like the missing Landers sister from the 1970s. She replied,"I may kind of look like Audrey Landers here, but in real life, I look more like Ann Landers."
5
/
7:
Tammy as an 18th-century French Aristocrat. "This is flattering, but why didn't they give me a period-appropriate updo? I suspect any woman who wore short, blonde, curly hair back then was probably tried as a witch," Tammy said.

6
/
7:
Tammy's Victorian era. "I look like a crazy, old spinster locked away in Jane Eyre's attic," Tammy said.

7
/
7:
Tammy said she screamed when she first saw this, which we christened a "Victorian nightmare." She said, "It looks like Satan opened a portrait studio."
Time Travel with Jeff Kolpack
Technically this era was called "1920s man." But I'd call this "1920s Bootlegger," because tell me sportswriter Jeff Kolpack doesn't look like someone running rum or moonshine through the Midwest in the 1920s. "My bar-owning grandfather in Wisconsin during Prohibition ran a speakeasy in the basement and bought booze from Al Capone's organization, so I fit right in," said Kolpack. He was also a pretty imposing-looking Civil War General.
1
/
3:
I'm getting a bootlegger vibe from Jeff in the 1920s. "My bar-owning grandfather in Wisconsin during Prohibition ran a speak easy in the basement and bought booze from Al Capone's organization. So I fit right in," said Kolpack.

2
/
3:
The Union is clearly in good hands with General Ulysses S. Kolpack.
3
/
3:
Jeff having a "Starry Night" in his Vincent Van Gogh period
Time Travel with John Lamb
Of course, not all of the time travel happens in the 20th century, the themes go back to ancient Greece and Rome and to Europe and America in the 17th, 18th and 19th centuries. Features writer John Lamb had some good results in the 1920s and in the Civil War-era, but this was my favorite - John Lamb as the Norse King. He said of his Norse King look, "Bow down to King John, son of Jerry, gorger of cinnamon rolls. At least my beard looks clean."
1
/
3:
John Lamb as a Norse King. There are no words for the perfection of this image. Skol!
2
/
3:
John Lamb in the Civil War. Someone call Ken Burns. John says, "Civil War John looks like he took a bayonet to the eye at the Battle of Whatsittoya."

3
/
3:
John in the roaring '20s. John's reaction? "1920s John looks nice, like Chris O'Dowd. And it looks like my forehead wrinkles are gone. Yay time travel!"

All in all, a fun way to spend a few hours. If you try AI Time Machine on MyHeritage, feel free to email me your results along with a current photo of you so we can see the change. If I get enough examples from readers, I'll do a follow-up story. But even if I don't do a follow-up, I'd like to start an online petition to have John Lamb permanently assume his Norse God persona. I'll bring the cinnamon rolls.