Escaping to the roof for casual outdoor dining is more common than ever at Fargo restaurants
Forum food critic Eric Daeuber tries out a casual meal on three rooftops in downtown Fargo.
FARGO — Carole King and her one-time husband, Gerry Goffin, sat down together almost exactly 60 years ago and wrote, "On the roof, it's peaceful as can be, and there the world below can't bother me." Since then, it seems everyone from Neil Diamond to Bruce Springsteen have sung those lyrics. There's something magical about rooftops in the big city.
Fargo may not have the status of New York or Chicago when it comes to being the big city, but it is part of a world from which you might want to escape from time to time, and it has its share of rooftops to which you can escape. There's something about dining up above that hustling crowd that is different from other modes of outdoor dining.
Europeans have been dining al fresco for a long time, and for a lot of reasons, but dining on the rooftops is an American invention. It has taken a while to make its way to Fargo in any consistent way. Now it's everywhere — and it's most at home downtown.
In Fargo, it's mostly casual. Not long ago, Hotel Donaldson made a splash with its upscale rooftop bar, but much of Fargo, being a practical, down-to-earth place full of practical, down-to-earth people, brought pizza, beer, nachos and the not-so-denizen ramen to the, literally, not-so-down-to-earth rooftops of downtown Fargo.
Slurp Ramen and the Drunken Noodle occupy a prime downtown location. A reasonably priced and unique menu, covering noodles, rice bowls and ramen soups, almost always under $15, are ordered at ground level and delivered to your table on the roof. Known for its funky main floor with literature penned by local poets on the walls in the booths, the rooftop offers the classic view of downtown Fargo's Broadway with its original turn-of-the-last-century train station to the left and its newest urban icon, the barely 2-year-old RDO Building, to the right.
And there's an ongoing parade of people and vehicles which appear not tiny, but different, from the second floor roof. And the trains, only a few yards away, are fun to watch, and mercifully quiet.
Once Acme Dairy and, most recently, Rosie's Laundromat, 701 Eateries seems tailor-made for rooftop dining. It's put pandemic/winter domes on the roof, and its Camp Lone Tree put its casual bar and dining space under the stars where, well, camps just belong.
It's spacious, comfortable and, situated kitty-corner to Fargo Brewing, offers a different view of urban life in Fargo. A fireplace, beanbag games, a facsimile of curling and a casual menu of appetizers and burgers, combined with a full assortment of unique mixed drinks, makes this seem a little like a four-season Northern retreat.
It's said that the rooftop restaurant was an attempt to re-create European garden dining in downtown Manhattan in the 1880s where real garden space was at a premium. Around the same time, Front Street in Fargo was home to a growing business district across from the train station. Some of it is still there, and the views, certainly changed over the past 140 years, are, in some ways, strikingly similar.
While not the Casino Theater in Manhattan, where rooftop dining arguably began, a more backstreet Fargo is evident from the rooftop patio above Rhombus Guys on what was once the old historic Front Street. It's a long haul up the stairs, but it's worth the view. The same excellent pizza and beer can be ordered at the bar and hiked up the steps by Rhombus Guys' long-suffering servers.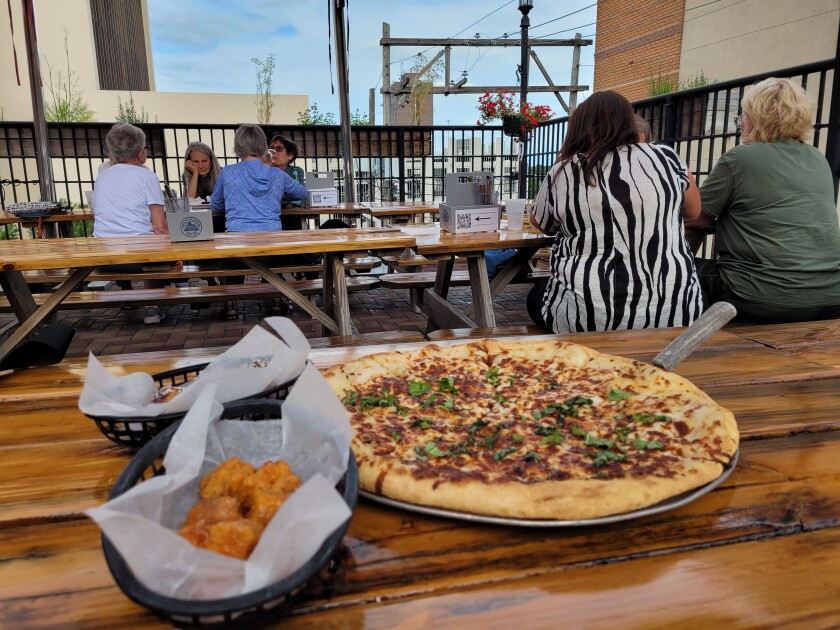 Summer in Fargo is slowly ebbing away, but there is time to see the city from a different point of view with a burger or slice in hand. Not always easily accessible, but always worth the trek if you can make it, rooftop dining is both historic and unhurried.
Be sure to call ahead to learn about days and times during which the rooftop patios are open.
Slurp Ramen and Drunken Noodle
Where: 414 Broadway N., Fargo
Phone: 701-232-3380
Online: www.slurpdrunkennoodle.com/
Camp Lone Tree at 701 Eateries
Where: 701 N. University Drive, Fargo
Phone: 701-532-0734
Online: 701eateries.com/camp-lonetree
Where: 606 Main Ave., Fargo
Phone: 701-540-4534
Online: rhombusguyspizza.com
Eric Daeuber is an instructor at Minnesota State Community and Technical College. Readers can reach him at food@daeuber.com.