Forum columnists Tracy Briggs and Tammy Swift try baking outside the box with new subscription kits
Looking for a last-minute Mother's Day gift for a mom who loves to bake? What about a baking delivery kit? Forum columnists/baking fanatics Tammy Swift and Tracy Briggs gave the boxes a test bake.
In my experience, I find that you either love to cook or bake, but usually not both. For me, baking is the real deal and perhaps one reason why I bonded with the lovely Tammy Swift who also loves to bake. (It also doesn't hurt that we share a love of '70s pop culture. For example, the other day she told one of the guys in a story I recently wrote reminded her of Bobby Sherman. Google him, young'uns).
Anyway, Tammy was all in when I suggested we try out a fairly new trend in baking — baking subscription boxes. And the timing was perfect. How many kids and dads are reading this right now thinking "What can we get Mom?" If she's a baker, she might love it. Best of all, the gift is a click away. Done and done.
The concept of baking subscription kits is pretty similar to meal delivery kits like Hello Fresh or Blue Apron, which deliver ingredients for gourmet dinners right to your door. Often packed in ice, the boxes include meats, vegetables, spices and condiments along with recipe cards to help you cook the dinner on your own.
However, baking kits are also a little different. While most of the kits we found provide you with dry ingredients and recipe cards, they often do not come packed in ice. Instead, you are responsible for providing perishable items like milk, butter, and eggs. Many are also only shipped once a month and not weekly like the meal kits. A list of popular baking subscription boxes can be found at the bottom of this story.
Tammy and I chose different kits, then compared notes about taste, cost, and how easy it was to follow the recipe. Read our reviews below and see if this might be a good gift for the mom in your life who loves to bake.
I chose Crumble Crate after seeing a picture online of the company's Carrot Cake Roulade. The rolled cake looked striking, especially with the cute little decorative gum paste carrots on top. I was a little intimidated to try it since I've had little luck with spring roll cakes like this. They usually end up breaking for me. But I wanted to give it a try.
The box arrived on my doorstep in just 10 days or so and I set out to make the cake.
Here is what I learned about the company and from my bake:
How it works: Each month, Crumble Crate has a featured dessert reflecting the flavors of the season. For example, the desserts for the next three months heading into summer are: Lemon Poppy Seed Cake, Mini Fruit Tarts with Vanilla Pastry Cream and Peaches and Cream Muffins. Each recipe comes with a difficulty rating, so you can assess whether you want to try it or not. You can order monthly, or for three, six or 12 months.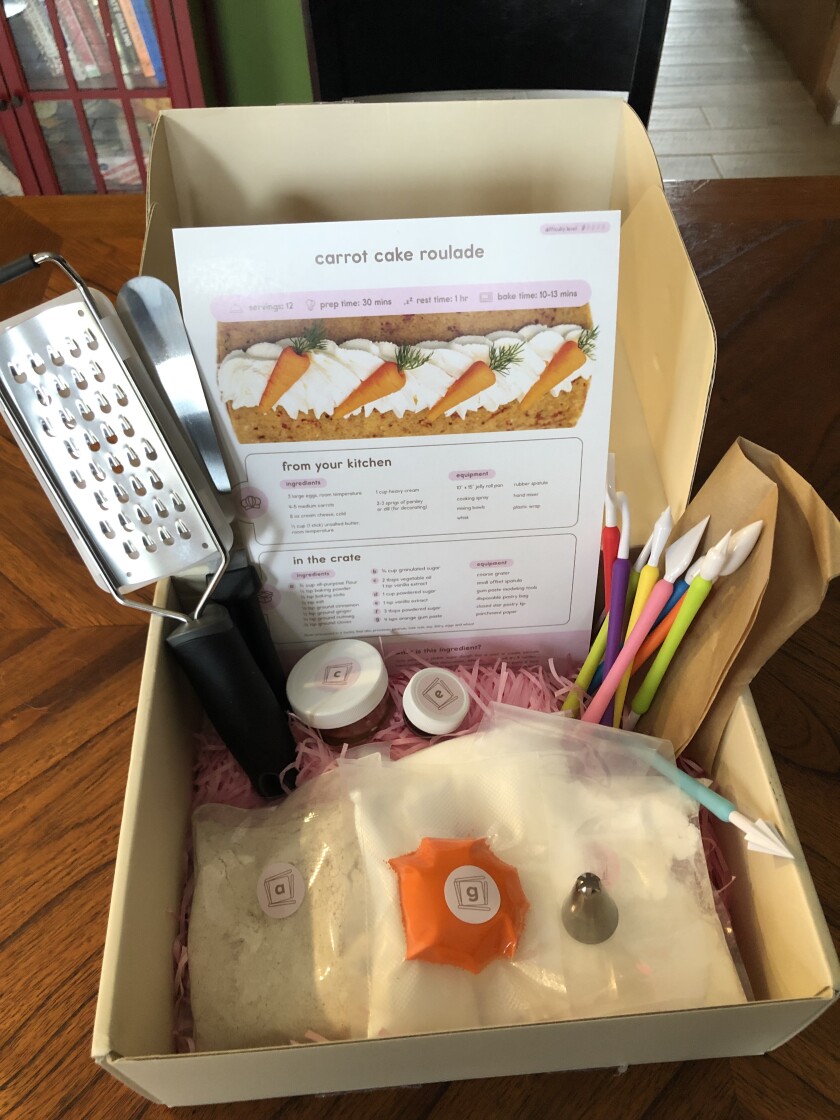 Past featured desserts: Lavender Macarons with Lemon Curd, Rose Water and Pistachio Madeleines, S'mores Cupcakes or Coconut Citrus Bars.
Cost: Rates go down for a longer subscription. Boxes cost $43.75 for a 12-month subscription, up to $47.95 for one-time purchase.
Size: The box containing the items for the Carrot Cake Roulade was pretty small. But it included a lot of items – most of the ingredients for the cake including flour, powdered sugar, spices, vanilla extract, oil and gum paste, but also baking tools including an offset spatula, decorating tools and a tool to shred the carrots.
What I had to provide: Three eggs, carrots, butter, cream cheese and parsley for use as decorative carrot tops.
Ease of use: The recipe card was full-sized and easy to read. It had pictures and each item in the box was clearly labeled, so I had no trouble doing what I was supposed to do. A video on the website was helpful in learning how to make the gum-paste carrots.
Results of my bake: Awesome! Picture me doing a 'chef's kiss' Mwah! The roll did not crack. It wasn't as tightly wound as it should have been (funny coming from a baker who is) but that's user error. No fault of the kit. I thought the cake looked great! I thought the flavor of the cake was warm and spicy - the way I like my carrot cake and the cream cheese frosting was rich and decadent.
Good Mother's Day gift? Definitely. (Crossing fingers my husband and daughters are reading this story).
Now I'll turn it over to Tammy as she tackles another baking subscription box. (Yes, we know we have really tough jobs).
I chose Mix Box , quite frankly, because it was the most affordable option I could find.
I also loved that Mix Box is a product of the Homemade Bakers Club, which is owned and operated by founder Katelyn Kline. Kline picks the recipes, hand-packages the ingredients, answers the emails and runs all the business operations herself from an inspected property in Pennsylvania.
How could I not support this go-getter? Take that, Betty Crocker!
Here is what I learned about the company and the bake:
How it works: Mix Box offers a season-appropriate dessert box each month. The May box included Strawberry White Chocolate Scones with Lemon Icing while a past December recipe featured Caramel Snickerdoodles. If you don't like the month's recipe, you can toggle to the default option: cinnamon buns. Not to judge a bun by its cover, but I thought they looked too much like Pillsbury cinnamon rolls, so opted for the Frosted Sugar Cookie choice instead.
It's worth noting that Mix Box also offers a monthly Bread Box, which comes with ingredients and recipes for specialty breads like focaccia, brioche, challah, French baguettes, pizza dough and garlic knots.
Too bad I didn't notice the bread option earlier, as my bread-baking skills don't always rise (heh-heh) to the occasion. But I suspect they would also need to ship my mother in the box, as her years of dough-making expertise seems to be the real secret to blue-ribbon bread.
Cost: At just $31.95 per month, the Mix Box is one of the better baking-box bargains for your buck (say THAT five times fast!) It's available in one-month, three-month, six-month and 12-month subscriptions, with the year o' bakes costing $359.40 total. Shipping is free.
Size: The Mix Box was smaller than a shoebox but efficiently packed with an instruction pamphlet, recipe card, four numbered plastic bags filled with ingredient mixes, a generous packet of sprinkles and a resealable bag which contained teensy jars of vanilla and red food coloring. There even were two sheets of parchment paper for lining the cookie sheets!
What I had to provide: Butter, one egg, sour cream, milk, cookie sheets and other standard kitchen equipment and utensils. I also couldn't resist customizing the recipe a bit (this is for Mother's Day, after all), so added a dash of almond flavoring from my own pantry and ramped up my frosting game with pastry bag and my own candy embellishments.
Ease of use: The instructions were clear and detailed. A couple of small photos helped to illustrate how large to make the cookies or how sparingly to use the food coloring (I apparently didn't pay attention, because my frosting turned out Pepto-Bismol pink.) The pamphlet included a link to an online tutorial for people who prefer the excitement of live-action folding and frosting.
Another feature I really liked was the "Remake" recipe card. This gave the precise amounts of flour, baking soda or other ingredients which were included in the pre-measured bags — just in case you like the recipe so much that you'd like to replicate it from scratch.
I did find one small glitch in packaging. While all the items in the Mix Box were carefully wrapped, the red food coloring bottle leaked inside its plastic bag, thus covering the vanilla bottles — and my hands — in red goo. Red food coloring is like DNA. It winds up all over the place and, once you get it on the carpet, it will still be there in 25 years. So I hope they'll find a more fail-safe way to package the stuff.
Results of my bake:
Two crumb's up! The cookies were soft, pillowy and flavorful and the American buttercream frosting was buttery, fluffy and rich — if just a skosh sweet.
Good Mother's Day gift? Definitely, especially because the recipes seem easy enough for moms (or dads) to bake with their kids.
If these dessert boxes don't tickle your tastebuds, check out the additional "make your own" subscription boxes below, curated by the experts at Food and Wine magazine.