Gift-giving app helps Swift family 'tech the halls'
The Swift family thought they'd found the perfect solution to their annual gift-exchange with their new, high-tech "Secret Santa" app, until something went awry. Would Horatio wind up receiving Karen's set of buttery-soft brunch scrunchies and "Cat Mom" T-shirt? Would Karen enjoy her extra-large Rush T-shirt and toilet nightlight?
We are part of The Trust Project.
FARGO — Tired of the Secret Santa game?
Sick of the laborious process of writing names on bits of paper, trying to find a hat (who wears a hat these days?), drawing names from said hat and then informing everyone who wasn't present who they are buying gifts for this year?
Then there's the matter of setting a price limit on gifts (your brother-in-law, Oscar, bought your sister a complete suite of Viking appliances last year, while you're digging between couch cushions to treat your family to a once-a-week pizza). Or cringing because you got brother-in-law Wally for the fourth year in a row — and he always asks for the exact same flannel shirt. Or forgetting whose name you drew because the scrap of paper with their name was stuck on the fridge with a magnet, which fell off when someone slammed the door and somehow drifted under the 350-pound appliance.
Sure, there's Amazon's online gift lists, but they basically force you to buy everything off Amazon. Also, less tech-oriented people like my mom can get confused, which is how my brother got a set of baby-blue, ceramic-coated cheesecake pans last year while his wife got an all-in-one socket tool.
My sister Bertha came up with an alternative solution this year. She found an app that handles every aspect of the Secret Santa game — from drawing names to browbeating people who haven't bought their gifts yet.
Granted, Bertha is a natural techie who believes more technology is the solution to every problem. She routinely buys our elderly parents tech gifts to make their lives easier, when in fact the complexity of figuring out the tech seems to have the opposite effect.
Even so, I must admit that some of her gifts have been home runs. Like the year she persuaded us to buy mom a tablet. Initially, mom viewed the device with a wariness unseen since she received a new Amana microwave oven in 1978. However, she now carries it with her everywhere, relying on it to read emails, catch up on Facebook and see what her great-grandkids are doing on Snapchat.
Other tech gifts have been less successful. Another year, Bertha lobbied for an Echo for mom and dad, so they could ask Alexa to play music, report the weather or turn off the lights on command.
They loved it at first, until they watched one too many news reports that Alexa was a spy who was recording their conversations about "Gunsmoke" and reporting them to North Korea.
Now Alexa has been banished to the back of a closet, next to the Roomba that we bought Mom 10 Christmases ago but which Mom decided was a slacker.
Thankfully, our Secret Santa list does not include Mom and Dad, so we figured the gift-giving app would streamline the whole process.
The app, unoriginally called "DrawNames," not only lets each participant do that virtually, but also presents you with a comprehensive list of possible items within that amount, from which you can create a wishlist — complete with links to the online retailer where your Secret Santa can purchase them.
It lets you know who has drawn a name, who has made a wish list and who has done both. It sends you passive-aggressive little reminders like, "Have you made a wish list yet?" or "Have you shopped for _______ yet?"
In short, it lets everyone know who is a Secret Santa and who is a Slacker Santa.
---
READ MORE COLUMNS FROM TAMMY SWIFT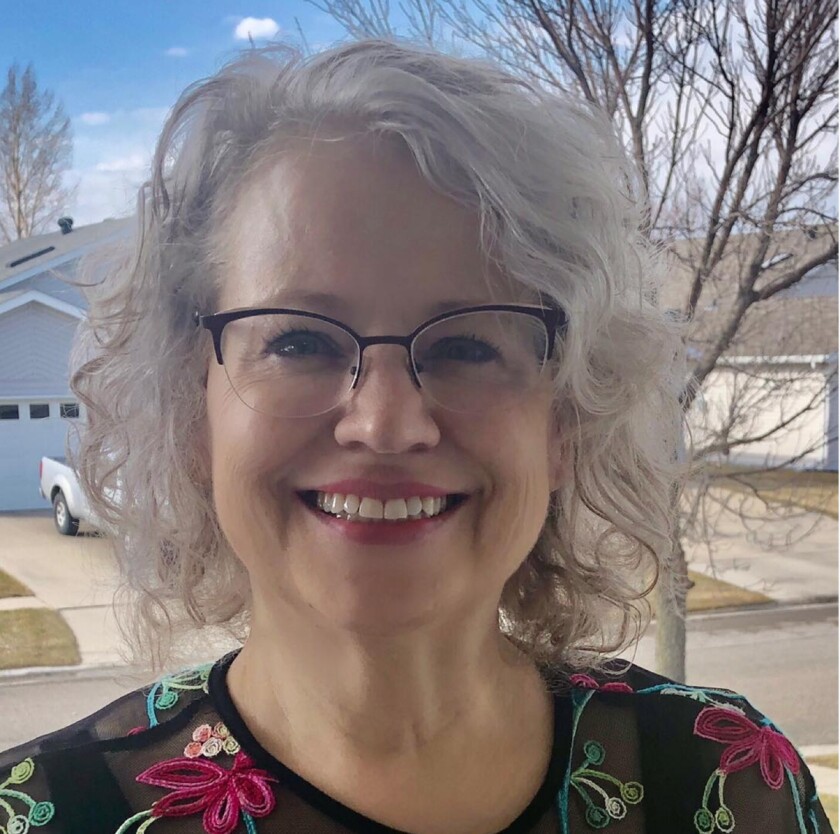 Hi, I'm Tammy Swift, a long-time columnist for The Forum. Over the years, I've written about everything from growing up on the farm and life as a single woman to marriage, divorce and the "joys" of menopause. I'm also slightly obsessed with my dog. Check out my latest columns below. Reach me at tswift@forumcomm.com.
Even so, I initially marveled at how smoothly the DrawNames app worked. But then something went awry. At some point, it invited me to register my partner Horatio. Figuring he was busy working and didn't get too excited about us Swifts and our crazy gift exchanges, I did.
But then Horatio also signed up on his own. And, for whatever reason, the DrawNames gremlin became convinced that Horatio was my sister-in-law Karen.
Frantic back-and-forth texts ensued as we tried to troubleshoot. We pulled Bertha into the fray. Would Horatio wind up receiving Karen's set of buttery-soft brunch scrunchies and "Cat Mom" T-shirt? Would Karen enjoy her extra-large Rush T-shirt and toilet nightlight?
Finally, Bertha got it all straightened out. Now DrawNames reports that all participants have drawn names, made wish lists and, in some cases, already purchased and sent gifts. The exception is sister Verbena's husband, Wally, who is a Luddite and is probably still checking the fridge door for his name.
Even worse, I have Wally's name, so I still have to contact him to make sure he again wants a flannel shirt.
Maybe this year he's going to get yoga pants …