Giving the gift of parenthood: Two families bonded by daughter born through surrogacy process
WEST FARGO -- Standing at the kitchen island in Heidi and Chad Fritz's West Fargo home, Elizabeth and Gavin Waletich take their daughter out of her carseat after a two-hour road trip from their home in Britton, S.D.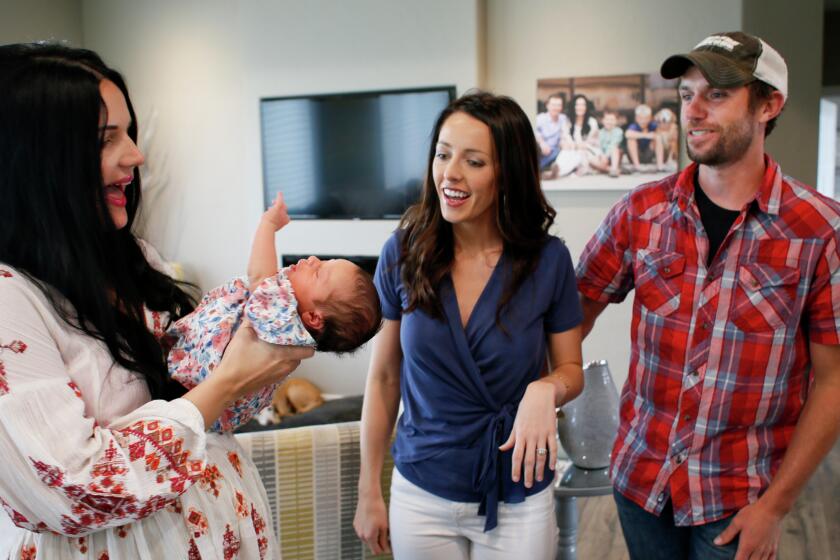 WEST FARGO - Standing at the kitchen island in Heidi and Chad Fritz's West Fargo home, Elizabeth and Gavin Waletich take their daughter out of her carseat after a two-hour road trip from their home in Britton, S.D.
"I can't believe two weeks have already gone by," Elizabeth says to Heidi.
The couples fawn over the infant, born Aug. 3, who is fussing from hunger. Speaking as if they have known each other forever, they exchange pleasantries and make their way to the couch, making sure they each get a turn to snuggle the baby as they go.
It's hard to imagine that just a few weeks earlier, Heidi, not Elizabeth, was pregnant with the tiny girl.
"It's kind of crazy to look back, now that we are all done with it, and think, 'Wow, we hit the ground running,'" Elizabeth says. "One year after we met, she was five months pregnant."
Heidi Fritz carried the baby girl, Wren Audrey, for the Waletich family as their gestational surrogate. The women first met in April 2017.
"We felt like we had known each other for years," Heidi says. "We just instantly clicked."
Miraculous meeting
Creating life is a science so exact that it has been referred to as a miracle. In natural birth, the sperm must meet the egg at just the right time, and conditions must be exactly right for a woman's body to accept the pregnancy.
The same goes for the two types of surrogacy. In traditional surrogacy, a woman is artificially inseminated with the father's sperm. She then carries the baby and delivers it for the parents to raise. A traditional surrogate is the baby's biological mother.
In gestational surrogacy, like what the Waletiches did, doctors gather eggs from the mother and fertilize them with sperm from the father and place the resulting embryo into the uterus of a gestational surrogate - a technique known as in vitro fertilization (IVF).
This process, however, can start well before any eggs are fertilized by sperm.
Through the power of eavesdropping, and some luck, the Waletiches found their surrogate.
Heidi says she had gone with a friend to get a pedicure, and while there, they talked about Heidi's recent role as a surrogate for another woman. Elizabeth's cousin happened to be the one doing their toes, and she reached out to her co-worker, Heidi's sister, saying Elizabeth and Gavin needed some guidance for the process.
After answering some questions Elizabeth's cousin had about surrogacy, Heidi gave her cellphone number to pass along in case Elizabeth wanted to learn more.
"I can imagine what they were feeling," Heidi says. "Like they were alone and wondering where to start."
Elizabeth reached out to Heidi in March 2017, and they never turned back. After many text messages and phone calls, asking and answering questions, Elizabeth decided to meet with Heidi, officially, to learn even more.
"There was a lot going on in our lives and Heidi just cleared a path for us to start somewhere," Elizabeth says. "We met April 7, I believe. I was here for five or six hours."
Intense process
Once the surrogacy agreement was made, both families went through a psychological evaluation to ensure everyone was on the same page and understood what was happening. A highly detailed contract was signed, and the appointments were made.
The first step in the transfer process is called a "mock transfer," a fake transfer to allow doctors to measure how long the uterus is to determine where to place an embryo.
"It's quite intense," Heidi says. "You wouldn't think we would need a practice run, but we have a lot we are dealing with, creating this miracle."
Then, the carrier is put on medication to prepare her body for the transfer and upcoming pregnancy. Ten days after the transfer of the embryo, blood tests are done to determine whether the implantation took.
"It was the longest 10 days of my life," Elizabeth says.
After getting the news that they were pregnant, the waiting game began. While the two families saw each other as much as possible, distance didn't allow the Waletiches to be there for every appointment.
"The November transfer, just with work schedules, it was just (Chad and I) there," Heidi says. "I am a very important piece of it, so I have to be there, but of course I wouldn't have it any other way, having Chad there with me."
Missing just one or two appointments during the long months Heidi carried their miracle until giving birth Aug. 3, the Waletiches saw each step along the way.
"We got to see the whole process unfold, from the time we got (to the hospital), to her starting medication, to the epidural and the birth, all the way through, and Heidi was totally gracious enough to let us be in the room for all of it," Elizabeth says. "It was nothing I will ever forget. It was just amazing."
Growing family
This isn't the Fritz family's first time through the gestational surrogacy process. Heidi's first surrogacy baby turned 4 the day after Wren was born. Her two boys, Caden, 13, and Beckham, 8, have been along for the ride both times.
"It kind of gets to be a routine. At first with (the first baby), I didn't really know much," Caden says.
While the boys were too young to fully understand what was going on the first time around, Heidi explained the process she would be going through with the Waletiches in medical terms.
"We always kept them in the loop of what is going on," Heidi says. "They've always done so well with it."
Chad agrees.
"They're her two biggest supporters," he says.
From watching their mother go through hormone injections preparing her body for pregnancy to helping around the house while she was pregnant and after, the Fritz boys know more than most their age about surrogacy and babies. But they're in no hurry to welcome another one.
"I think (Beckham) told me one time he didn't want a sister," Heidi says.
"This is as close as he wants it I think," Elizabeth chimes in.
Moving forward
Looking back, the Waletiches can't believe where they are today.
"It's pretty crazy that we are already here," Elizabeth says. "I look at Wren all day, every day. That's all I choose to do with my days right now."
Lifelong friends created through medical miracles, inspiring others to think about doing the same thing.
"Our nurse, who was really taking care of Wren after she was born, said to us, 'I always thought about being a surrogate. It's such a big idea and there's a lot of things to think about with it. After watching the delivery room today, I am sold. I am going to be a surrogate. That was beautiful,'" Elizabeth says. "Now, hopefully another family will have what we have. It's been pretty beautiful the whole time."
1
/
2:
Heidi Fritz holds Wren with her husband Chad and son Beckham, 8, Saturday, Aug. 18, 2018, in her West Fargo home after giving birth to Wren as a gestational carrier 15 days before. Fritz's son Caden, 13, is not pictured. Michael Vosburg / Forum Photo Editor
2
/
2:
Gavin Waletich holds his 15-day-old daughter Wren on Saturday, Aug. 18, 2018, during a visit to their gestational carrier's home in West Fargo. Michael Vosburg / Forum Photo Editor