Have a holiday gathering coming up? Give our Midwest-themed charcuterie board a try
Charcuterie boards have been all the rage for a while now, so Forum reporter Tracy Briggs set out to make her own charc-uffda-rie board as a tribute to the Upper Midwest.
We are part of The Trust Project.
It's not often modern culinary society takes advice from the 15th century. Why would we? Unless, of course, you're into eating spit-roasted peacocks or swans for dinner. But there is one trend from 15th-century France that has been reignited in the 21st century — the charcuterie board.
Roughly translated, charcuterie means "the products of a fancy pork butcher." Think about it as a glorified meat and cheese tray.
The resurgence of charcuterie, decoratively folded and arranged, on a big wooden board or tray, began thanks to social media influencers, around 2019. Everything old is new again and TikTok taught us how to make even our Oscar Meyer bologna and Velveeta cheese classy. (Well, maybe not). Come 2020, the trend intensified as the COVID-19 pandemic had us sheltering in place and eating whatever we had in the pantry.
If we had to eat cold cuts in our sweatpants, maybe we could at least make them look nice. In the last couple of years, the trend has grown even more with charcuterie boards that contain no meat or cheese. Instead, people are getting creative with theme boards to celebrate holidays, birthdays or just everyday gatherings, like making s'mores over a campfire at the lake: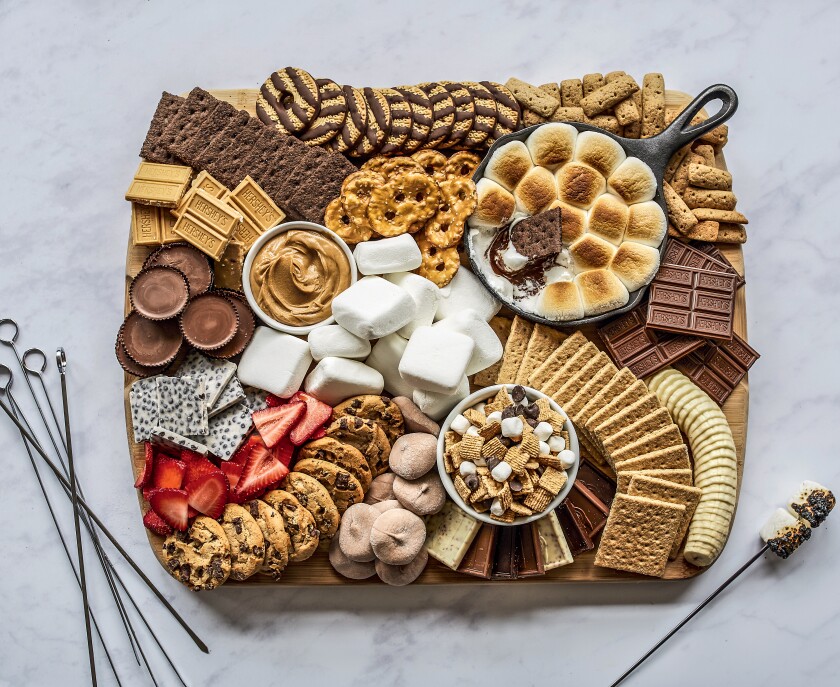 Or even displaying the bagels you're having for breakfast.
The 2019 book "Beautiful Boards" has gorgeous pictures of some of the things you can try. See more of their ideas below.
After getting inspired by the book, which was written by Maegan Brown of Dallas, Texas, The Forum decided to build our own board highlighting foods found up north.
The possibilities, of course, are endless. We started brainstorming. In the end, we had to leave off some very traditional foods like walleye, Juicy Lucys, and chislic because they need to be served warm. Lutefisk also needs to be served warm, but we mostly left it off because we want people to like our board. (We know. We know. Some of you love lutefisk. Please don't send us angry letters. But it didn't make the cut for us.)
A Christmas Minn-Dak Charc-uffda-rie Board
We choose to focus on snack-type foods produced in Minnesota, North Dakota or South Dakota and foods synonymous with the region. Designers of boards suggest you have a variety of foods on your board. So we found three savory type foods, three sweet foods and three sauces.
The three savory foods are:
Wild rice and cheddar sausage: Wild rice is the official state grain of Minnesota. Cheese and sausage are just plain delicious. Another meat option would be the smoked sausages found in the region. You could also use various kinds of cheese produced in the region.
Dot's Homestyle Pretzels: Created by Dot Henke of Velva, North Dakota (The Forum's 2021 Person of the Year ), the snack behemoth was recently bought out by Hershey's.
Zoobs Smoked Almonds: The nut choices in the region are plenty, including Exceptionally Nuts. Just pick your favorite.
"This will be the biggest international market in North Dakota and South Dakota," says John Huynh, co-owner of the downtown store.
The three sweet foods are:
Kuchen: It's the official state dessert of South Dakota. The dish, which is a delicious mash-up of cake and pie, topped with creamy custard, was brought to the Dakotas by early German settlers and remains popular today. For our board, we chose raspberry simply because the red adds a nice splash of color.
Chippers: Chocolate-covered potato chips were first popularized by Widman's Candy with locations in Grand Forks and Crookston, and later, Carol Widman's Candy Co. in Fargo.
Wiley Wallaby's licorice: Despite the very Australian-looking packaging and name, these flavored licorices are made by Kenny's Candys and Confections out of Perham, Minn. We used the green apple and red licorice flavors to make the Christmas tree and the "All Sorts" flavor (in the purple bag) to make the ornaments.
The three sauces/dips/spreads are:
Big Deck Barbecue Co. Dakota Mustard: A nice addition to Dot's Pretzels and made in Fargo, Big Deck Barbecue was started by a former North Dakota State Bison football player.
Dakota Slims Apple Horseradish: Adds a new flavor profile to the sausage and is made in Bismarck.
Dakota Seasonings Wild Western Sandcherry Jelly: If you're looking for something besides butter and sugar for your lefse. Made in Valley City, N.D.
The sauces, dips and spreads might be the area where you have the most options. It's up to you what you might like for dipping the sausage or pretzels in or even spreading on the lefse.
Speaking of the lefse, it too is on the board. While it's typically a sweet treat with sugar and butter, it can also be savory depending upon what you put on it or inside it. If you want to get extra credit for your Minn-Dak-iness, try spreading a Pride of Dakota honey butter on it. There are a few local lefse producers. If you're lucky, you might know someone who makes it.
All of the items on our Minn-Dak board were found in Fargo-Moorhead area grocery stores, except the sausage, which was purchased at Meats by John and Wayne, and the Chippers, which were purchased at Carol Widman's Candy, both in Fargo.
To add some color to the board, we picked up sage and cranberries at the grocery store. For a frostier winter look, the cranberries were candied. That was pretty easy to do. Start by boiling one-half cup of sugar and one-half cup of water. Remove from the heat. Stir in three cups of cranberries. Spread onto a cookie sheet to dry, then roll the sticky berries in a cup of sugar.
For more ideas for what products to put on your Minn-Dak Board visit Pride of Dakota or Minnesota Grown .
Have fun and be creative! And if you try a lutefisk board, let us know. That is definitely worth a follow up story.
1
/
5:
This candy cane Caprese Christmas board is super easy to make. It is simply fresh mozzarella, basil, tomato and bread, with olive oil for dipping.
2
/
5:
This New Year's Even board is beautiful in its simplicity, using similar colors for both the sweet and savory items.
3
/
5:
A baseball board featuring hot dogs, caramel corn, pretzels and peanuts.
4
/
5:
A bagel board with all the toppings and fixings.
5
/
5:
A s'mores board featuring chocolate, marshmallow, graham crackers, and more.