Home with the Lost Italian: Dazzling but simple Cherries Jubilee perfect Memorial Day weekend dessert
We're celebrating the arrival of fresh cherries to our local stores this week with a recipe for one of our favorite summer desserts, Cherries Jubilee.
We are part of The Trust Project.
We're celebrating the arrival of fresh cherries to our local stores this week with a recipe for one of our favorite summer desserts, Cherries Jubilee.
This dazzling dessert was originally created in 1897 by famed chef Auguste Escoffier, in honor of Queen Victoria's Diamond Jubilee. While this dish may be French in origin and English in tradition, I can't help but think of it as American.
My first introduction to the dessert was back in 1991, when I was a stewardess aboard the cruise ship M/V Yorktown Clipper. The Yorktown was a small luxury ship sailing under the American flag, which required it to carry an all-American crew.
This was my first job in the cruise industry, and I loved it. The Yorktown boasted a crew complement of just 40 members, including officers, and there were 16 of us "stews" on the muster. We served breakfast, lunch and dinner and cleaned eight staterooms every day. I don't think I've ever worked as hard as I did that year.
Clipper Cruise Line promised excellence to their guests on every level, and their standards were fastidious. No detail was overlooked, and woe to the wayward stew who tried to do things her own way. But I'd repeat that year again in a heartbeat. The demanding environment and 12-hour days paled in comparison to the camaraderie, tradition, great food and all-out adventure I experienced aboard the Yorktown.
The last night of each cruise was celebrated with a special farewell dinner for our 120 passengers. Following an elegant meal in the dining room, our guests were invited to enjoy dessert in the forward observation lounge, a beautiful room lined by large windows on three sides. Ending the cruise this way highlighted the stunning views outside as we sailed into our final port of call, but the show inside was just as dramatic.
Our talented chefs, all graduates of the Culinary Institute of America (the other CIA), would stand at the front of the lounge behind their flambé station, dramatically preparing flaming Cherries Jubilee and Bananas Foster for our guests. With classic American songs playing in the background, I'll never forget how delighted our passengers were with this final and impressive flourish.
For all its razzle-dazzle, Cherries Jubilee is a surprisingly simple dish to make, featuring a sweet sauce of fresh cherries, sugar, orange juice and zest, a little corn starch and brandy, poured over vanilla ice cream.
While you can use frozen cherries to make this specialty any time of the year, it's best when made with fresh cherries. Tony highly recommends purchasing a gadget called a cherry pitter, which removes the pits while keeping the cherries intact, and retails locally for about $15.
The brandy is added just at the end, and then set afire "flambé style" for about 10 to 15 seconds. This process not only creates a definite wow-factor but also helps the alcohol content burn off quickly.
If you're not feeling particularly adventurous, you can skip the flames and just let it cook for another three minutes. Kirschwasser is traditionally the liquor of choice, but you can use any cherry brandy, regular brandy or rum, or even skip the alcohol. (FYI - kids can eat it either way.)
We think Cherries Jubilee is the perfect dessert for this Memorial Day weekend, but we strongly recommend standing on solid ground when you make it. Happy Summer!
Cherries Jubilee
Serves: 4 to 6
Ingredients:
1 pound fresh cherries, pitted (about 2 cups)
½ cup sugar
1 tablespoon cornstarch
½ cup orange juice
1 teaspoon orange zest
¼ cup brandy
Vanilla ice cream
Directions:
Mix 1 to 2 tablespoons of orange juice with cornstarch until well blended to prevent lumps from forming when added to the cherry mixture. Set aside.
In a sauté pan, cook orange juice and sugar over medium heat until sugar is dissolved. Add cornstarch mixture and cook for 2 minutes over medium heat, stirring often. Add cherries and cook for 2 to 3 minutes until cherries have softened and the liquid has achieved a saucelike consistency and coats the back of a spoon.
Add zest at the end to keep it fresh, and stir until incorporated. Remove pan from burner before adding brandy.
To flambé, use a long-handled lighter to light the mixture on fire, which should last about 10 to 15 seconds. When the flame has died, return pan to burner and cook for 1 more minute. To serve, spoon generously over vanilla ice cream and enjoy!
Without flambé: Remove the pan from the burner and add the brandy. Return pan to burner and continue cooking for 3 minutes to cook off the alcohol content.
Notes:
• Use a cherry-pitting gadget to easily remove the pits from fresh cherries so that they remain intact.
• Use Kirschwasser, other cherry brandies, regular brandy or rum for the alcohol.
• If not using alcohol, add another flavoring to the dish like a teaspoon of vanilla or a tablespoon of Grenadine.
Home with the Lost Italian is a weekly column written by Sarah Nasello featuring recipes by her husband, Tony Nasello. The couple owns Sarello's restaurant in Moorhead and lives in Fargo with their 9-year-old son, Giovanni. Readers can reach them at dine@sarellos.com . All previous recipes can be found at http://thelostitalian.areavoices.com
1
/
2:
Warm cherries in sauce are poured over ice cream for a special treat. David Samson / The Forum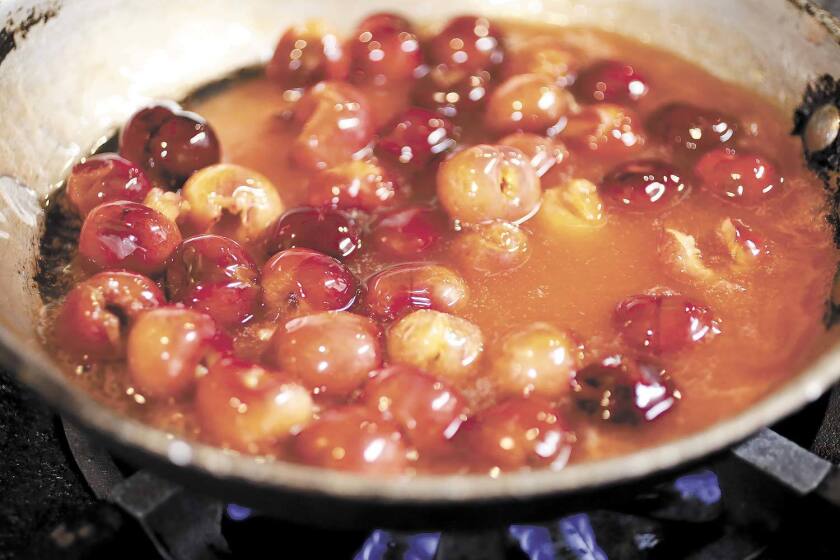 2
/
2:
For all its razzle-dazzle, Cherries Jubilee is a surprisingly simple dish to make, featuring a sweet sauce of fresh cherries, sugar, orange juice and zest, a little corn starch and brandy, poured over vanilla ice cream. David Samson / The Forum